The typical ABC Fine Wine & Spirits store carries more than 10,000 different wines, spirits and beers from popular brands to their exclusive Sourced & Certified Collection of thousands of items found in Florida only at ABC.
This year as we approach the holiday hosting season – from Thanksgiving to Christmas to New Year's – it might be a good idea to take a look at doing some of that shopping at ABC Fine Wine & Spirits!
Here are 7 Things You Might Not Know about ABC Fine Wine & Spirits
1. ABC has a special "Sourced & Certified Collection" 
ABC has a special Sourced & Certified Collection – featuring brands only available at ABC stores in Florida that they buy directly from the winery/distillery, cutting out any middlemen – and saving costs for the consumer.
The Sourced and Certified Collection allows ABC to find the best bottles for incredibly low prices. The ABC team literally travels the world looking for new producers to work with, sampling their selection and deciding if it's something worth bringing back home and offering to their guests. They have wine and spirit committees that meet monthly to taste test new potential products, and all of them must pass a vote to end up on ABC's shelves.
ABC has been Florida family-owned since founder Jack Holloway opened the very first ABC (then a cocktail lounge and package store) on the corner of North Orange Ave. and Wall St in Orlando, Florida. In 1936.
Jack's grandsons Charles and Jess have run the company since 1994, and it's not uncommon to find other families working intergenerationally at ABC. (For example, there is one family where the dad works payroll, the mom does inventory control and the daughter is a warehouse admin. Pretty cool!)
3. ABC has Non-Alcoholic Beverages – Mocktails Anyone? 
In addition to an expansive selection of every variety of wine, spirits and beer imaginable, ABC also offers non-alcoholic and low alcohol alternatives for those who are limiting or cutting out alcohol consumption.
4. ABC Has Experts Available – Helpful and Knowledgeable staff
For those looking for more expert advice on pairings for dinner, ABC has some fantastic helpful and knowledgeable staff on hand to help with insight on wines and spirits.
5. ABC's is Holiday Gifting Central
For those looking for the perfect gift for adults this holiday season, ABC has it all – including:
Gift sets: Around the holidays, ABC stocks gift sets with popular brands that come with accessories like a nice bonus set of rocks glasses or something similar. They're typically only $1 more than the price of just the bottle, so they're terrific value finds.
Gift baskets built in-store: Associates are able to build a wine basket for you at ABC. You can either pick and choose what you want in it or grab a pre-made one and go.
E-Gift/Physical Gift Cards: For the procrastinators, gift cards are the easiest gifting option that's always appreciated! Buy them on abcfws.com and have them sent to your recipient's email immediately.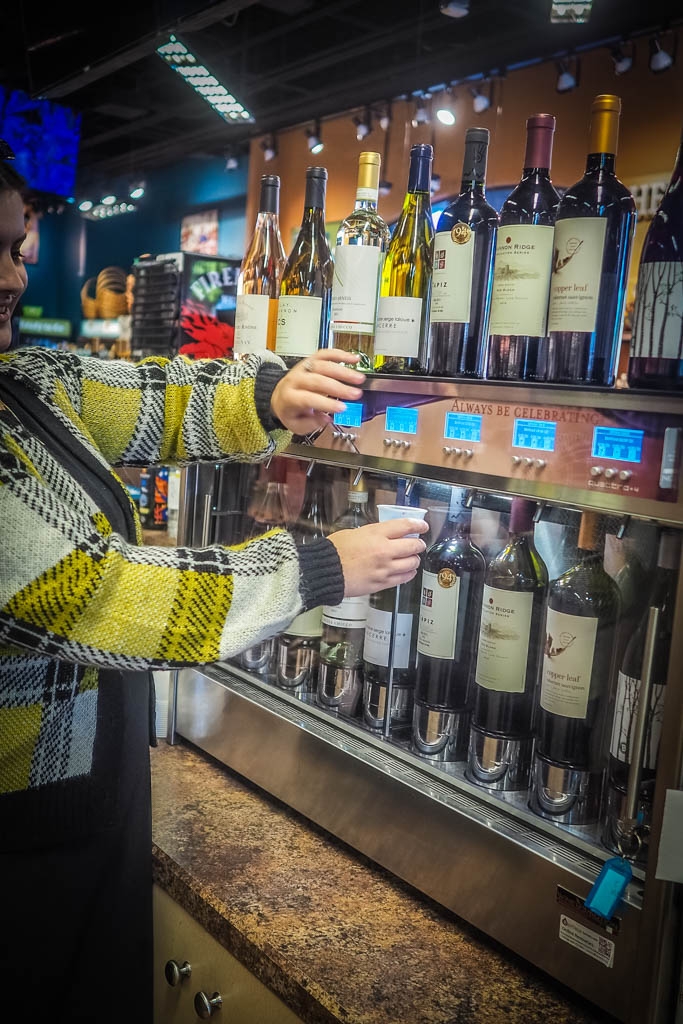 6. ABC's has Try before You Buy
ABC offers wines and spirits to sample on tap, and sometimes cocktail samples for tasting! It's a great way to discover new favorites or confirm you like something before you check out.
And hey, who doesn't love free samples, especially when they're wine or spirits?
7. ABC has Hot Deals and Specials
ABC is always running hot new deals (check them out at abcfws.com/deals), and ABC Access Rewards members get even more perks with $10 off every $100 wine purchase and access to free bottles of wine and spirits via email.
This Holiday Season – Visit ABC Fine Wine & Spirits for all your festive season needs.
Find an ABC Fine Wine & Spirits near you: https://www.abcfws.com/store-locator