Did you know that Bites & Bubbles is celebrating their 5th anniversary this summer 2023?
Open since 2018, local and independently owned Bites & Bubbles is located in the heart of the Mills 50 District with influences of French, traditional American, and even some Italian favorites with an extensive wine list and full bar plus a broad international cheese selection, and a large "tapas" style selection.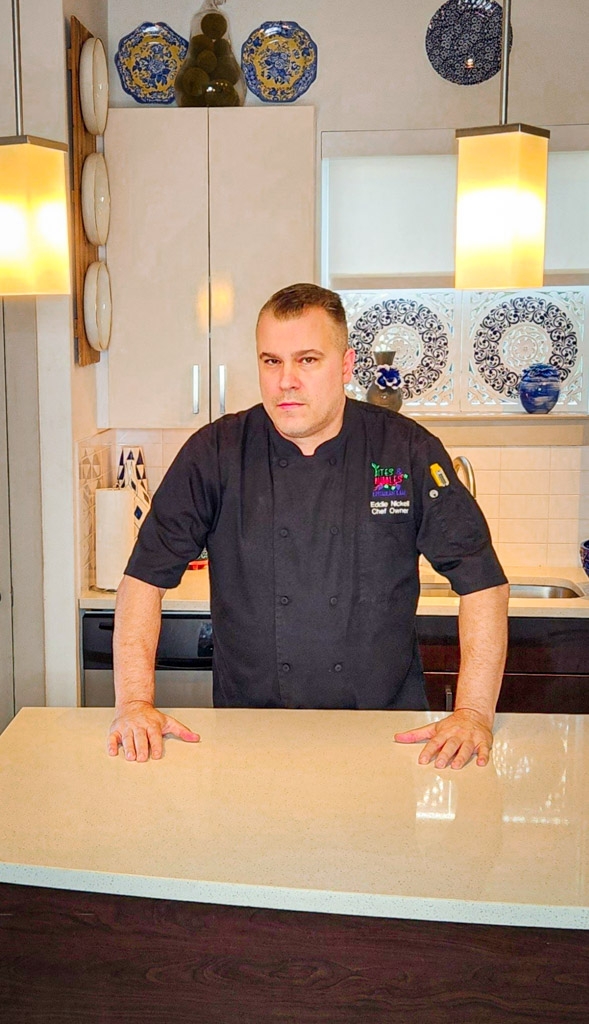 The concept & menu – an American Restaurant with a French Kiss! – are the brainchild of Eddie Nickell and Nicholas Olivieri.
This spring, they will launch a new limited time three-course prix fixe menu with their Spring Temptation Menu and this summer they will  be hosting an extravagant 5-year anniversary party to celebrate their successes.
Pinsa Pizza – Mozzarella cheese, lobster meat, fresh basil pesto.
Tasty Chomps Interview with Bites and Bubbles
Tasty Chomps: What is in store for Bites & Bubbles in 2023?
Eddie and Nick: We are delighted to present our three-course prix fixe menu with our Spring Temptation Menu.
On top of that, this summer we will be hosting an extravagant five-year anniversary party to celebrate our successes.
In add to the fun, the rooftop experience will be elevated even further with the addition of a new bar, tables and couches.
Tell us about your background in food industry. What were some of your favorite memories going up around food?
Favorite memories… Chef Eddie grew up in the kitchen with his grandmother, Della. Grandma Della was born in Kentucky and loved to cook. From a young age Chef Eddie spent endless hours with Grandma Della learning the art of Southern cooking.
When Chef Eddie was 14-years-old he landed his first job in the kitchen of a Howard Johnson's in Dayton, Ohio. Howard Johnson's was acquired by Marriott International in the 1980s, and Chef Eddie transferred to the Dayton Marriott.
As a result of his experience at Marriott, he was offered a position at L'Auberge, a Four-Star/Four-Diamond French restaurant located in Dayton, Ohio.
After moving to Fort Lauderdale, Florida in the mid-1990s, Chef Eddie joined a prestigious restaurant group and worked at The Down Under, a Four-Star/Four-Diamond restaurant, and La Vieille Maison, a Five-Star/Five-Diamond French restaurant. His interest in Southwestern cuisine was piqued when he was given the opportunity to learn from the masters at the Armadillo Café.
Chef Eddie began working at Primo Restaurant by Chef Melissa Kelly when he and his family moved to Orlando in 2003. Since 2007, Chef Eddie opened his own restaurant, Funky Monkey Wine Company, a restaurant specializing in Asian Fusion cuisine, as well as Bananas, a Modern American Diner, Prickly Pear Steakhouse, Nick's Italian Kitchen, and his most recent concept, Bites & Bubbles.
For people who are new to Bites & Bubbles, what would you tell them about the restaurant?
Simply put, Bites = Food & Bubbles = Drink… At Bites & Bubbles, diners can savor delightful cuisine and libations in four distinct dining areas. The main room boasts a spacious bar, sparkling chandeliers, and eight tables. On the first floor, the covered patio ensures protection from the elements, while the lanai invites guests to enjoy dining under the stars. Above it all, the rooftop seating offers the opportunity to relish a meal outdoors. With Chef Eddie's talent and experience, the menu at Bites & Bubbles varies each day with tantalizing cheeses and delectable dishes that are distinctly their own. Thus, if something captures your interest, make sure to order it – as it may not be on the menu tomorrow.
What are some of your biggest challenges right now and how are you tackling them?
Our priority is to provide the best quality of products, but our food cost has risen sharply. We shop daily to keep our ingredients as fresh as possible and do not take any shortcuts. While some of the prices have increased, we strive to minimize expenses to offer competitive prices for our guests.
For this Spring 2023 – upcoming events or specials?
Bites & Bubbles does a monthly Wine Dinner Series that highlights different wines and culinary expressions each month. The Wine Dinner Series is usually the third Wednesday of the month with the reception starting at 6:30PM and the dinner at 7:00PM.
What are some things that might be coming to the menu?
The menu at Bites & Bubbles changes often, sometimes daily, so there is always something new to experience.
Most popular dishes right now?
Bites & Bubbles is known for its cheese selection, however, a few stand-out dishes are our Escargot, Swordfish Carpaccio, and the Pork Chop Kan Kan.
Our Escargot dish is a French-inspired recipe prepared in our way – with butter, roasted garlic, white wine sauce, grain mustard, Dijon mustard, shallots, and carrot for an exquisite taste.
The Swordfish Carpaccio is a unique dish with thin slices of smoked swordfish loin, a sprinkle of lemon extra virgin olive oil, and caper berries.
Last but not least, our Pork Chop Kan Kan – made of Cheshire pork kan kan (pork chop, bacon & belly), served with Yuka fries, and garnished with a pineapple glaze – has been another huge hit with patrons.
Favorite lessons learned or words of advice from your experiences
Find your passion! Don't do it because it's a job, do it because you love it! We host a dinner party every night… we invite guests into our restaurant and hope that they feel like they are in our home.
Bites & Bubbles
1618 N Mills Ave, Orlando, FL 32803
(407) 270-5085 #magicaldining #bitesbubbles