Texas De Brazil Churrascaria- Orlando – International Drive


Texas de Brazil Churrascaria in Orlando has to be one of my favorite restaurants of all time. When I found out many years ago that churrascaria is basically a term in south America for "steak house", I immediately set my sights on visiting Texas De Brazil. Situated just south of the newly renovated Prime Outlet mall on International Drive, Texas de Brazil offers you one of the most ridiculously copious amounts of delicious meat and food that the carnivore in us would ever wet dream about (and it's pretty affordable too when you sign up for their e-mail list serv on line).
Inside, the decor is elegant with earthy tones and large mirrors adorning the walls, filled with loud touristy families as well as couples out on a date. At the front is a hotel-like welcome lobby where the hostess seats you as well as a bar on the left. There are also a few private rooms for large parties, one of which my party is seated on this night.
The occasion is a anniversary of sorts, celebrating the end of another eventful, memorable year with the brothers of Pi Delta Psi Fraternity Incorporated at the University of Central Florida.
What better place for a group of young men to relax than a meaty steak-filled all you can eat buffet where you don't even have to get up for more?
In addition to their meats, there is actually a sizable salad and antipasta bar filled with various appetizing dishes such as tomatoes, spring greens, olives, salami, pasta, lobster bisque, even sushi. The items are quite delicious but you must remain focused. There is only so much space in your tummy, and if you want to get the most of your money, save it for the glorious meats that will be coming to the table shortly. Otherwise, pace yourself here at Orlando's Texas De Brazil if you would like to just enjoy the food rather than go into a meat-induced coma at the end of the night.
Our waiters for this evening are attentive and prompt, quickly filling our drink glasses through the evening and also bringing out their amazing garlic mashed potato and sweet cinnamony fried banana sides that help wash the palate as you chomp down.
Sim, por favor – reads the green plastic disk meaning "yes please, bring it on".
And the meat continues to come, and come, and come until you flip over the disk onto the red side signifying your surrender, signifying that you are indeed a weakling unable to man up to the onslaught of Brazilian meat cuts. Green = good to go, Red = stop please.
Surly men in blue button up shirts arrive one by one, rotating through the room in rapid succession, wielding their metal spears of fire-rotisserie roasted meaty delights.
There are so many meats I lose track: crispy shanks of lamb, tender garlic roasted chicken, bacon wrapped filet mignon, flank steak, Parmesan encrusted pork, on and on.
"Please grab my meat", they ask, pointing to to the metal clip sitting next to your plate.
You have to help them grasp some of the cuts as they slice and carve through for your piece, and the little clip does just the trick.
Round and round they go, quickly and unending. "Chorizo sausage? Filet mignon? Sirloin steak?" the gauchos (South American cowboys) ask as they hoist the skewer racks of meat onto the table. This must have been what it was like in time of the wild wild west set in Brazil.
I know its a chain, and yes sometimes the meat is a bit too well done for my tastes, I enjoy it nonetheless for the sheer quantity and overall quality of the meats. You can also ask them to get you a more rare piece or more done depending on your tastes and they will happily get it for you when its ready.
Texas de Brazil also has a impressive dessert plate, with creme brulee, new york cheesecake, key lime pies, banana foster pie, and more.
Alas, after hours of eating, with our brains awash in meat sauce, we settle for defeat and raise the red flag. The meat stops flowing, and with our belt buckles loosened, we must head off to pay the fiddler.
Tasty Chomps Rating
5 out of 5 MEAT COMA INDUCING TASTY CHOMPS!!!!!
To sign up for their email list serv and get their amazing deals visit:
http://www.texasdebrazil.com
Texas De Brazil
www.texasdebrazil.com
5259 International Dr
Orlando, FL 32819-9476
(407) 355-0355
mr gaucho
chorizo sausage
flank steak
filet mignon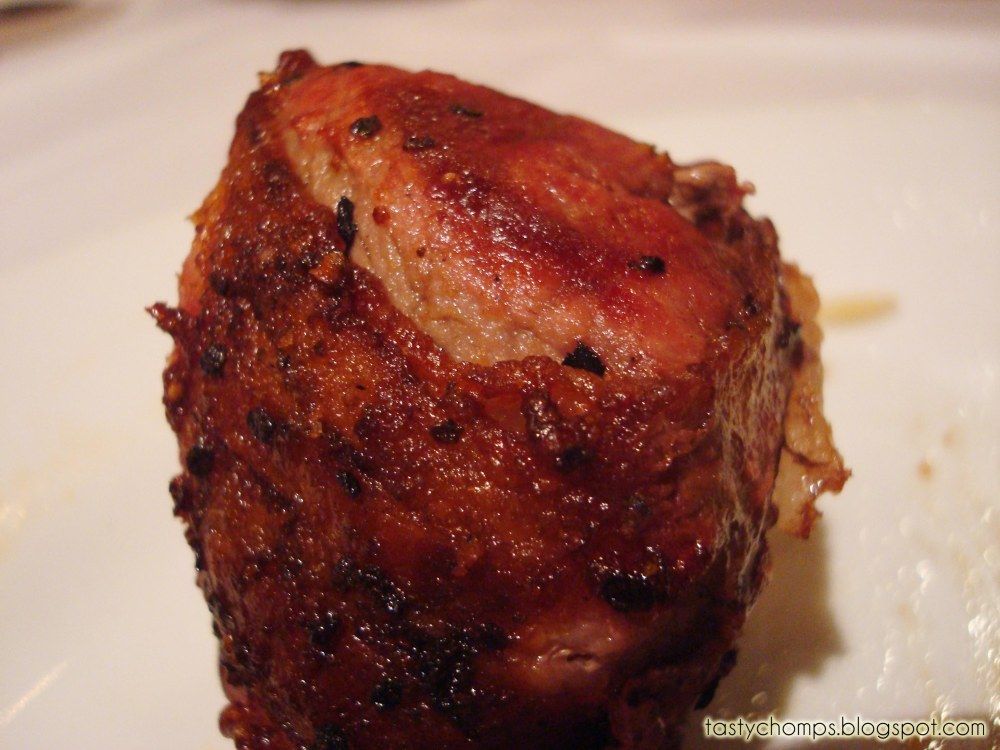 bacon wrapped filet mignon
garlic chicken
garlic chicken
lamb shank
shank of lamb
it is a movable feast
sirloin steak

The red flag of defeat

Dessert Tray at Texas De Brazil Orlando

texas de brazil's banana foster cake

cheesecake
check, please