The Vietnamese Lunar New Year or Tet or Tet Nguyên Dán is upon us here in Orlando again! A time to spend with family, friends, and welcome in the new year.
Last weekend St Philp Phan Thanh Minh, the largest Catholic Church in Orlando, hosted their annual Tet Festival at the Central Florida Fairgrounds to bring in the new year of the Dragon.
This weekend, the Vietnamese Community of Orlando is hosting their own Tet Festival with a Miss Vietnam of Florida Pageant starting at 1pm on Sunday. Entrance is $5 but I definitely recommend going especially for the food. Here at the festivals, you get a chance to taste different authentic Vietnamese dishes and street food that are usually not available at local Vietnamese restaurants. The prices are a bit steep, especially for the noodle soups, but a lot of the foods here are home-made and go to a good cause usually. Address is 4603 West Colonial Drive Orlando, FL 32808-8158.
If you can't make it out this Sunday, next Sunday on February 5th there is the Dragon Parade Lunar New Year event hosted by the Chinese American Association of Central Florida and the Mills 50 District starting at 11:00 AM – 3:00pm. More details here: http://www.facebook.com/events/136825883100048/
Below are some scenes from last weekend's Tet Events:
Orchids and flowers and plants for sale, welcoming in Spring.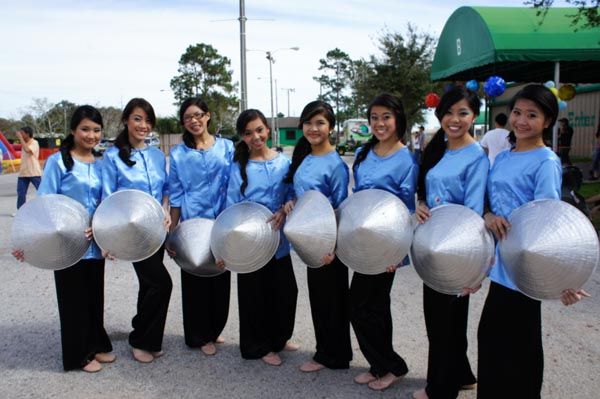 Vietnamese high schoolers doing traditional Vietnamese rice hat dance for the festival
The Vietnamese rice hat dance
Chim cut roti or roasted quail
It gets busy here at the Vietnamese New Year Festival!
Nem nuong and thit nuong, or meat balls and grilled pork on a stick. A favorite street food item of mine!
Banh teo, a kind of Vietnamese fried donut pastry
Vietnamese calligraphy. The Vietnamese language was romanized by the French centuries ago, previously things were written in chu nom, a kind of Chinese character system used by the elites.
Bun bo hue, the Hue style spicy beef noodle soup
Watching the show!
Grilled pork
Hop vit lon, or balut in the Phillipines, boiled fertilized duck fetus eggs
Pate a choux, meat filled pastries, and banh bao, pork and egg filled buns, relics of the French and Chinese influence on Vietnamese cuisine.
Bun rieu, a seafood crab tomato noodle soup dish.