A Land Remembered, a classic "Florida" style steakhouse in Rosen Shingle Creek resort, is named after Patrick Smith's rich novel featuring Florida's historical moments and landscapes. I actually had no idea that the name for the restaurant was based on a book about the early days of Florida, but in my mind the name conjured up images of Florida's wilderness, its ranching and cattle heritage, and of course, with cows come, delicious steaks. I had visited A Land Remembered once before during Visit Orlando's Magical Dining Month and was thoroughly impressed with the slightly hidden steakhouse – found through a covered walkway off to the left side of the grand Rosen Shingle Creek resort. I was recently invited to visit again to sample their cuisine and left solidifying my earlier good impressions with much to remember and linger on after.
The Rosen Shingle Creek Resort is located on Universal Blvd just north of SR 528 and just a few blocks away from the Orange County Convention Center. A Land Remembered is not known much outside of the convention area as its location is inside (really, off to the side) of the hotel. Decked in dark woods and old Florida themes, A Land Remembered can be seen as a throwback to the old days of Central Florida's cattle-raising history. The steaks here truly are superb.
Before we get to that, I must note that the restaurant is rated as an AAA Four Diamond restaurant, and the quality and service shows. The servers here on both occasions were attentive without being intrusive, and gracious without being too uptight. The recommendations for dinner were spot on and they made sure to check on us throughout the meal.
Interestingly enough, the restaurant tries its best to feature classic "Florida" in many of its dishes such as the Gator Creek Stew, a hearty, though a bit too mild, chili dish made with "Gator Drool" beer, white beans, tomatos, cabbage, a touch of tabasco, tomato, and farm raised gator. The gator in this dish reminded me alot of ground turkey or ground beef, very mild tasting, I imagine so not to scare off any of the visiting tourists. The "Gator Drool" beer used in this dish and a few others on the menu is produced by a local Florida microbrewery from Melbourne exclusively for Rosen Hotels. The beer was inspired by Central Florida Hotelier  Mr. Harris Rosen upon encountering the "Moose Drool" beer during a trip to Vermont. I find it touching to see the level of detail that Mr. Rosen put into not only his Rosen hotel empire, but also into the intricacies of decor and even the ingredients served in his restaurants.
For appetizers, they served a pair of delicious crab cakes made with real lump crab from Maryland with a side of lemon as well as big and plump scallops from Prince Edward Island, bought, I was told, locally from Lombardi's Seafood market in Winter Park.
A Land Remembered features Harris Ranch Black Angus Five Diamond Prime Beef, the same beef that's served at the famed Bern's Steakhouse in Tampa, Florida. The taste is exquisite. I had the bone-in ribeye steak, a juicy, slightly-charred cut served perfectly at the desired medium rare. The meat was tender, flavorful, and altogether one of the best steaks I have had in Orlando.
For dessert, you are treated with the creations of Executive Pastry Chef David Ramirez, trained at Johnson and Wales University, winner of American Culinary Foundation competitions and who competed in the Coupe Du Monde de la Patisserie, the World Pastry Cup, in Lyon, France as captain of Team USA. He and his wife Nicole also operate David Ramirez Chocolates (http://davidramirezchocolates.com/) off of Orange Blossom Trail in South Orlando. Choices range from chocolate flourless cake to "Warm Pioneer Bread Pudding" to "A Land Remembered Key Lime Pie".
Keylime, creme brulee, banana pudding, chocolate mousse, NY cheesecake shooters in a horse-shoe
A Land Remembered is truly a hidden gem here in Orlando and is a classic "Florida" steakhouse with not only great service but also great, delicious flavors. It's a great special occasion type of place for dinner, whether you are visiting Rosen Shingle Creek as part of a convention or golf outting, or out for a special night. Prices are pretty high as they are in the tourist district, but you can get a good deal by visiting Restaurant.com and getting one of their discounts there for A Land Remembered.
Valet parking is complimentary when dining at A Land Remembered. The restaurant offers a private dining room (up to 24 people) and relaxing lounge. Seating capacity: 110.
Florida Alligator-shaped Butter! how cute and tasty.
"Gator Creek Stew" – probably the least memorable dish on the menu, I think I would've liked more gator or sausage in it.
Ahi Tuna
Served Rare, Lemon Myrtle Crust
Nappa & Swamp Cabbage Slaw
Chili Pepper Citrus Vinaigrette
Boca Grande Crab Cake
Scallion Aioli & Red Chili Pepper Glaze
A shot of the menu prices
Bone-In Ribeye Steak, 20 oz of delicious, tender, slightly charred steak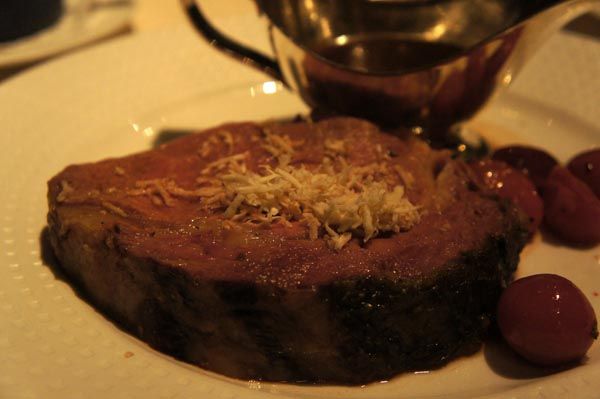 Slow Roasted Prime Rib
Fresh Horseradish & Au Jus
12 oz
Baked Sweet Potato with Honey Butter, almost like a dessert side
Chocolate Mousse Cake
12 oz. Portion of Chocolate Mousse Cake
Layered with Pecan Nougatine
Flourless Chocolate Cake and a
Milk Chocolate Cream Filling,
Topped with Raspberry Ganache & Fresh Fruit