Join former White House Presidential Chef Walter Scheib on a uniquely American culinary journey on September 14 and October 20 at the Napa restaurant at The Peabody Hotel on International Drive here in Orlando. Featuring a 4-course dinner and wine from American vineyards, the Napa Presidential Dinner Series will give you an authentic taste of executive style.
For eleven years (1994 to 2005),  Chef Walter Scheib, a graduate of the Culinary Institute of America in Hyde Park, had the challenge and honor of doing daily what most chefs might be lucky to do once, serving the First Family of the United States from President Bill Clinton to President George W. Bush. From planning State Dinners that paid tribute to world leaders such as Nelson Mandela to creating a repertoire of First Lady Lunches to orchestrating barbecues for thousands of guests on the South Lawn, Chef Scheib helped shape White House cuisine and events for more than a decade.
Presidential Chef Walter Scheib with President Bill Clinton
A Presidential Dinner at Napa
September 14 and October 20
6:30 pm Reception, 7:00 pm Dinner
Reservations Required 407.345.4570
Seating is Limited
SESAME CRUSTED HALIBUT
Red Curried Sweet Potato Soup
Steele Cuvée Chardonnay
TEQUILA GLAZED SMOKED
ANGUS TENDERLOIN
Warm Fruit Salsa, Chipotle Corn Sauce
St. Francis Old Vines Zinfandel
MANCHEGO TAMALE TART
Avocado, Orange & Sweet Onion Salad
Stag's Leap Sauvignon Blanc
PEACH & BLACKBERRY COBBLER
Honey & Lavender Ice Cream
Chateau St. Michelle Late Harvest Chenin Blanc
The Peabody Orlando – www.peabodyorlando.com/dining – 407.345.4570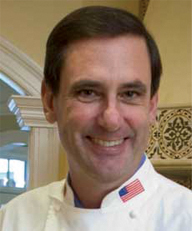 Chef Walter Scheib
(White House Executive Chef, 1994 – 2005)
From theamericanchef.com 
In April 1994, after a lengthy application and screening process, Walter Scheib became the chef to America's chief executive and the First Family. First Lady Hillary Clinton, impressed by the comprehensive spa menu Scheib had developed for the Greenbrier resort, as well as his highlighting of American cuisine, personally hired Scheib. For 11 years, he prepared everything from simple family meals to elaborate and formal State Dinners. His culinary creations dazzled and delighted White House guests including Nelson Mandela, Emperor Aikihito, Jacques Chirac, Boris Yeltsin, Vaclav Havel, Lady Diana Spencer, Tony Blair, Vicente Fox, and others, not to mention the thousands of congressional members, journalists, and other House visitors who got to know his food.
A highlight of Scheib's White House achievement was his creation of a distinctly American repertoire for the nation's First House. He continues to speak with eloquence and pride about America's bounty today, praising the artisan cheese makers, green grocers, mushroom foragers, master bread makers, fishermen, ranchers, and farmers who have helped our national market basket evolve, and make quality cooking more accessible than ever. "America is rich in amazing produce, meats, and fish," Scheib says. "Using just a few excellent ingredients, anyone can make a perfect meal with very little formal training."
THE AMERICAN CHEF™ is the name Scheib has taken for his new corporation. Since he returned to private life, Scheib has founded The American Chef™, the company through which he shares his knowledge of the development of American cuisine at the White House, as well as White House remembrances, with audiences across the country. His special events often aim to bring together business leaders, using group cooking as a method of team bonding. They also offer home entertainers and party planners unique approaches to special events. For cooking schools, cooking demonstrations and lectures, Scheib teaches classes ranging from State Dinner Secrets to throwing a White House Birthday Party.
The American Chef™ offers a multitude of special-event concepts such as White House style cocktail receptions, First Lady Luncheons, State Dinners, and Outdoor "South Lawn" barbecues and picnics. His educational and entertaining sessions and demonstrations are filled with fascinating White House insider's anecdotes, culinary insights, team building and bonding, as well as, exercises with a culinary twist. Sessions frequently feature hands-on cooking demonstrations with audience participation and interaction.
Food is Scheib's lifelong passion. He discovered his mother's pots and pans early in life and soon felt comfortable preparing meals for parents and friends. By the time he graduated from high school, he was eager to pursue a profession in the culinary arts. He attended the Culinary Institute of America, from which he graduated with high honors in 1979. Immediately thereafter, Scheib started as a Rounds Cook at a premier Washington, D.C. hotel, and within three years was promoted to Executive Chef. Before coming to the Greenbrier and then the White House, he served as Executive Chef at other major hotels and resorts such as the Boca Raton Resort and Club.
The American Chef™ has become a great success. Scheib has developed a very popular speaking approach regaling guests with interesting, informative and often humorous anecdotes from his years in the White House. Scheib has made numerous appearances, both national and local. On the CBS Early Show, he demonstrated how to make a "presidential burger"…on the Fourth of July, no less. Additional television appearances include The Daily Show with Jon Stewart, the CBS Early Show, Good Morning America, Weekend Today in New York, Nightline and Iron Chef on the Food Network Station. Newspaper and Magazine stories and interviews about his company and his food have been seen in The New York Times, The Washington Post, The Wall Street Journal, The Philadelphia Inquirer and The U.S. News and World Report, in addition to other articles. Please visit the americanchef.com for the full text of these articles. . He is the co-author of the newly published White House Chef: Eleven Years, Two Presidents, One Kitchen, which was released in January 2007.
Peabody Presidential Series
Recipe provided by former White House chef Walter Scheib
SESAME CRUSTED HALIBUT
with
RED CURRIED SWEET POTATO SOUP
Makes 6 portions
For the halibut
6 each 3 oz portions of skinless halibut fillet
Lightly spread wasabi paste on one side of the halibut then season with salt and pepper
and 5 spice mix and then coat that side with a mix of white and black sesame seeds
Sear the halibut and finish in the oven at service
For the soup
1T vegetable oil
2T chopped shallots
2T grated fresh ginger
2T chopped garlic
1T grated lemongrass
2 leaf Kaffir leaf
1-2t red curry paste. Careful this is very hot, add half first and check heat
2/3# roasted sweet potato puree
24 oz vegetable or chicken stock
6 oz. unsweetened coconut milk
2 oz lime juice
2-4 oz. honey depending on sweetness of potatoes
S&P
For the vegetables
2t ginger grated
2t garlic chopped
2 oz. yellow squash julienne
2 oz. zucchini julienne
2 oz. carrot julienne
3 stalks scallions greens finely julienned
CRISP RICE NOODLES
METHOD
1) Heat vegetable oil in a 2 qt sauce pot over medium heat, add shallots, ginger, garlic, lemongrass, kaffir leaf and curry paste; sweat them until tender (2-3 min.) do not let
brown
2) Add potatoes and cook about 2 min. more
3) Add stock and coconut milk, cook 20 min
4) With hand blender or in food processor, blend mix until smooth, strain into new 2 qt pot. Add more stock if the soup is thicker than needed
5) Add honey and lime juice to balance spiciness and sweetness of soup and season with salt and pepper. Hold warm for service
6) For the vegetables, in a 12 inch sauté pan over medium high heat sauté ginger and garlic, stir fry quickly all vegetables season with S&P
7) Arrange vegetables in the middle of a warm soup plate, halibut on top, ladle soup around the vegetables and garnish with scallions, and rice noodles serve