The Vietnamese New Year, also known as Tet or Tet Nguyên Dán, is one of my favorite times of the year. This is the time when friends and family from throughout the Central Florida community come out and enjoy local cultural performances put on by fellow members of the community as well as more famous Vietnamese singers and performers, and also enjoy the wonderful home made Vietnamese food that you would normally not find at the local restaurants.
As the Vietnamese New Year is based on the Lunar new year calendar, similar to the Chinese New Year, the actual date changes each year depending on the moon cycles. This year it falls on the night of Sunday February 10th and is the start of the year of the Snake. To avoid stepping on each others' toes, the local Vietnamese community organizations, temples, and churches try to sparse out their festivities so that they would be on different dates.
On Sunday February 10 Asia Trend Magazine and Mills 50 District will host the annual Orlando Dragon Parade for the 2013 Lunar New Year Festival. Celebrate the Year of Snake with Dragon and Lion Dances, Martial Arts, Japanese Taiko, Acrobatic Performances, Cultural Dances, Arts and Crafts and Exotic Asian Food
On Saturday – Sunday February 16-17, the Vietnamese Community of Central Florida (Cong Dong) is hosting their annual event at the Central Florida Fairgrounds. The Sunday event includes the Miss Vietnam of Florida pageant.
Also on Sunday February 17, CAACF Chinese New Year Dinner Celebration 2013 takes place at Koy Wan buffet at 5:30pm. For more info visit http://asiatrendmagazine.com/AT_events.html
This past weekend, St. Philippe Phan van Minh Catholic Church hosted their Vietnamese lunar new year festivities at the Central Florida Fairgrounds. I took a visit and captured some photos of the scenes at the fairgrounds. The proceeds of the sales went to the church organization in supporting its works in the community.
Volunteers making banh mi Vietnamese sub sandwiches
A bowl of the spicy bun bo hue, the other beef noodle soup in Vietnam, stemming from the central region of Hue.
An elderly woman pours some "chao" or rice porridge/ congee into a bowl. Traditionally a breakfast item or a cure for a cold day in Vietnam
Ingredients for hu tieu noodle soup, including quail eggs
Che Ba Mau, a type of dessert with beans and sweets
A gentleman places sugarcane sticks into the machine, crushing the juices out to make sugarcane drink.
A lady sells the delicacy hop vit lon, or fermented duck fetus eggs, also known as balut in the Phillipines.
Nem nuong, Vietnamese grilled pork patties
Ca ri de, curried goat
Preparing Mi Quang, a Vietnamese noodle dish that originated from Quang Nam Province in central Vietnam, made with rice noodles tinted yellow with the use of turmeric.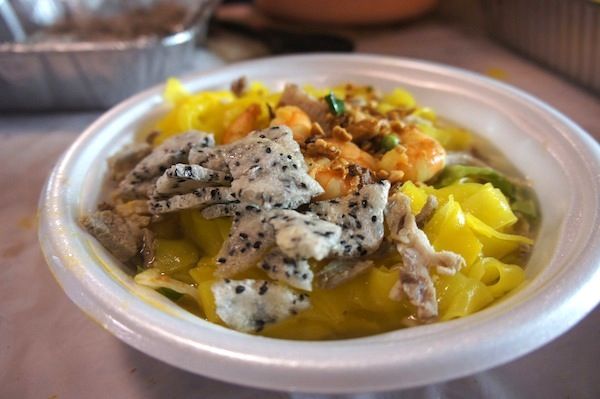 Mi Quang, made with rice noodles tinted yellow with the use of turmeric.
Pho Hoa restaurant prepares Pho for sale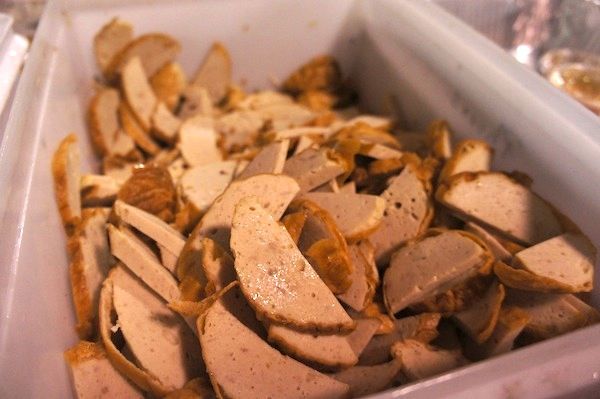 Cha Lua, Vietnamese pork deli meats, used in preparation of banh cuon
Bánh cu?n is a rice noodle roll made from a thin, wide sheet of steamed fermented rice batter filled with seasoned ground pork, minced wood ear mushroom, and minced shallots, served with cha lua
Bun rieu seafood noodle soup with fried tofu
Bun Moc – Vietnamese Pork and Mushroom Noodle Soup
Friends enjoying the festival
Youth performing a rendition of "Gangnam Style" on the main stage