Cask & Larder, sister restaurant of The Ravenous Pig, debuts their lunch menu this Thursday July 11, 2013.
Chef Rhys Gawlak, a master at artisanal butchery and charcuterie, oversees Cask & Larder's lunch and brunch services offering a vibrant daytime experience with fresh, homemade dishes.
Lunch service will be open to the public on Thursday, July 11 and continue Wednesday through Friday from 11:30 a.m. to 2 p.m.
I had the chance to preview some of their new lunch menu items today (check out their full lunch menu here), and it appears that the new outlook for lunch in Winter Park/Orlando is looking up – absolutely delicious and exciting.
I started with their lamb ribs ($15), fall of the bone tender slabs of lamb with a honey glaze and a very interesting green tomato yogurt sauce with burnt coriander. This dish was so good I had to share it immediately not just on Instagram/Facebook/Twitter/etc. but also with my fellow foodies in the room. "MMmmmm's" were heard all around – no words needed to express their feelings about this dish.

C & L LEMONADE 10
enlightened grain tea and sage infused vodka,
house pink lemonade, fever tree ginger beer
Cask and Larder is self titled as a "Southern Public House", and so it's no surprise to see a menu that has Nashville style hot chicken sandwich and New Orleans style muffuletta sandwiches, but all with a very local Orlando flair to it with locally sourced ingredients from Central Florida's farms and fresh seafood from Florida's coasts.

Rabbit meatloaf ($14) with potato puree, marinated mushrooms, crispy haricot verts, pickled quail egg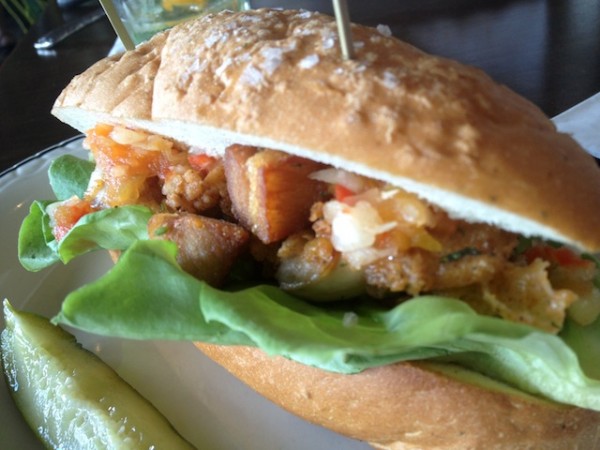 For my main lunch item, I had the Po' Boy sandwich ($13) celery seed hoagie from Old Hearth Bakery, crispy and soft oysters and bacon (fried pork belly chunks), green tomato chow-chow. The textures and flavors of the soft oysters and crunchy fried pork belly and green tomato salad all went so well in the fresh, fluffy hoagie bread, perfect for sopping up any juices from the sandwich. Needless to say, this one was devoured to the very last bite.
For lunch, they offer sorbets and ice creams made in house, and you can even opt for a dessert flight. Mine came with white chocolate, raspberry sorbet, and salted caramel all with a nice crunchy cookie sand on the bottom.
Cask and Larder features southern cuisine using seasonal, fresh and local ingredients so their menus change accordingly – check their site and call to be sure.
To make a reservation please visit opentable.com, or call 321.280.4200