This dish can be found at Cask and Larder in Winter Park as part of their new lunch menu and is a great summer dish featuring local Florida Cape Canaveral shrimp. The shrimp, cooked in a wit beer and orange juice sauce and served with toasted baguette not only tastes great, but is delicious and refreshing as well.
Directions
1. Heat a large pan and add onion and fennel to sweat.
2. Deglaze with Wit beer and reduce by half.
3. Add in shrimp stock and reduce by half.
4. Add in orange juice and reduce by half.
5. Melt 4 ttbsp of butter in liquid mixture and season with fennel pollen, orange zest, salt & pepper.
6. In a separate pan, sear shrimp hard on one side.
7. Add shrimp to hot liquid to finish cooking.
8. Pour shrimp and liquid on top of 2 pieces of toasted baguette in a large plate
9. Mix Fresno hot sauce with aioli sauce & serve on the side.
10. Enjoy!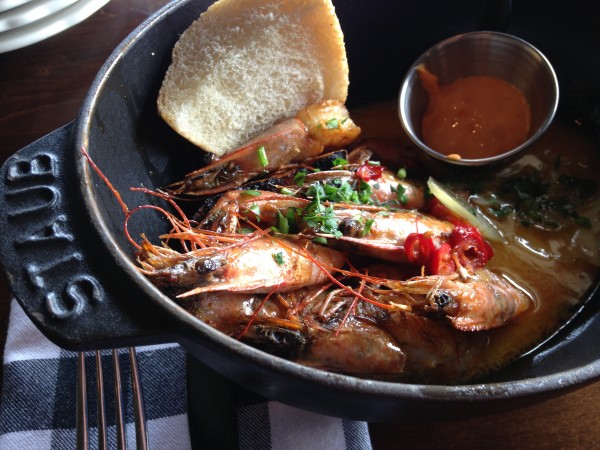 Since opening The Ravenous Pig in 2007, Chefs James and Julie Petrakis have garnered numerous accolades for their ever-changing menus based on seasonal ingredients and made-from-scratch items. This culinary devotion has won them a coveted James Beard nomination, along with praise from Food & Wine, Saveur, Southern Living and other publications. They are also authors of The Ravenous Pig: Seasons of Florida cookbook. This recipe is from a dish found at their second restaurant, Cask & Larder, in Winter Park, Florida, which offers southern-sourced seasonal dishes, craft beers brewed on-site and fresh-shucked oysters from their oyster bar.