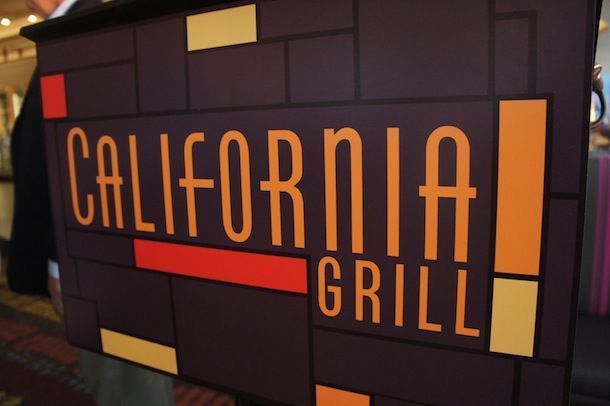 California Grill opened on the 15th floor of Disney's Contemporary Resort in 1995, starting a dining evolution for Walt Disney World Resort, with seasonal dishes, fresh sushi and flatbread pizzas as their staples.
After a major makeover, California Grill opens its doors on September 9 with the same sweeping sunsets and night time views of Magic Kingdom fireworks from atop Disney's Contemporary Resort but with a new design inspired by 1950s modern California, and a new menu showcasing seasonal ingredients and a lighter touch.
The chandeliers at California Grill are reminiscent of diagrams of molecules and harkens back to memories of nuclear research in the American southwest during this era of American history.
Known for its stellar wine list and staffed with over 60 sommeliers, California Grill now with over 250 wine selections, 80 by the glass, an expanded sake list, eight kinds of craft beers and ciders and signature cocktails created by staff mixologists.
New wood fired ovens are utilized to move beyond flat breads and allow more creativity.
Chef de Cuisine Brian Piasecki and his team have worked on new menu updates for longtime favorites, such as Pork Two Ways, now grilled tenderloin and lacquered pork belly with goat cheese polenta and mushrooms.

Three Meat Signature Meatballs . . . Picholene Olives, Herbed Orzo, Chimichurri, Lavender Mint
From the wood-burning oven, a "Surf & Turf" includes New Smyrna, Fla., clams, saffron-infused fennel, chorizo butter and bone marrow. Baked local prawns are served with charred lemon, arugula, and tomato and cippolini onion relish.
Popular sushi expands with a 12-course omakase (chef's choice tasting menu) that includes a tasting of the restaurant's freshest ingredients (not just fish and seafood). Omakase means "to entrust," and there's no menu. "You just let the chef prepare fresh sushi dishes for you, perfect for sushi fans who want to try new tastes," says Piasecki. The menu might include ama ebi (sweet shrimp) tempura, lobster sashimi, crunchy Japanese bone marrow with sesame beef tartare and red onion marmalade, and spicy-crusted oysters.

Chef de Cuisine Brian Piasecki
Pastry Chef Jeff Barnes has a whole new menu of sweet endings, such as a light, refreshing Meyer Lemon cheesecake, chocolate pudding cake with banana fritters, and his favorite, the Sundae Sampler, a trio with a Coke float, strawberry sundae and caramel popcorn sundae.
The lacquered pork belly is my favorite item that I tried on a recent visit for a media night at California Grill, cooked 4 times to perfection – house cured, braised, smoked, and grilled in a sweet and salty sauce, crunchy yet tender at the same time.

House smoked Duck, duck pate platter

Spicy Kazan Roll . . . Crab, Shrimp, Scallops, Tuna, Fireball Sauce
Dragon Roll . . . Spicy and Tataki Tuna, Shrimp Tempura, Bell Pepper, Avocado, Chili-Soy Glaze

Pork Belly Nigiri . . . House-cured Pork, Bacon and Yuzu Rice, Spicy Teriyaki

Pork Two Ways . . . Grilled Tenderloin, Goat Cheese Polenta, Mushrooms, Lacquered Belly, Applesauce

24 hour Short Rib "Filet" . . . Caramelized Root Vegetables, Olive-Oil Potato Puree, Red Wine Butter

Heirloom Squash Ravioli . . . Root Spinach, Salsify, Petite Herb Salad, Sage Brown Butter, 15 year Balsamic

Pacific Halibut . . . Parsnip Silk, Roasted Heirloom Beets, Arugula, Macadamia Vinaigrette, Beet Syrup