I love eating hot pot, especially during the cold winter months, around a table of friends, when the hot pot's hot soup and a cold beer warms the soul.
Hot Pot (pronounced huo guo in Mandarin Chinese) refers to several varieties of stew – also known as shabu shabu in Japan, Lau in Vietnam, fondue in France – consisting of a metal pot of soup stock at the center of the dining table. While the hot pot is kept simmering, ingredients such as meat, noodles, dumplings, vegetables, mushrooms, seafood, etc. are placed into the pot and are cooked at the table, and usually eaten with a dipping sauce.
Hotto Potto in Winter Park is an awesome concept restaurant specializing in Chinese hot pot as well as othr Chinese noodle dishes. I really like the fact that we can have hot pot till whenever we want (they are open till 2 am on weekdays and 5 am on Fridays – I'd call ahead to be sure though) and none of the clean up involved. Typically at home we would have up to 20 dishes of sauces and bowls and ingredients and it would be such a night mare to clean up for large parties.
The soup bases here range from vegetarian to "spicy numb" (a Sichuan style spicy soup base) to Thai style tom yum goong. My favorite is the spicy numb flavor but you might want to go with the milder soups if you aren't a fan of spiciness. You can season the soup to your liking with some of the house made sauces available at your table, ranging from savory sa cha, soy bean, to hoisin bbq sauce.
The lunch special at Hotto Potto starting at $7.99 includes beef, chicken, and pork as well as noodles and is a great deal of food and definitely enough to fill one up for lunch.
Beef, chicken, pork meat and tofu and cabbage with fish balls , beef balls, and pork balls to cook in the hot pot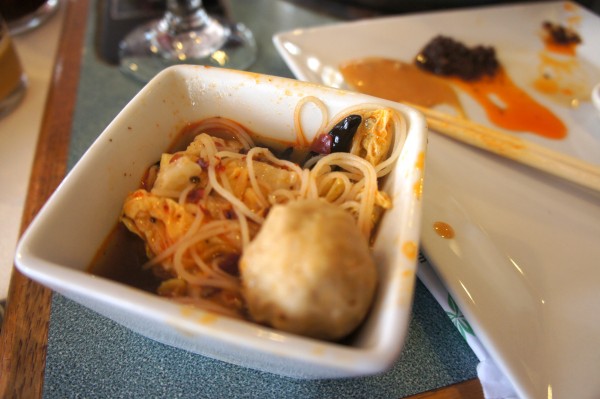 Noodles with Beef Brisket sauce
Hotto Potto
3090 Aloma Ave. Suite 150
Winter Park, FL 32792
http://hottopotto.com/