Chowzter.com is an app and website committed to finding the tastiest "fast feasts" on earth each year, finding feasts that are the highest quality at a good price anytime and anywhere, not be confused with historical notions of unhealthy fast food. Chowzter is committed to fresh ingredients and supports the local independent food purveyor and locally sourced ingredients.

Hanging out with Justin from Chowzter.com and Chief Chowzters Philadelphia, husband-and-wife team Bradd and Kristy DelMuto of 22nd & Philly
"Chief Chowzters" are local food expert for an area and are found through out the major "food" hubs around the world. I am proud to say that I was chosen to be one of the Chief Chowzters, serving for the area of Orlando, a city on the rise in the culinary world especially with the upcoming James Beard Foundation semi-finalists announcement here in the spring.
On the weekend of November 22, 2013, more than a dozen Chief Chowzters from across North America flew into San Francisco for Chowzter North America's Tastiest Fast Feasts for 2013 Awards. The weekend's mission: To celebrate the top 50 dishes nominated by representatives in 21 of the "foodiest" cities across North America. It was a real treat to meet and get to know so many fellow foodies from around the US and Canada, kind of like a meeting of a secret food obsessed society.
The celebration kicked off Friday, Nov. 22, at the famous Crustacean Restaurant. After hors d'oeuvres were served, drinks were poured and stories were shared at the Crustacean bar, we took our seats and began to feast.
Crustacean is undoubtedly best known for their fresh dungeness crabs served in garlic sauce, but their garlic noodles are also quite the crowd pleaser. Heaps of buttery, garlicky pasta noodles – simple yet divine. And when accompanying the succulent white meat from the dungeness crab, everything is just greasy good perfection.

Dungeness Crab at Crustacean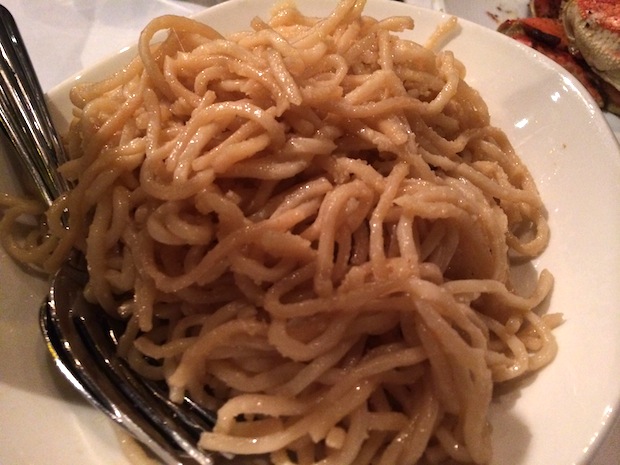 Garlic Noodles at Crustacean
Knowing that we were going to eat a lot this weekend, I decided to wake up early for a quick 12 mile run to and back from the San Francisco's Golden Gate Bridge.

San Francisco's Ferry Market building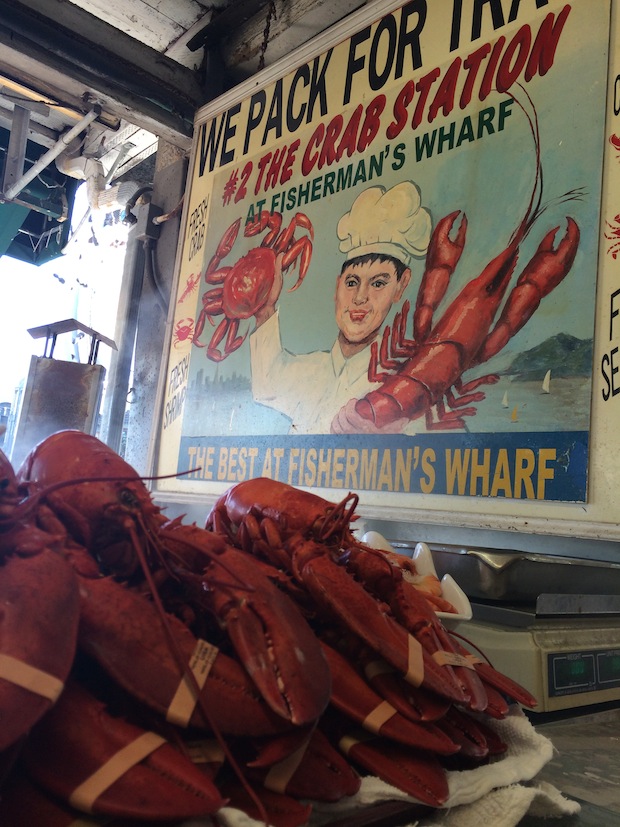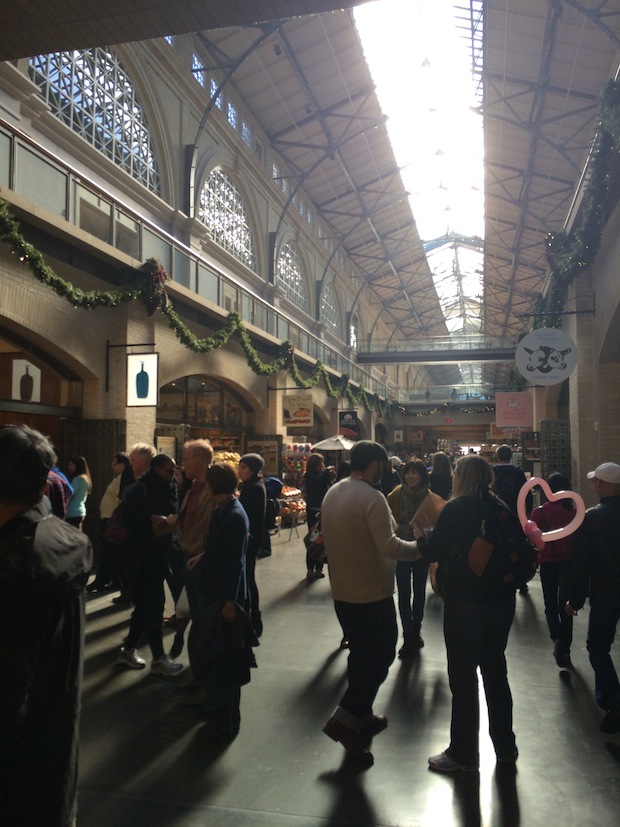 Mission District Food Tour
We met in the lobby Saturday morning for a walking food tour of San Francisco's most up-and-coming areas, the Mission Street area. The Mission District, also commonly called "The Mission", is a neighborhood in San Francisco, California, USA, originally known as "the Mission lands" meaning the lands belonging to the sixth Alta California mission, Mission San Francisco de Asis, located in the neighborhood. Mission Street is recognized for its culinary prowess in ethnic foods, specifically Mexican and Chinese. Our first stop: Mission Chinese Restaurant aka Lung Shan Restaurant.
Mission Chinese
Mission Chinese Food is helmed by James Beard Award winning "rising chef" Danny Bowien, who got his first taste of fame at the Pesto World Championship and has elevating hipster aesthetics to the Chinese food loving masses. Mission Chinese – disguised by the Lung Shan Restaurant signage outside – is best known for their take on Sichuan Chinese cuisine, fusing together old tried and true Chinese recipes into something new like the fall-off-the-bone-tender cumin lamb ribs, spicy Kung Pao pastrami, and fresh squid ink noodles, three of my favorites here. If you've never had the taste of Sichuan peppercorns before – they're little peppery bombs that numb your tongue with a citrus-y floral flavor known as "ma la" in Chinese – definitely check out the Chongqing chicken wings (sprinkled with crunchy fried beef tripe and dried red chili peppers) and Ma Po tofu dishes, both done expertly well here.
El "Farolito"
El Farolito's legendary "silver bullet" Mission burrito is a staple in the Mission District: cheap, filling, and satisfying to the very last bite. This jaw dropping behemoth of a burrito is made of a double-sized flour tortilla, warmed on the griddle, and stuffed to the brim with rice, beans, salsa, your choice of meat such as carne asada steak, carnitas fried pork, and al pastor barbecue pork, cheese, avocado and sour cream, wrapped in aluminum foil. Bite the bullet and dig in, preferably with a friend to share.
La Taqueria
La Taqueria is another Mission District staple, popular with local chefs as it is open late. Unlike Farolito, this is a rice-free tacos and burritos joint. When you order tacos here, tell them you want them "El Dorado" style, crunchy tacos without the mess, served inside a soft corn tortilla. From nicely charred carne asada, lengua, carnitas, and more, the tacos are all topped with fresh onions and cilantro, dollop of guacamole, pico de gallo, made fresh to order. Add some of that green hot sauce on the table to complete the La Taqueria experience.
Tartine Bakery
Winner of the James Beard Award for Outstanding Pastry Chef 2008, Tartine Bakery Co-owners Elisabeth Prueitt and her husband, renowned baker Chad Robertson, were both trained at the Culinary Institute of America in New York. Tartine is just a few blocks away from the main Mission Street area and well worth the short trek over. The morning buns are a classic, Tartine's take on a cinnamon roll made from croissant dough as well as the Frangipane tarts, made with light almond-cream filling baked in a flaky pastry shell with seasonal fruit.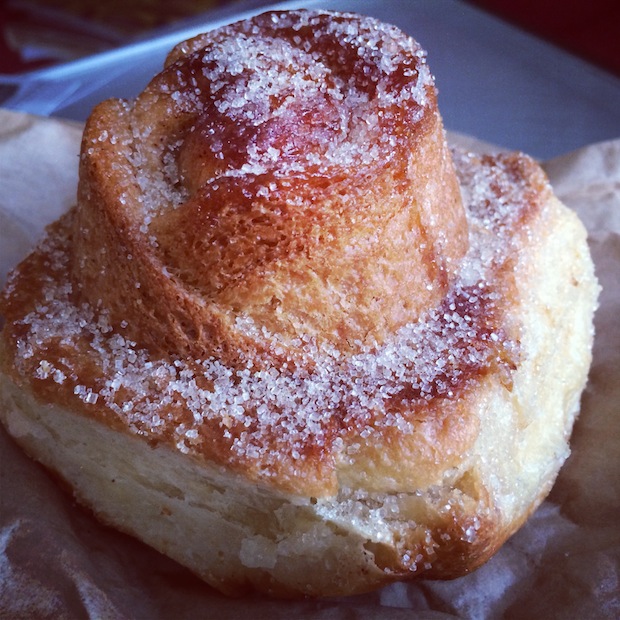 North American Chowzter Awards 2013 in San Francisco
The award ceremony was at the Soma StrEAT Food Park, the premiere food truck location in San Francisco. The night of the event, the park hosted food trucks from the likes of:
• Bacon Bacon
• Adam's Grub Truck
• Lil Burma
• Firetrail Pizza
• Bob Cha
• Oui Chef
• Me So Hungry
• Smokin Warehouse BBQ
The 2013 Chowzter North American Tastiest Fast Fest Awards officially started at 8 p.m. First to take the mic was founder Jeffrey Merrihue, who welcomed and thanked the bloggers and guests who had flown in from across North America to attend the ceremony. Jeffrey then spoke of what awaits on Chowzter's horizon.

He then introduced the host of the night, Phil Donne. A Toronto native, Phil warmed up the audience with an endless supply of Mayor Rob Ford jokes.
But the stars of the event were the bloggers and the food. Chowzter revealed its top 50 dishes in North America and awarded trophies to the top seven:
1. #19 Hot Pastrami Sandwich @ Langer's, Los Angeles, CA
2. Wontons in Hot Oil @ White Bear, Flushing, NY
3. California Burrito @ Super Sergio's, San Diego, CA
4. Tipsy Texan @ Franklin Barbecue, Austin, TX
5. Buffalo Wings @ Nine-Eleven Tavern, Buffalo, NY
6. Oyster Sliders @ The Ordinary, Charleston, SC
7. Traditional Poutine @ Poutini's, Toronto, Canada
No. 19 Pastrami Sandwich at Langer's Delicatessen in Los Angeles crowned North America's Tastiest Fast Feast for 2013 at the Chowzter Awards
Chowzter, which showcases the top places to eat local food in more than 70 travel destinations around the world, honored North America's Top 50 greatest dishes on Nov. 23 at North America's Tastiest Fast Feasts for 2013 awards.
And the No. 1 dish in North America for 2013 is …
No. 19 Pastrami Sandwich @ Langer's Delicatessen, Los Angeles
New Yorkers might complain that the best deli sandwich isn't found at one of the mighty New York delis, like Katz's. But it was not to be. Fans of Langer's Delicatessen in Los Angeles call it "the best deli west of the Hudson River," and foodies the world over flock to Langer's for its hot pastrami sandwich, affectionately known at the No. 19. Peppery pastrami, creamy coleslaw, rich Swiss cheese and zesty Russian dressing on warm rye loaf combine in the perfect balance of flavor and texture.
The item was nominated by Fiona Chandra, Chief Chowzter for Los Angeles. Raised in a family that thinks nothing of driving two hours for good food, Chandra started her food blog (www.gourmetpigs.com) in 2007 and has reviewed more than 700 restaurants.
Local food experts and press, along with Chowzter's all-star lineup of North America's finest culinary writers, gathered for the awards ceremony at a private party aboard a converted big yellow bus at SOMA StrEAT Food Park, 428 11th St., San Francisco. The city's first food truck pod, SOMA StrEAT Food Park is a permanent street food plaza outfitted with restrooms, lighting, room for more than 200 diners and different food vendors every day.
During the ceremony, Chowzter counted down the 50 tastiest items in North America — voted upon by more than 24 foodie gurus — and revealed the Top 7 Tastiest Items of all.
"A Fast Feast should not be confused with historical notions of unhealthy fast food. Chowzter is committed to fresh ingredients, prepared at the moment of consumption," said Chowzter president Jeffrey Merrihue. "We seek out and support the local independent food purveyor and locally sourced ingredients." Winners of North America's Top 7 Tastiest Fast Feasts for 2013 were selected from items nominated by Chowzter's food writers and experts. Additional winners are:
The Tipsy Texan @ Franklin Barbecue in Austin, Texas
Fans wait hours for their turn at the slow-cooked, pit-smoked beef brisket topped with savory sausage, briny pickles and tangy coleslaw wrapped in a sweet, soft bun.
The item was nominated by Drew Thornley, Chief Chowzter for Austin. Thornley is the founder of Man Up Texas BBQ, the parent company of Gettin' Sauced! The Q Card & Texas Q Tours, and is a joint-venture partner of All-Star Sauces. Since August 2008, Drew has blogged about Texas BBQ at http://manuptexasbbq.com.
Buffalo Wings @ Nine-Eleven Tavern, Buffalo. N.Y.
A secret sauce loaded with garlic and Parmesan is lathered on wings smoked for hours over hickory and apple wood, then fried to order. The recipe remains a closely guarded secret.
The item was nominated by Donnie Burtless, Chief Chowzter for Buffalo. Inspired by Anthony Bourdain's "No Reservations," Burtless loves trying new foods and finding "that little hidden spot that no one knows." The Buffalo native began blogging about food in 2009 at Buffalo Eats, where he hopes to encourage readers to support locally owned and operated establishments.
Oyster sliders @ The Ordinary in Charleston, S.C.
This celebration of South Carolina's Lowcountry cuisine showcases fried oysters tucked inside sweet Hawaiian rolls, topped with crisp cabbage, pickled carrots, homemade Sriracha hot sauce, cilantro and jalapenos — a stunning explosion of flavor and textures.
The Oyster Sliders were nominated by Scott Wink, Chief Chowzter for Charleston. Wink and his wife, Crystal, post fun and insightful articles that explore the connection between people and the food they enjoy at Charlestonfoodbloggers.com.
Traditional Poutine @ Poutini's House of Poutine
At Poutini's House of Poutine, this classic Canadian comfort food is crafted with French fries hand-cut daily and double-fried for extra crispiness, then adorned with "squeaky" cheese curds and homemade gravy for a heart-warming dish of sweet, savory, salty and delicious perfection.
The Traditional Poutine was nominated by Stella Yu, Chief Chowzter for Toronto. A self-described food addict, Yu chronicles her experiences "one post at a time" at foodjunkies.net.
Wontons in Spicy Chili Oil @ White Bear in Flushing, N.Y.
White Bear's delicate pork and minced cabbage wontons with a light, homemade chili oil, fresh scallions and preserved vegetables pack an impressive amount of tastiness into a small package.
The Wontons in Spicy Chili Oil was nominated by Yvo Sin, Chief Chowzter for New York City. Sin is the author of The Feisty Foodie, where she blogs about exploring food and food history. "If it tastes good, I'll eat it!"
California burrito @ Super Sergio's Mexican Food in San Diego, California
This fine example of fusion border food is a deep-fried monster of a burrito served piping hot with marinated meat, crunchy fries and fresh pico de gallo. The California Burrito was nominated by Jennifer Lee, Chief Chowzter for San Diego. Lee is the author of Kirbie's Cravings, a food blog in San Diego that shares dining experiences, food recipes and food products. Kirbie's Cravings has been featured in several national publications and she has appeared on the Cooking Channel's "Eat St." show and the morning show for Smooth 98.1
The Other Winners: Top Dishes 8-50
8. Cheese Steak Roll-up @ Miller's Twist, Philadelphia, PA
9. Glazed Ribs @ BBQ Shop, Memphis, TN
10. Beet Sliders @ Huckleberry Pub, Portland, Oregon
11. Juevos Rancheros @ Taco Mex, Denver, CO
12. The Gouda Burger @ Tremont Tavern, Chattanooga, TN
13. Pizza @ Di Fara, Brooklyn, NY
14. Croque Madame Topped with Fried Egg @ Croissant Gourmet, Orlando, FL
15. Los Muchachos Arepas @ Caracas, Manhattan, NY
16. Pizza @ Bronx Pizza, San Diego, CA
17. The Crooked Spoon Burger @ The Crooked Spoon Gastropub, Orlando, FL
18. Duck Confit Cassoulet @ Le Parisien, Vancouver, Canada
19. Black Label Burger @ Minetta Tavern, Manhattan, NY
20. Palak Chat @ Rasika, Washington, DC
21. Lobster Rolls @ Belle Isle Seafood, Boston, MA
22. Omelet @ Café 21, San Diego, CA
23. Lasagna Bolognese @ Paesano's, Philadelphia, PA
24. Tsukemen Tsujita @ Los Ángeles, CA
25. Lacy Special @ Little Tea Shop, Memphis, TN
26. Beef on Weck @ Bar Bill Tavern, Buffalo, NY
27. Fried Chicken @ The Commodore, Brooklyn, NY
28. 101 Layer Lasagna @ Bond 45, Washington DC
29. Fried Chicken Biscuits @ The Original Ms. Rose's, Charleston, SC
30. Corn Meal Pizza @ Dove Vivi, Portland, Oregon
31. Pupusa de Loroco @ Tacos Acapulco, Denver, CO
32. Black Goat Stew @ Mirak, Los Angeles, CA
33. Aburi Salmon Oishi @ Minami, Vancouver, Canada
34. Lobster Roll @ Pearl Oyster Bar, Manhattan, NY
35. BBQ Sandwich @ Paynes, Memphis, TN
36. Brisket @ Coop's BBQ, San Diego, CA
37. Signature Pie with Sausage @ Tacconelli's, Philadelphia, PA
38. Crispy Chorizo Tacos @ La Taqueria, San Francisco, CA
39. The Holy Chuck @ Holy Chuck Burgers, Toronto, Canada
40. The Porker @ Pig on the Street, Vancouver, Canada
41. Lobster and Corn Hushpuppies @ The Federalist, Washington, DC
42. BBQ @ Fette Sau, Brooklyn, NY
43. Chicken-Salad Tartine with Nuts Dried Cranberries @ Blue Dahlia Café, Austin, TX
44. Dog of the Day @ Trina's Starlite Lounge, Boston, MA
45. Banh Mi Sandwich @ Num Pang, Manhattan, NY
46. Shio Butter Ramen @ Hanamizuki Japanese Restaurant, Orlando, FL
47. Fried Chicken @ Foreign Cinema, San Francisco, CA
48. Pho @ Pho Tien Thanh, Toronto, Canada
49. Spicy Fried Chicken with Powdered Fritters @ Jim Dandy, Los Angeles, CA
50. Dim Sum @ Pacificana, Brooklyn, NY
Top Blogger award
Bradd and Kristy DelMuto won Chowzter's Top Blogger award. This husband-and-wife team write 22nd & Philly, one of the most popular blogs about the Philadelphia food culture. Passionate about experiences, memories and communities built around food, they review restaurants, bars, food trucks and more, from hidden gems to trendy hotspots, and BYOBs to beer festivals. Bradd and Kristy have been apart of the Chowzter community since its infancy and have been setting the bar for Chief Chowzter.
North America's Foodiest City award
Portland, the first city in America to properly start and institute the food truck phenomenon raging across the country, won Chowzter's Foodiest City award. This eclectic multi-cultural city is bursting with exciting, creative and quirky dishes influenced by cuisines around the world. Chowzter hosts an international collection of food bloggers who provide timely tips to foodies around the world on where to get delectable fast feasts of the highest quality at a good price, anytime and anywhere. There are more than 60 Chiefs Chowzter's around the world, including 15 in North America, with more joining every month. The site's North American Chief Chowzters hail from such cities as Boston, Denver, Los Angeles, New York City, Philadelphia, San Diego and much more.