Emeril's Tchoup Chop (pronounced chop-chop) at Loews Royal Pacific Resort is the second eatery by Emeril Lagasse at Universal Orlando Resort. My first visit to Emeril's Tchoup-chop was in 2008, on the first date with my then girlfriend (now wife).
I remembered how stunned I was by the beautiful decor and striking colors of at the restaurant. For one reason or other, we hadn't had time to return to Tchoup-chop until now.
The upscale Asian-Polynesian eatery recently launched several updates including a new chef de cuisine, Ryan Vargas, and general manager, Andy Vaughn, updated lunch and dinner menus featuring dishes from a brand-new Japanese robata grill, a renovated sushi bar with expanded sushi offerings, a fresh cocktail menu, revamped interior decor, and happy hour specials.
Chef de cuisine Ryan Vargas, a Hawaii native, joined Emeril's Tchoup Chop after spending about 13 years leading the kitchens at some of the island's top resorts, including the Four Seasons Resort in Hualalai and the Ritz Carlton in Kapalua Maui. Before moving to Orlando, Vargas also led the kitchen at the Four Seasons Resort in Palm Beach, Fla., where in 2011 he was voted as "Palm Beach County Best Chef" by the Palm Beach Post.
Growing up on the island of O'ahu in Hawaii, Vargas looked up to his father, who was the Master Chief Chef for the U.S. Navy, and inherited his love of great cuisine.
"He would take me to the mess hall, and I recall being excited and amazed with the sights, sounds and smells," Vargas remembers. "I knew at the age of 5 that I wanted to follow in my dad's footsteps."
Chef Vargas' techniques and styles reflect the melting pot of island life, mixing different Asian cuisines with Pacific Island influences, bringing a style of cooking described as "fun and whimsical, classics-with-a-twist, and not complicated but refined."
Classically trained, Vargas graduated from the Culinary Institute of America at Hyde Park, N.Y. in 1991 with an associate's degree in Culinary Arts.
The highlight of the restaurant's kitchen updates is the new robata grill, a traditional Japanese grill that sears meat, seafood and vegetables at up to 1,000° F, allowing dishes to maintain their natural juices and flavor.
Tchoup Chop is one of only two restaurants in Orlando to use the unique and rustic grilling method (the other being Dragonfly Modern Izayaka on Sand Lake Road), popular in Japan as a sort of tapas style small dish cuisine served accompanying beer and drinks.
Guests may order small plates from the robata menu, choosing from options such as Japanese Eggplant with a chili mint sauce, Pork Belly Tocino, savory wild mushrooms with ponzu, and my favorite, lemongrass-marinated Chicken Wing with spicy chili sauce.
The sushi menu here is also greatly expanded with new space at the Food Bar to watch sushi chefs working and a whole list of new rolls.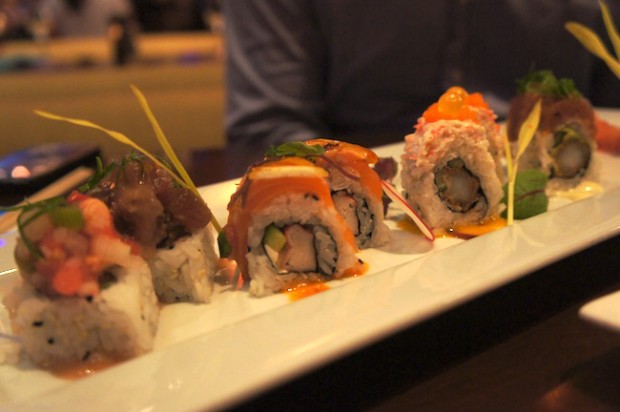 A few new entrees have also been added, including the "KFC" Korean Fried Chicken and Hibachi Skirt Steak with Okinawan Purple Mashed Potatoes and Wild Mushroom Poke.
Chef Vargas also brought with him to Tchoup-Chop a new island dessert: Hawaiian Malasadas with lilikoi and haupia custards.