BRAVO! Cucina Italiana is a "polished casual," affordable restaurant offering classic Italian food amongst the shadows of Roman ruins. The subtitle "Cucina Italiana" means Italian kitchen, in which all cooking is done in full view of the guest, creating the energy of a live theater.
BRAVO's popular entrees include grilled steaks, chops, and made-to-order pizzas, pastas and house specialties, similar to an authentic 'ristorante' in Italy. BRAVO! is part of Columbus-based BRAVO I BRIO Restaurant Group. Founded in 1992, BRAVO I BRIO Restaurant Group currently operates more than 100 restaurants in 33 states including BRAVO! Cucina Italiana, BRIO Tuscan Grille and Bon Vie Bistro.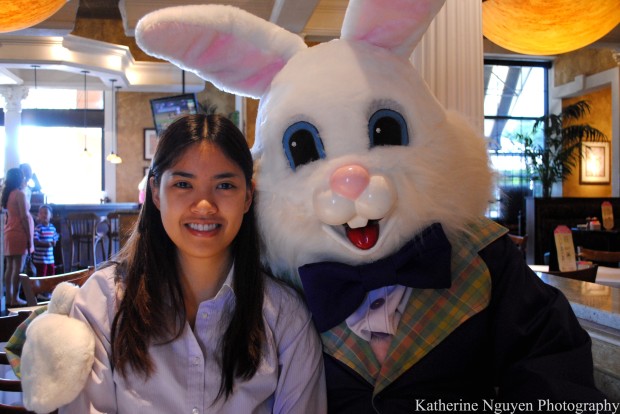 On April 12, 2014, BRAVO! hosted a fun-filled Bunny Brunch to celebrate springtime. This brunch will be available also during Easter Sunday. I was invited to try it out recently here in town.
Sit down with the Easter Bunny to enjoy dishes on the menu for adults and children.
Children's entrées are scrambled eggs, bacon and fresh fruit; and French toast with bacon and fresh fruit.
Adults could chose from Sicilian Omelette (Cherrywood smoked ham, bacon, Fontanini sausage, tomato compote, Mozzarella, Provolone and Parmesan cheeses, served with brunch potatoes) to Berries & Cream French Toast (Mascarpone cream cheese stuffed French toast, honey, cinnamon, and berry compote with Applewood smoked bacon). Two other options will be mentioned below.
Once drinks are ordered, house baked muffins are brought out. At our table, we were given poppy seed and blueberry muffins. Both were delicious, but were a tad dry in my opinion.
With the Bunny Brunch, the meal also includes a yogurt & fruit parfait. Each cup was cute and had fresh fruit over yogurt taken right out of the fridge.
The Eggs, Home Fries & Bacon consisted of scrambled eggs, bacon, brunch potatoes, and brioche toast – turkey sausage available upon request. The scrambled eggs were requested to be of only egg whites and accommodated; they were delicious with a shake of salt and pepper. The bacon was crispy without being burnt. And the home fries were to die for with its delicious seasoning.
The Ham & Biscuit Benedict had two poached eggs, Cherrywood smoked ham, house made biscuit, and hollandaise, served with brunch potatoes. This was made to please every tastebud as each ingredient added to the dish in general. The poached eggs had a little sweetness to the palate; the ham was smoked and a little spicy, but bearable to those who can't handle spicy dishes; and the biscuits themselves were fluffy as can be!
BRAVO! Cucina Italiana Orlando – Dellagio is located at 7924 Via Dellagio Way, Orlando, FL 32819, in the Dellagio development adjacent to The Marketplace at Dr. Phillips. The 7,482-square-foot BRAVO! restaurant includes indoor seating for 233, two private dining rooms that can each accommodate up to 30, and an outdoor terrace that seats 122.
BRAVO! offers lunch and dinner, as well as an award-winning children's menu.
The restaurant is open Sunday–Thursday 11 a.m.–10 p.m. and Friday and Saturday 11 a.m.–11 p.m. For reservations, please call (407) 351-5880.