On April 23, 2014, I was graciously invited to a tasting event with Giriam Patel at his new Orlando Fresh To Order (f2o) restaurant located in Waterford Lakes Town Center at Alafaya Trail in East Orlando. Fresh To Order caters to all from meat lovers to pescetarians, vegetarians, vegans, and those who require gluten-free meals!
At Fresh To Order, the service was excellent as each person of their family is sweet and charming. They greet you with a smile from when you walk in to having small talk and suggesting great items from the menu that they, themselves, love. Also, while you enjoy a freshly made meal, you can bring your books and laptops to study for your classes!
Founded in 2006, Fresh To Order is a "fast-fine" restaurant and combines the quality of chef Inspired cuisine found in informal fine dining with the operating platform and price point of a fast casual restaurant. Founded on the vision of "Incredible Food, Service and Facilities," Fresh To Order serves a menu of freshly prepared entrees, panini sandwiches, soups and salads in less than 10 minutes for around $10.
When they say "fresh", they mean it – there are no walk-in freezers located at Fresh To Order. They only have a freezer to store their desserts and a walk-in cooler to keep their food fresh for the day. Fresh To Order receive shipments of food and prepare their ingredients in their kitchen every morning; this includes cleaning the squid, salmon, etc!
At this event, we were first served samples of warm soup with honey-glazed croissants. The soups rotate on the menu periodically and are house-made twice each day.
The Creamy Chicken Vegetable soup was my favorite. This soup was deliciously smooth and creamy, filled with flavor in every bite. This will be my "go-to" soup when it's chilly out or if I'm in a mood for soup! There are chunks of chicken and sliced vegetables (ie carrots, etc) found in this dish.
The Wild Mushroom soup was made with Button and Portobello mushrooms creamed by a processor as well as small-diced mushroom for that minor chunky texture. I thought that this soup is a little sweet and easy to eat. This is my second favorite soup from f2o.
The Tomato Bisque soup is also another sweet but subtle soup with a hint of carrots.
The Chicken Tortilla soup isn't creamy like the others and the flavors are a bit too intense for my taste. The Corn Chowder soup to the left of the Chicken Tortilla is spicy, but sweet. The spiciness comes from the jalapeños snuck into it and the corn chunks provide a second texture to the creamy processed soup itself.
In my opinion, the Ahi Tuna Steak has a nice, thin, crunchy coat made of rosemary, sesame seeds and crushed panko. The tuna was fried for 35 seconds before seared and laid on Asian cabbage with an apricot-ginger Dijon vinaigrette drizzled on top.
The Almond Chicken Skewers is one of my favorite dishes at f2o! The chicken is cut thin and has an almond rosemary crust. It is served with two sauces: a Thai peanut sauce made with peanut butter and a spicy chili with marmalade.
Tender Crispy Calamari added onto a Mediterranean Salad contains mixed greens, feta cheese, roasted tomatoes, olive salad, grilled onions, toasted almonds, fresh herbs, and red grapes. This salad is recommended with an Oriental apricot dressing that I also suggest you to order for the salad! The calamari is also fried with lemon slices coated with the same crunchy coating. The crispy calamari and lemon slices are delicious, but the lemon slices aren't overpowering or tart if you try one! Together with the salad creates a mixture of flavors that you can pick out with your taste buds individually. If I were to decide to have a meatless meal and wanted a salad, this would be my top choice.
The Spinach Salad was served with raspberry vinaigrette and bourbon filet steak added to it. Alone, the Spinach Salad contains a seasonal fruit (this one had shredded mango!), spinach, strawberries, blue cheese crumbles, dried cherries, and almonds. On the other hand to the last salad mentioned, this is sweeter and refreshing. However, the sweetness is very bold so try not to drench your salad in the vinaigrette!
The Salmon Panini consists of bourbon-marinated salmon, avocado, lettuce, tarragon aioli, and corn cilantro relish. This is a healthy and delicious Panini. If you'd like to make it a bit healthier, you could switch the white bread to whole-wheat flat bread! I think the avocado is a little dense for my taste and overpowers the salmon. Other than that, I think this is a wonderful Panini with fresh salmon!
The Black Bean Burger consists of black beans, rice, avocado, house pickled jalapeños, lettuce, tomatoes, corn relish, grilled wheat flat bread, and horseradish honey mustard. Unlike other black bean burgers you may have tried, the black bean patty does not fall apart on you! The texture was better than expected. However, if you don't like jalapeños like myself, you may wish to order the burger without it because it can get quite spicy!
The Garlic Mashed Potatoes were delicious as ever and didn't even need a drip of gravy on top to add flavor.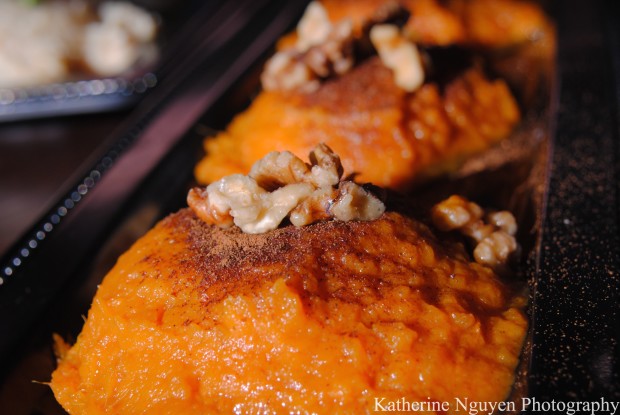 Instead of Garlic Mashed Potatoes, I prefer the Sweet Mashed Potatoes, as sweet potatoes are a healthier option! Also, f2o did a great job of giving it such flavors with their seasonings and walnuts.
If you'd like a more Southern dish, try the Garlic Jack Grit Cake as a side! This is very dense, but so amazing you'll want to come back for seconds…and thirds.
The Chicken Wild Mushroom is a great dish if you'd like a mix of grilled chicken and mushrooms like I do! The chicken was cooked just right where the juices ran fresh with no hint of rawness to it. The roasted mushrooms on top of the chicken will add its own fresh texture to the meal.
The Grilled Salmon is topped with black bean orange sauce and roasted corn peanut relish. It normally comes with baby greens and wheat berry rice. All I can say is, the salmon is to die for!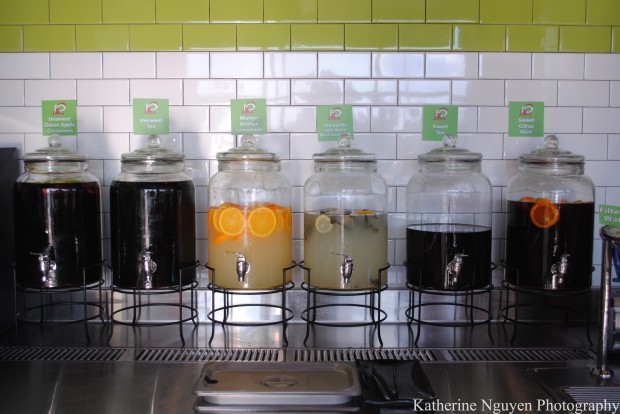 These are only a few dishes that I tried with Giriam Patel at his restaurant – to go with it, you should try some house-made teas and lemonades like I did. The house-made teas and lemonades rotate weekly for new and exciting flavors to take a chance to wow you – even better, not only does Fresh To Order give free refills, but they encourage it and trying all of the teas and lemonades.
If you would like a wine or craft beer instead of tea, lemonade or your ordinary fountain drink, then don't worry – Fresh To Order serves wine and craft beers too.
You didn't think I left without trying some desserts did you?
A variety of cookies are available on hand and made fresh daily at Fresh To Order – Some of my favorites include the chocolate chip cookies and peanut butter cookies! They also had white chocolate chip cookies and cranberry cookies.
The brownies were fudgy and like a slice of heaven! I could taste a hint of fruit, which may mean that they used dark chocolate to make the brownies!
Last but not least are icebox pies! In total, Fresh To Order serves Mini Mango Pie, Mini Key Lime Pie, Mini Chocolate Silk Pie, Mini Peanut Butter Pie, and Mini Seasonal Pie (ask for the seasonal flavors). I was able to try the Mini Key Lime Pie, Mini Chocolate Silk Pie, Mini Strawberry Pie, and Mini Banana Pie. I'm not sure which I like best because they were all uniquely tasteful.