Kappo at East End, the newest member of Audubon Park's East End Market, is a Japanese shop featuring fresh sushi rolls, handmade desserts, and a fabulous omakase lunch / dinner, served barside.
Kappo is run by partners and young chefs Mark Berdin, Lordfer Lalicon, pastry chef Jennifer Banagale, who hope to showcase the best of Japanese inspired cuisine through the use of locally sourced ingredients as well as the bounty from East End Market's own urban farm. Depending on the season and catches, fish and shellfishes serve at Kappo will constantly be changing, limited to three types a day.
Right now, the menu consists mostly of sushi, sashimi, chirashi, rice balls – onigiri, and desserts, but they hope to add noodles (ranging from udon, soba, somen, and to homemade noodle dishes), donburi, and other Japanese fare soon.
With only a limited 7 seats at the bar, Kappo also offers a multi course, Omakase format, dinners at night time starting at 6 PM on Thursday, Friday, and Saturday nights for $75 per person.
Kappo will also be doing special events and dinners at the event space at East End throughout the year.
We recently dropped by for lunch and fell in love with the Kappo Chirashi, a sushi rice bowl topped with delicate uni, slices of snowy grouper, salmon, tuna, ikura, roasted okra, simmered aubergine, gobo, takuan, nori, red round radish, snap peas, and sugar peas.
There is also a selection of Japanese gifts for sale and a convenient "to-go" case for those in a rush during lunch.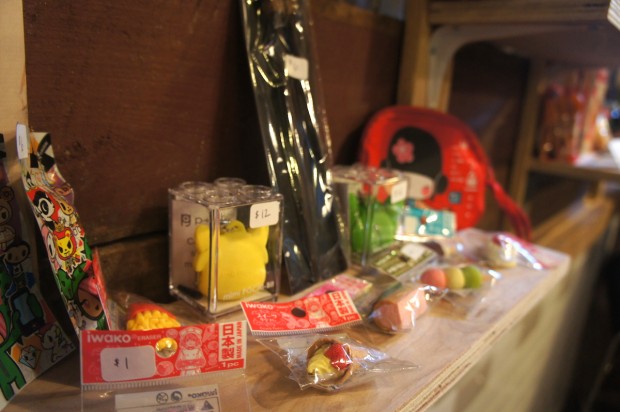 A look inside the to – go display case – sushi bowls, rice balls, desserts, and soft drinks!

Chef Backgrounds
Lordfer Lalicon
Lordfer Lalicon earned Bachelors in Health Science from the University of Florida. Move to New York City and started work at various establishments before getting a job at the Oak Room with Joel Antunes where he got his feet wet in basics of French cooking. After a short stint at the Oak Room, Lo went to work at Allen and Delancey and finally for Dan Barber's Blue Hill at Washington Squares. After a year at Blue Hill NYC, Lo went to Blue Hill @ Stone Barns to improve his techniques. Lo eventually went on to be part of the opening team at Maharlika, modern Filipino restaurant, Parm, Carbone, and Torrisi.
Jennifer Banagale
Jen graduated University of Florida with a degree in Economics. With a couple of semesters spent in Osaka Japan, she also earned a Bachelors in Eastern Asian Language. Unsatisfied with her undergraduate studies in the Swamp, she decided to study in Holland and attained a Masters in International Business. After completing her education, she got a job in the financial sector but decided that the trade wasn't for her and decided to moved to the Big Apple and immerse herself in the world of pastry.
First, her opportunities came in Demel, an Austrian pastry shop and there after proceeded in working in kitchens that include the Oak Room, Aquavit, and DT Works in the Lower East Side. Jen also work as a chef de partie at Mortons Private Club and recently as the Head Pastry Chef at Umu, which is located in the Mayfair district of London.
Mark V. Berdin
Mark graduated with Bachelors Degree in History. Whimsically, when asked by a friend to move to New York City, he nonchalantly said yes and never looked back. Coming to NYC with no job, money, or any direction in life, he went to work for Chef Morimoto in the Meat Packing District where he got his feet wet and learn the fundamentals of Sushi and Japanese cuisine in general. After two and half years, Mark went to work for Master Sushi Chef Masato Shimizu at 15 East. After a brief and fun stint at 15 East, Mark moved to London where he is sous chef to Chef Yoshinori Ishii and Masato Nishihara for three years, learning the art of Kaiseki at Umu.