This year marks Heart of Florida united way's 23rd annual Chef's Gala, held at Epcot World Showplace on May 16th from 6:45 pm until 10:00 pm
United Way is Central Florida's most comprehensive health and human services charity and the largest provider of funds to the regions most critical programs.
Last year alone, United Way and its partner agencies helped more than 400,000 people in the tri-country region. Every year, the organization helps improve the lives of nearly 1 in 5 Central Floridian.
With more than 1,000 guests in attendance and due to the sponsors, more than 95% of all money raised goes directly to support our neighbors in need. Nearly 300,000$ was raised in 2014.
Recognized as the region's premier food and wine-pairing event, the gala features exquisite cuisine from more than 20 of Central Florida's top chefs, along with thoughtfully paired fine wines, live music and a silent auction.
Preview of the menu is provided below:
Illy Crusted Beef Tenderloin, Roasted Bone Marrow Mousseline, Hog Island Oyster, Crispy Potato
– Blu on the Avenue, Chef Anthony Krueger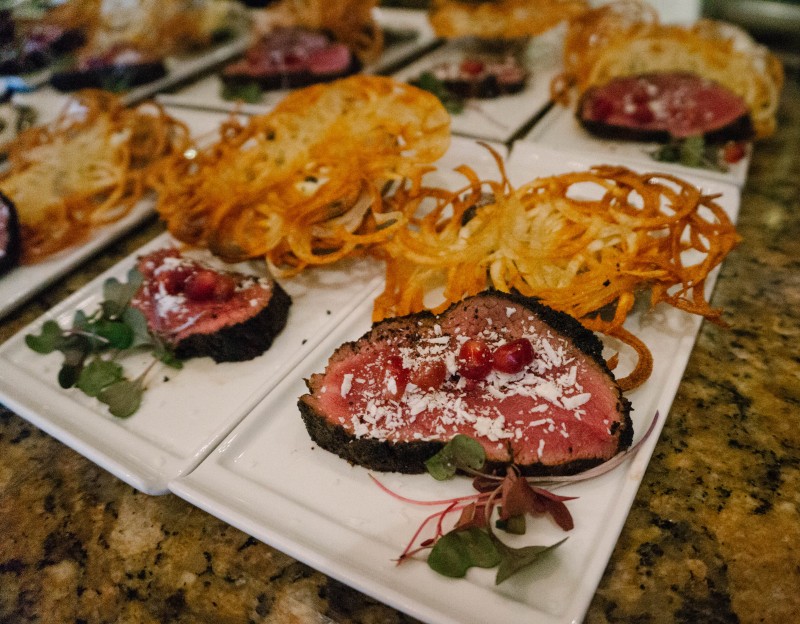 The combination of land and sea had perfectly prepared medium rare tenderloin and creamy oyster.
Root Vegetable Gnocchi, Palmetto Creek Farms Pork Ragu, House made Ricotta cheese, Fried Garden Basil
– K Restaurant, Chef Kevin Fonzo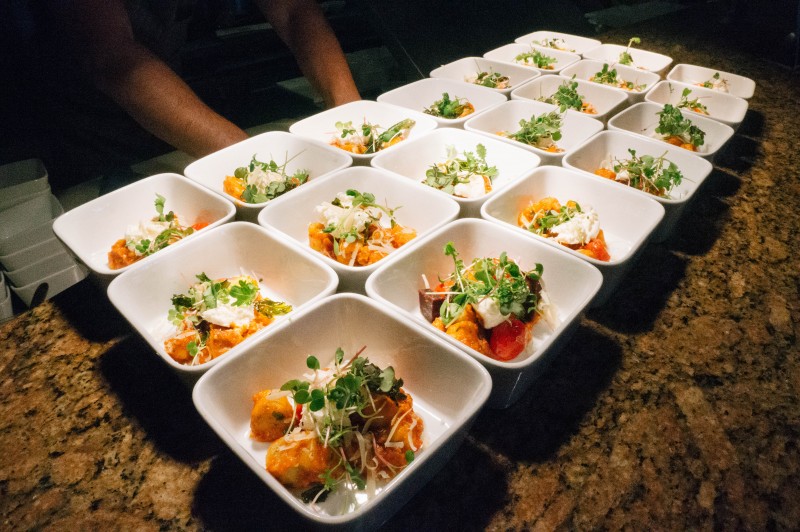 A simple, yet extremely satisfying dish. The soft dough dumpling dish held a taste of freshness that reminded me of a home cooked meal.
Duck Confit, Foie Mouse, and Kumquat sandwich 
–Primo, Chef Mariano Vegel 
A bit size sandwich with a flavorful duck meat and creamy foie mouse- creating a not so average slider.
Florida Rock Shrimp Escabeche, Creamed Parsnips, Chicharonnes, Burnt Onion Jam 
-Urban Tide, Chef Jared Gross
A confetti of flavors and textures from sweet, tangy, smokey to creamy, crunchy, and smooth. The rock shrimp dish had a lot of ingredients that play
well with each other.
Ghanaian Chocolate and Passion Fruit Milk Tart.
–Disney's Animal Kingdom Lodge Bakery, Pastry Chef Amanda Lauder 
A perfect combination of deep chocolate bitters and tang of passion fruit.
23rd Annual Chef's Gala
Saturday, May 16, 2015
Epcot® World Showplace
6:45 – 8:15 p.m. – Champagne, Martini Bar
& Silent Auction!
7:30 – 10 p.m. – Bon Appétit!
Individual Tickets – $275
Couples Ticket – $500
Corporate Packages – $2,500
http://www.hfuw.org/Chefs_Gala.php
Heart of Florida United Way (HFUW) is Central Florida's most comprehensive health and human services charity and the largest provider of funds to the region's most critical health and human service programs. Last year, it raised and managed $26.6 million throughout Orange, Osceola and Seminole counties. HFUW is working to advance the common good by focusing on education, income, health and basic needs. It operates United Way 2-1-1, Central Florida's crisis, suicide and referral helpline; Volunteer Resource Center; Gifts In Kind Center; Emergency Homelessness Services; and the Ryan White Part B program, which administers more than $2 million to provide HIV/AIDS services and referrals. HFUW impacts more than 400,000 individuals annually through its direct service and funded programs. United Way partners with local businesses, government, other charities to increase awareness of local health and human service issues and to inspire hope, provide options and create possibilities for people in need. Visit www.HFUW.org for more information, or call (407) 835-0900.