Living in Orlando may seem like a dream to many a kid. And if you ask them, they'd probably wish to come here to visit Disney and all our great theme parks.
Give Kids The World Village is a nonprofit resort in Kissimmee, Florida for children with life-threatening illnesses and their families.
The resort's focus is providing accommodations and access to donated theme park tickets such as nearby Walt Disney World and Universal Studios, Florida.
The non profit is highly rated by Charity Navigator for their accountability and impact for every dollar donated.
With the help of many generous individuals, corporations and partnering wish-granting organizations, Give Kids The World has welcomed more than 138,000 families from all 50 states and 75 countries since it opened in 1989.
Today the Village is a 70-acre resort complete with 144 Villa accommodations, entertainment attractions, whimsical venues, and fun specifically designed for children with special needs.
Every day countless volunteers come to Give Kids the World to donate their time and energy to help make the resort a special place for the children from serving food in the cafes to driving the cookie carts in the neighborhood and more.
We at TastyChomps.com are proud to be "Awareness Angels" in the social media world for Give Kids the World and helping to spread the word about this great cause. At the recent Blogger Bash, Pam Landwirth, GKTW's president, and several members of her management team, numerous volunteers, corporate partners, and wish families were on hand to answer questions and make comments. Special thanks to Kelly Green (SeaWorldMommy.com) for setting this great event up.
Recently, even Kevin Bacon came by to the Village and started the 6 second ice cream challenge (#GKTWChallenge) – I will be doing this soon and suggest you do the same!
Bacon squared off against one of the resort's young guests to see who could eat the most ice cream in six seconds. In the challenge, the loser has to donate $6 to Give Kids The World Village, a 74-acre resort where children with serious illnesses and their families are treated to dream vacations at no cost.
Bacon is founder of SixDegrees.org, which encourages celebrities to use their fame to benefit worthy causes, such as Give Kids The World Village. He visited the Village to highlight the fact that everyone is connected by six degrees or less to a child with a life-threatening illness. Challenge your friends and family to the #GKTWChallenge. To get involved, go to www.gktw.org/bacon.
Here are some scenes from our (rainy) day at Give Kids the World!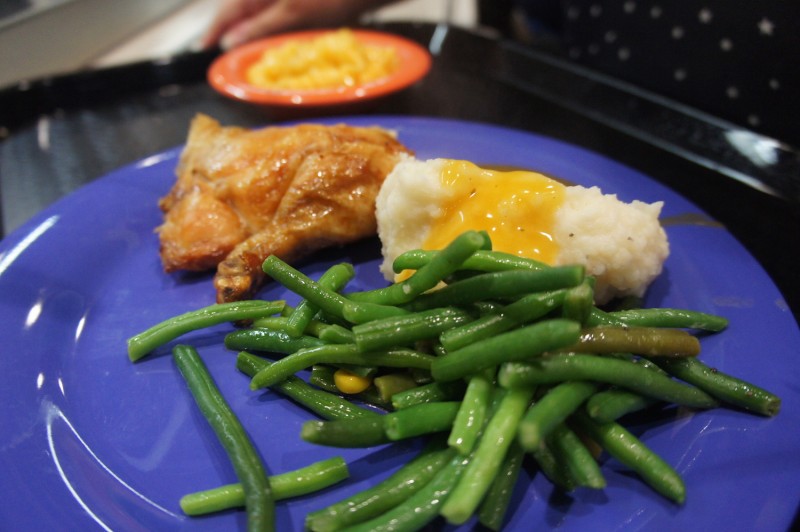 Each of the stars were made by a child who visited the village, writing their names on them as a memory of their time here.
To learn more about Give Kids the World Village, volunteer, or donate, visit:
Give Kids the World Village
210 S Bass Rd, Kissimmee, FL 34746
(407) 396-1114
www.gktw.org