Omakase – which means "trust the chef" or "chef's choice" is a common practice at Japanese restaurants where diners leave it up to the chef to make their best, freshest dishes of the day. Often applied to sushi in the catch of the day.
Dragonfly's chef de cuisine David Song  recently released his Summer Seasonal Omakase menu, $45 for 4 dishes and $65 for 4 dishes plus one quickfire order – 4 pieces of composed nigiri with special chef toppings.
The menu includes:
The Summer Chilled Ramen – a refreshing cool ramen with English cucumber, daikon, heirloom tomatoes, pickled shisito peppers, snow crab, and a sesame vinegar soy dressing – the vinegar soy dressing gave the dish a nice tartness / acidity, but the noodles could use some work overall.
Robata Bronzino – grilled on their robata grill, the bronzino fish fillet is dressed with a ginger scallion pesto and dancing bonito flakes with a citrus soy drizzle
Natsu Sushi Roll – a festive Katsu shrimp roll stuffed with goat cheese, cucumber, fresh jalapeños, avocado, snow crab, and topped with a salsa of red onions, mango, tomato, and pepper relish
The Quickfire plate – 4 nigiri with special chef toppings including salmon roe, pickled cucumbers, and guacamole and bacon…the nigiri were all quite delicious, though I would ease back on the guacamole and bacon topping as the fish is overpowered by the guac.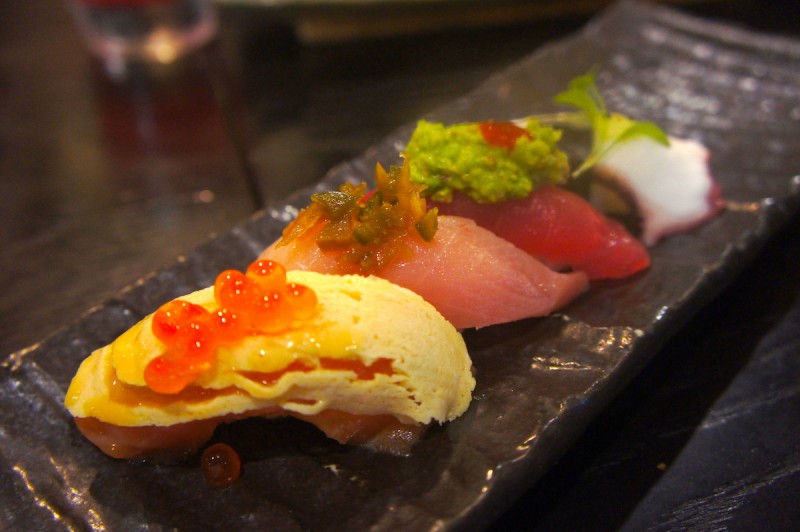 Dessert – Matcha Cake – a green tea cake with Azuki bean mousse, blueberry sake preserve, and fresh blueberries
I really enjoyed the robata grilled bronzino, but thought the sushi rolls had a bit too much going on – so much so that the flavors were hard to distinguish from each other. I hope the kitchen can improve on these points, but overall – quite enjoyable.
Other new sushi rolls now available to order at Dragonfly include:
Shogun Roll – Snow Crab, cucumber, cabbage, jalapeño, avocado, topped with torched tuna, fried enoki mushrooms, and a tangy, wet mornay sauce.
Satori Roll – Snow crab delight, scallion, green and red bell pepper, cilantro, avocado, yellowtail, garlic chips, and a jalapeño garlic sauce.
Here is the menu:
The dishes are paired with light and refreshing Asian inspired summer special cocktails such as the Shochu Wanna Pomegranate?, A Shade of Blackberry, Hot Kagoshima Daze, and the Sake Sangria.