A small group of Orlando Food Bloggers and I were invited to sneak preview of the Second Annual Couple's Cook Off at Aggressive Appliances and it was so much fun! I would definitely recommend this event to everyone. Whether you are competing or spectating, the entire family will surely enjoy the experience.
About The Couple's Cook-Off
The Couple's Cook-Off is a fast-paced, hands-on cooking competition in a state-of-the-art kitchen showroom hosted by Edible Orlando Magazine and Orlando Date Night Guide. Five couples will compete against one another on October 9 and October 23.
The winning couple from each preliminary round will compete in the final round on November 14, along with a wild-card couple. One lucky couple will walk away with the Grand Prize.
Contestants pay $150 per couple for preliminary rounds; there is no charge to compete in final round, but friends may come to observe and enjoy cocktails, beer and samples from local vendors for $15 per person. Proceeds to benefit the Culinary Training Program at Second Harvest Food Bank.
This is my first cooking 'competition' and quite frankly I did not know what to expect. However, I've always loved watching Chopped and other food competitions, so the thought of participating in one was super thrilling to me.
We arrived at Aggressive Appliances and I was mesmerized by their showroom. They've been here for about 30 years and is always changing with the new and improve state-of-the-art appliances.
We were greeted with the friendliest staff and immediately felt at home with their welcoming environment.
They

They even provided us with snacks, and overload us with carbs to prepare us for what was about to come.
We mingled with the other food bloggers aka our competitors of the night and at this point Jonathan (my guest) and I had no idea what we were in for.

but of course we calmed our nerves with some bubbly wine.
We made our choice of which kitchen we get to work with (don't be fooled by the smile, we were super nervous) – Celebrity Chef for You – Irina Pabis and I shared a kitchen.
While Taste Cook sip – Lisa Wilk and Spork orlando- Lauren Yochum shared the other.
At this point we were told we had a secret ingredient that we all have to incorporate in our dish, and it was eggs (shouldn't be too hard right?).  However, we only have 45 minutes to prepare 3 small plates for the judges to taste and score. (we we're freaking out by this point.)
The competition has begun!
The judges lift the blanket off the 'limited' ingredients table. We had a short amount of time to scatter and gather what we wanted to cook with.
I had no idea what I was doing….I just literally picked up what ever looked good.
The judges & coordinators were thoroughly entertained by our chaos.
At this point…I still don't know what I was doing…and Jonathan was as lost as I was.
He kept looking at me asking so….what are we doing? while I'm just staring at a packet of turkey patties.
(As you can see I kept the glass of wine nearby because – obviously – I need a drink from all this anxiety.)
We figured we should start chopping stuff, and Jonathan was on cutting/chopping on duty.
Here he is meticulously chopping bell peppers, garlic, and ginger.
The other couples started doing so as well.
Fast forward to many blank stares at the ingredients and the kitchen appliances later…
We finally started to put something in a hot pan!
Pan frying some rustic potatoes in olive oil, salt, pepper, and thyme.
At the same time Irina had started cooking her meatballs in the skillet, and potatoes in the pan as well.
Lauren and her husband has got some bacon going!

Lisa had started something fancy in her pan.
The competition is more than halfway through and we're still trying to figure out how to work the touch pad on the induction stove top.

But- we have our main entree cooking up in some sunflower oil!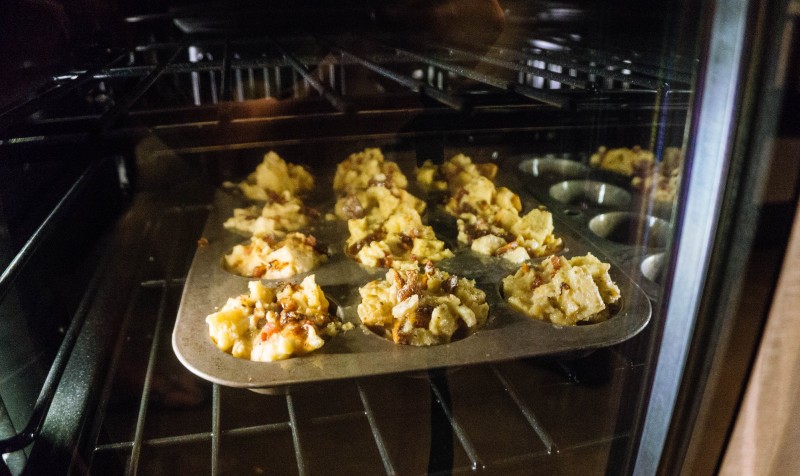 The other competitors were still going strong with their entries.
With minutes left, the entire place was building with anticipation.
We're still incredibly shaky and nervous as we have no idea how our food tasted since we didn't even get a chance to taste it during the process. Before we knew it, the final products were brought over to the judges table as soon as it was plated.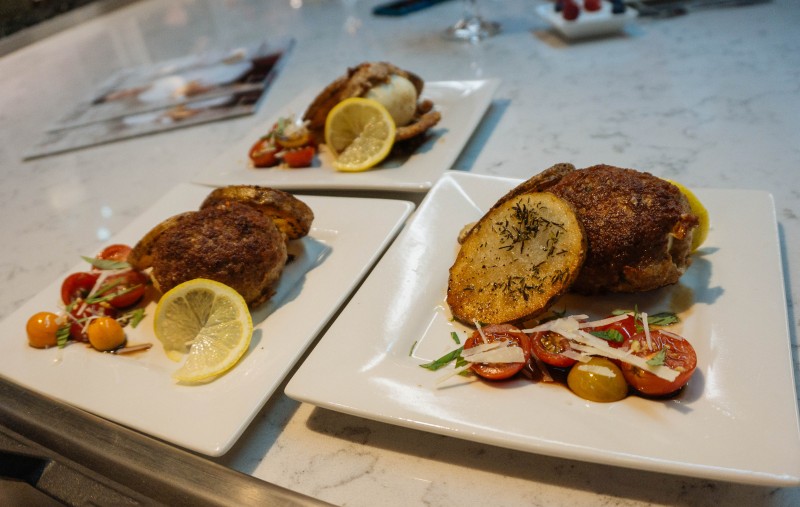 Here is our finished plating!
Scotched eggs, pan fried potatoes, and a side of baby tomatoes in a balsamic vinaigrette topped with sharp parmesan, fresh basil, and sprinkles of ginger.
we wanted to counter balance all the fried stuff with a sweet palate cleanser.
and of course there's always a little mishap during the competition ):
Irina's team:  meatballs with grilled asparagus, tomatoes, and figs.
Lisa's Team: grits and something fancy, I honestly forgot what she called it… but it had pancetta, bread, figs, and goat cheese. It was delicious!
Lauren's Team: serving breakfast for dinner with eggs, toast, BACON, cheese and everything tasty.
The Judges are hard at work, tallying up our scores.
and the winner is……. Nhi & Jonathan!
I'm proud to say we took home first place & the grand prize!
I will be returning to the main Couple's Cook Off competition as a JUDGE in November!
which I'm thrilled about!
I want to thank all the amazing staff at Aggressive Appliance and everyone there that helped us create such a fun, exciting, and memorable preview night.
Also for cleaning up our mess….yikes!
2nd Annual Couples Cook-Off
Presented by Edible Orlando and the Orlando Date Night Guide, the contest will give couples the chance to compete in one of 2 qualifying rounds, with 2 winners from each semi-final cook-off advancing to the finals on Saturday, November 14, 2015.
** ONLY five couples will get the chance to compete in each semi-final round.
There will be two winning couples from each qualifying round. Each semi-finalist winning couple receives complimentary admission to the finals.
There are five prizes to give away to winners, the value of which total over $2,500:
A two-night gourmet getaway to JW Marriott, Grande Lakes including dinner for two at Whisper Creek Farm: The Kitchen, breakfast each morning in Citron, An American Brasserie, and two spa passes to the Ritz-Carlton Spa
Wolf gourmet blender
Tassimo coffee system
Miele canister vacuum
KitchenAid stand mixer
The 1st place couples will win the Grande Lakes giveaway + their choice of culinary prizes. The 2nd through 4th place winners will win their choice of the remaining prizes.
**Entry is $150 PER COUPLE with a portion of proceeds supporting Second Harvest Food Bank of Central Florida. Entry includes all food, sit-down dinner with wine after semi-final rounds + a fabulous swag bag filled with surprises.
For more information on the competition and to sign up visit the following link below.
http://www.orlandodatenightguide.com/2015/09/join-us-for-the-2nd-annual-couples-cook-off/