The Food and Wine Weekends at Waldorf Astoria and Hilton Orlando Bonnet Creek are going on now till November 15 – coinciding with Disney's Epcot International Food and Wine Festival.
One of the events they host during this time of year is a very special Bull and Bear menu featuring some of their best and newest creations. The Menu can be found here.
The meal begins with the "potato cappuccino", a frothy potato soup that is almost a mousse in texture topped with some truffle powders, all resembling a cappuccino cup. Very flavorful, and luxuriously smooth.
POTATO CAPPUCCINO
Oregon Truffle Jus, Mushroom Salt
Wine: Jaffurs Viognier, Santa Maria Valley, CA
Next, we had the Maine Lobster Salad, a hearty salad topped with an earthy herb tarragon emulsion, micro greens and sweet Maine lobster butter poached.
MAINE LOBSTER SALAD
Herb Emulsion, McGregor Farm Petites, Aioli
Wine: Elk Cove Pinot Gris, Willamette Valley, OR
One of my favorite dishes of the evening was the Chilean Sea Bass, presented beautifully as though a form of art, the baked sea bass is topped with silky smooth layers of mushrooms, spinach, roma tomatoes, and parsley butter and served on sorrel cream with butternut squash ring.
CHILEAN SEA BASS
Spinach, Mushroom Duxelle and Tomato Encrusted Chilean Sea Bass, Sorrel Sauce
Wine: Sonoma-Cutrer Chardonnay, Russian River, CA
For our "land" course, we had the 8oz. Filet served with Mushrooms & Au Gratin, one of the finest steaks in town, and drizzled with a touch of beef tallow candle "wax". It is paired with the 1000Stories red zinfandel made using bourbon barrels rinsed for aging Mendocino Zinfandel. The wine is only available at one retail outlet (World Market); and poured only in two Florida dining rooms. The wine carries an American Icon symbol of Buffalo Winery raising funds for conservation of Buffalo.
8 oz. FILET OF BEEF
Beef Tallow Candle
Potato au Gratin
Sautéed Seasonal Mushrooms
Wine: 1000 Stories Red Zinfandel, Mendocino County, CA
For dessert, one of Bull and Bear's signature treats – The Reveal – a mint powder sprinkled Valhrona chocolate dome that, when poured over with a warm mint rice water reveals a gorgeous meringue, Tahitian vanilla ice cream, lemon curd, and non-baked berry compote.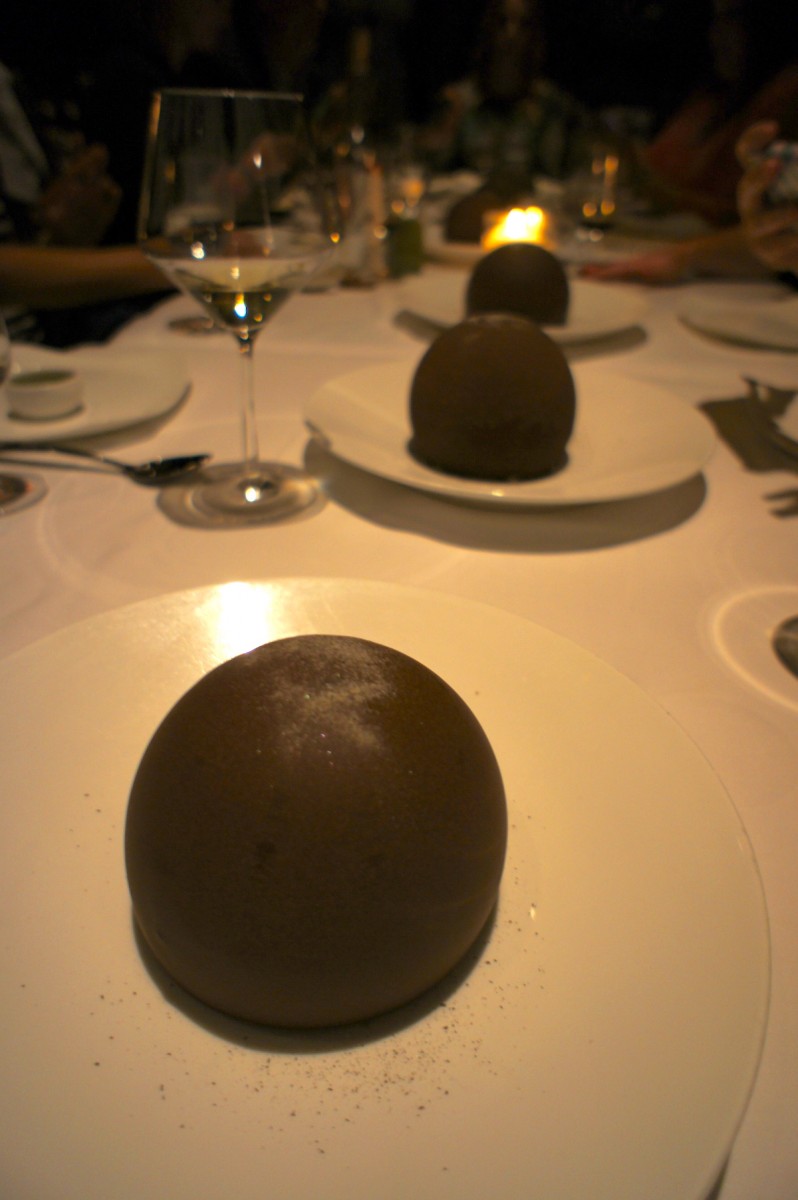 THE BIG REVEAL
Lemon and Berries Pavlova, Tahitian Vanilla Ice Cream, Meringue
Wine: Alvear Solera, Pedro Ximenez, Spain
——————–
See below for more information from Waldorf Astoria and Hilton Orlando Bonnet Creek's Food and Wine Weekends.
A Celebration of Fine Wine & Culinary Arts
Weekends through November 15, 2015
Food & Wine Weekends at Waldorf Astoria Orlando and Hilton Orlando Bonnet Creek is a celebration of fine wine and the culinary art,  complementing the annual Epcot® Food & Wine Festival, for the serious epicurean.
Designed for those who truly savor the artistry of fine culinary preparations – each plate a canvas for delight and each vintage an invitation for couples to indulge in each other – we invite you to experience Food & Wine Weekends at Waldorf Astoria Orlando. Come for an evening, or immerse yourself in a weekend retreat.
Food & Wine Weekends events will be held from September 25 through November 15, 2015.
Weekend Highlights
The Taste of Bull & Bear
Friday and Saturday, Bull & Bear
Experience an exclusive tasting five-course menu comprised of exquisite food and wine pairings – prepared by the illustrious chefs of Waldorf Astoria Orlando. $110 per person, plus tax and gratuity. Call 407-597-5413 for reservations or click here to reserve on Open Table.
Il Cibo Della Vita – A Wine Pairing Dinner
Friday and Saturday, La Luce at Hilton Orlando Bonnet Creek
From the kitchen of La Luce at Hilton Orlando Bonnet Creek, each weekend a new menu with exclusive offerings and recommended wine pairing will be unveiled, featuring a selection of recipes only available during Food & Wine Weekends. Menu may be paired with wine flights for an additional $20. Reservations recommended. Call 407-597-3600.
Chalk Art – NEW in 2015
September 25 & November 7 (4pm to 6pm only), La Luce at Hilton Orlando Bonnet Creek
The perfect complement to a sumptuous feast is inspiring art. At La Luce, we celebrate the sensory by treating you to art that is as fresh and contemporary as our cuisine. And now, as part of Food & Wine Weekends, you can watch as Edson Campos and Kathleen Brodeur – renowned Chalk Artists – create a masterpiece before your eyes while you dine.
Cocktail Creations
Saturday 4:30pm-5:30pm, Peacock Alley
Muddle, mix and sample! Guests partake in an interactive experience creating their very own specialty cocktails. ($)
Bar du Chocolat and Champagne Tasting
Friday and Saturday, 6:30pm – 10:30pm, Peacock Alley
Decadent, yes. Sinful, perhaps. Most certainly an experience for those with a sweet tooth. Peacock Alley will be transformed into a chocolate-lover's dream, offering a cocoa-infused evening of self-indulgence paired with a selection of fine champagnes. Guests can choose from a signature selection of chocolate treats from the Waldorf Astoria Orlando's world-class pastry team. Pricing varies.
The Art of Sushi Pairing
Friday and Saturday evenings, Zeta Bar & Sushi Lounge at Hilton Orlando Bonnet Creek.
Guests can enjoy an exciting epicurean journey at Zeta Bar & Sushi Lounge, exploring perfect pairings of sake and beer with favorite sushi dishes.
Les Douze Macarons – NEW in 2015
Friday & Saturday, 6pm – 10pm, MYTH Bar at Hilton Orlando Bonnet Creek
Whether indulging in a pre or post-dinner treat, guest can visit the Macaron Bar to try an assortment of flavors, hand-made by the resort's world-class pastry team. $2/each.
Fantasy Flights – NEW in 2015
Friday & Saturday evenings, MYTH BAR at Hilton Orlando Bonnet Creek
Guests will have the opportunity to take off with a choice of flights of (3) reds and (3) whites. Wine selection predetermined. Click here to view the menu.$15/flight.
Live Entertainment
Nightly at Peacock Alley
Select Saturdays, MYTH Bar at Hilton Orlando Bonnet Creek
Royal Tea – A New Waldorf Astoria Tradition
Sundays, 2pm – 4pm, Peacock Alley
Treasure time together as you savor finely-prepared tea sandwiches and house-made pastries, while sipping premium hot tea and listening to live piano music. Add a glass of champagne for a "Grand Royal Tea." From $30 per adult; $15 per child, plus tax and gratuity. Reservations are highly recommended. Please see Concierge or call 407-597-5450.
Craft Beer Experience
Friday & Saturday, MYTH Bar at Hilton Orlando Bonnet Creek
Enjoy a selection of craft beer tastings from local breweries to include Crooked Can and Orlando Brewery. The resort has teamed up with the brew masters to bring this interactive experience to guests.
September 25 & 26 – Feturing, Crooked Can Brewing Company
October 2 & 3 – Featuring, Orlando Brewing
October 9 & 10 – Featuring, Two Henry's Brewing Company
October 16 & 17 – Featuring, Orange Blossom Brewing Company
October 23 & 24 – Featuring, Golf Beer Brewing Company
October 30 & 31 – Featuring, Cigar City Brewing
November 6 & 7 – Featuring, Funky Buddha Brewery
Astoria After Dark
Friday and Saturday, 6pm – 10pm, WA Kids Club
Adults are not the only ones to have fun. The WA Kids Club is offering a nightly children's program including dinner and a non-stop roster of fun activities – providing parents some "adult time" in which to experience Food & Wine Weekend activities.
Waldorf Astoria® Spa Tuscany Wine Special
Daily, Waldorf Astoria Spa
Experience the powerful antioxidants of red wine powder, red grape seed extract, crushed grape seeds and pure grape seed oil as you indulge in an extravagant Tuscany Wine Wrap or Pedicure. To book an appointment at Waldorf Astoria Spa please call 407-597-5360 or visit the Concierge.
50-minute Tuscany Wine Pedicure – $80
50-minute Tuscany Wine Wrap – $130
For more information, visit http://www.waldorfastoriaorlando.com/food-wine