Morimoto Asia, the highly anticipated collaboration between Chef Masaharu Morimoto and Patina Restaurant Group, officially opens for dinner this Wednesday September 30th, 2015 as part of The Landing, one of four neighborhoods in the new Disney Springs at Walt Disney World Resort.
It is the Japanese master chef's first pan-Asian dining experience and showcases flavors from across the Asian continent with an emphasis on China, Korea, Japan and Thailand.
The menu is an eclectic take on some of Chef Morimoto's favorite Asian flavors including L.A. BBQ kalbi ribs, moo shu pork, Morimoto Peking duck, lobster chow fun, sweet and sour crispy whole fish, pho ga, pad Thai, sticky ribs and Singapore laska noodles. Chinese dim sum includes items such as dumplings, shumai, shrimp har-gao and grilled chicken bao.
In addition, the 14-seat sushi bar offers pristine sushi and sashimi options from around the world. Items include toro, kanpachi, Japanese red snapper, uni, sea eel, hamachi, fluke, and salmon, as well as more ocean delicacies. A variety of specialty sushi rolls and selections from the raw bar are also offered to the guests not seated at the sushi counter.
Chef Masaharu Morimoto, most known for his role as Iron Chef Japan, originally began his life as a baseball catcher in Japan before a shoulder injury ended that career and he began his second life by studying sushi in his hometown of Hiroshima.
He quickly grasped the technique of this exacting food art and, at age 24, opened his first restaurant. Five years later, he moved to America to expand his culinary repertoire and explore the opportunities and possibilities he saw for a cuisine that would combine the best of both continents.
In 1994, Morimoto was recruited to join the team at the original Nobu restaurant, and in 2001, he opened his first eponymous restaurant in Philadelphia. He debuted Wasabi by Morimoto at the Taj Mahal Hotel in Mumbai in 2004, followed by a second Wasabi at the Taj Palace Hotel in New Delhi in 2008.
Morimoto has received numerous accolades for his cuisine and aesthetic, including several appearances on San Pellegrino's "Top 100 Restaurants in the World" list, a James Beard Foundation Award for "Outstanding Restaurant Design" for Morimoto New York, and in 2010, Morimoto Napa was named one of Food & Wine magazine's "Best U.S. Restaurant Openings."
Today, there are additional Morimoto restaurants in Honolulu, Mexico City, and Maui, a Morimoto Sushi Bar in Boca Raton, Japonais by Morimoto in Chicago and Morimoto South Beach in the Shelborne Wyndham Grand Hotel in Miami. In 2015 and 2016 a few more restaurants will be open in Bangkok, Las Vegas and Toronto.
Patina Restaurant Group (www.patinagroup.com) has a portfolio of restaurants including Tutto Italia Ristorante and Via Napoli at the Epcot World Showcase, as well as Michelin-starred Lincoln Ristorante, STATE Grill and Bar at the Empire State Building, Stella 34 Trattoria at Macy's Herald Square, The Sea Grill at Rockefeller Center, Brasserie, Brasserie 8 1/2, The Grand Tier Restaurant at the Metropolitan Opera, La Fonda Del Sol at Grand Central, and The Rink at Rockefeller Center.
On the West Coast its portfolio includes the renowned Los Angeles Times' four-starred and Michelin-starred Patina Restaurant in Walt Disney Concert Hall, Café Pinot, Ray's & Stark Bar, Catal and Naples in Anaheim's Downtown Disney District, Leatherby's Cafe Rouge, and catering and food service in museums and cultural centers throughout California.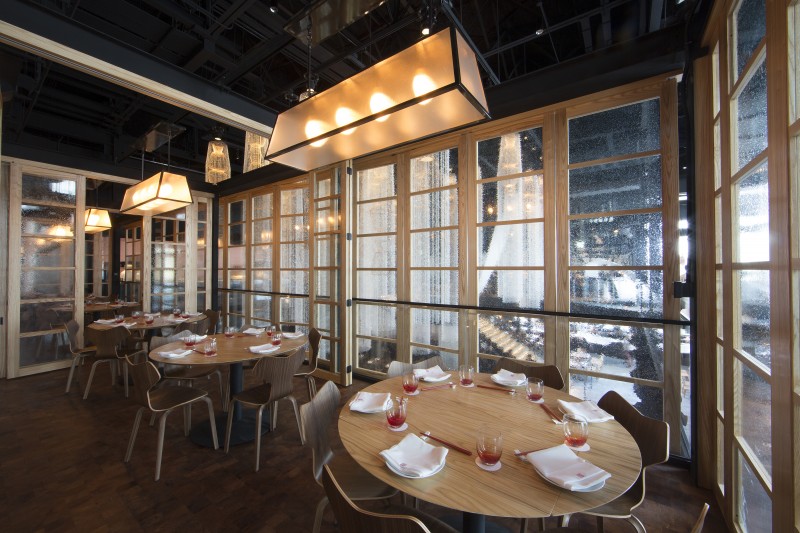 Morimoto Asia's 36-foot tall, two-story layout has been designed by STUDIO V Architecture, including an exhibition kitchen that allows guests a behind-the-scenes glimpse of the culinary action. The second-level sushi bar and lounge have a separate entrance and is known as the Hidden Lounge.
"This has been a project of passion for our team and Chef Morimoto. We can't wait to open our doors to everyone visiting Disney Springs this fall and beyond," said Nick Valenti, restaurateur and CEO of Patina Restaurant Group.
The beers will feature mostly Asian varieties in both bottle and on draft, including the Morimoto signature beer by Rogue Ales. In addition to the collector's edition Imperial Pilsner and Morimoto Soba Ale and the highly coveted Black Obi Soba will also be available by the bottle.
The restaurant will also offer an assortment of sake, including the Morimoto signature line, plus a wine list showcasing wines of the world, signature cocktails and non-alcoholic drinks.
"I am excited to create a menu that allows so many of my favorite Asian flavors to come alive all in one place," said Chef Masaharu Morimoto. "I hope the guests at Morimoto Asia have as much fun eating this food as I have creating it."
We had the opportunity to interview Chef Morimoto via e-mail this week ahead of the opening.
TastyChomps: Chef Morimoto, what are you most excited about for the new Morimoto Asia at Disney Springs?
Chef Morimoto: This restaurant has a completely new culinary theme; for the first time I created the menu of Asian cuisine, not just Japanese. As a Japanese, I grew up with eating many different types of Asian cuisine. So I always had all kinds of ideas about Asian cuisine. I am very excited about the new challenge.
TastyChomps: What is your favorite dish so far for the new Morimoto Asia?
Chef Morimoto: I cannot pick a dish, just like you cannot pick your favorite child among your children. All these new dishes are my favorite!
TastyChomps: How did the vision for Morimoto Asia come to be?
Chef Morimoto: It is in Disney, so the target guests are different from those of other Morimoto restaurants. There will be a lot of kids. People will come from all of the world, expecting first-class entertainment. People love Asian food because it's approachable, delicious, and fun, so I thought the theme would be perfect for the location.
TastyChomps: What is your favorite dish to cook at home?
Chef Morimoto: I never cook at home because my wife does. She cooks mostly vegetables thinking about my health.
TastyChomps: What was your most challenging experience in your cooking career and how did you overcome it?
Chef Morimoto: I enjoy cooking for the guests at the restaurant. However, when I cooked at the Kitchen Stadium for the judges in the original Iron Chef, I was extremely stressed out and nervous. But of course, becoming an Iron Chef changed my career completely.
TastyChomps: Where are your favorite places to visit in Asia and why?
Chef Morimoto: I would like to visit Southeast Asia because there are a lot of interesting and delicious street food. Those dishes inspire me in many ways.
TastyChomps: What do you eat when you are traveling and working?
Chef Morimoto: I try to eat the local food wherever I visit because that's the best food. If I don't have the time to eat out, I eat simple food, such as onigiri (rice balls) and miso soup, at my restaurant.
Morimoto Asia will be open daily from 11:30 a.m. to 2:00 a.m. serving lunch, dinner, and weekend brunch with dim sum. www.morimotoasia.com
Menu and Photos – Courtesy of Morimoto Asia
click to zoom: https://tastychomps.com/wp-content/uploads/2015/09/Morimoto-Asia-DINNER-Menu.jpg
Scenes from the Grand Opening event at Morimoto Asia