Food & Wine Weekends at Waldorf Astoria Orlando and Hilton Orlando Bonnet Creek is a celebration of fine wine and the culinary arts…the perfect complement to the Epcot® Food & Wine Festival, for the serious epicurean.
Designed for those who truly savor the artistry of fine culinary preparations – each plate a canvas for delight and each vintage an invitation for couples to indulge in each other – we invite you to experience Food & Wine Weekends at Waldorf Astoria Orlando. Come for an evening, or immerse yourself in a weekend retreat.
Food & Wine Weekends events will be held from September 25 through November 15, 2015.
Weekend Highlights
The Taste of Bull & Bear
Friday and Saturday, Bull & Bear
Experience an exclusive tasting five-course menu comprised of exquisite food and wine pairings – prepared by the illustrious chefs of Waldorf Astoria Orlando. $110 per person, plus tax and gratuity. Call 407-597-5413 for reservations or click here to reserve on Open Table.
Il Cibo Della Vita – A Wine Pairing Dinner
Friday and Saturday, La Luce at Hilton Orlando Bonnet Creek
From the kitchen of La Luce at Hilton Orlando Bonnet Creek, each weekend a new menu with exclusive offerings and recommended wine pairing will be unveiled, featuring a selection of recipes only available during Food & Wine Weekends. Menu may be paired with wine flights for an additional $20. Reservations recommended. Call 407-597-3600.
Chalk Art – NEW in 2015
September 25 & November 7 (4pm to 6pm only), La Luce at Hilton Orlando Bonnet Creek
The perfect complement to a sumptuous feast is inspiring art. At La Luce, we celebrate the sensory by treating you to art that is as fresh and contemporary as our cuisine. And now, as part of Food & Wine Weekends, you can watch as Edson Campos and Kathleen Brodeur – renowned Chalk Artists – create a masterpiece before your eyes while you dine.
Cocktail Creations
Saturday 4:30pm-5:30pm, Peacock Alley
Muddle, mix and sample! Guests partake in an interactive experience creating their very own specialty cocktails. ($)
Bar du Chocolat and Champagne Tasting
Friday and Saturday, 6:30pm – 10:30pm, Peacock Alley
Decadent, yes. Sinful, perhaps. Most certainly an experience for those with a sweet tooth. Peacock Alley will be transformed into a chocolate-lover's dream, offering a cocoa-infused evening of self-indulgence paired with a selection of fine champagnes. Guests can choose from a signature selection of chocolate treats from the Waldorf Astoria Orlando's world-class pastry team. Pricing varies.
The Art of Sushi Pairing
Friday and Saturday evenings, Zeta Bar & Sushi Lounge at Hilton Orlando Bonnet Creek.
Guests can enjoy an exciting epicurean journey at Zeta Bar & Sushi Lounge, exploring perfect pairings of sake and beer with favorite sushi dishes.
Les Douze Macarons – NEW in 2015
Friday & Saturday, 6pm – 10pm, MYTH Bar at Hilton Orlando Bonnet Creek
Whether indulging in a pre or post-dinner treat, guest can visit the Macaron Bar to try an assortment of flavors, hand-made by the resort's world-class pastry team. $2/each.
Fantasy Flights – NEW in 2015
Friday & Saturday evenings, MYTH BAR at Hilton Orlando Bonnet Creek
Guests will have the opportunity to take off with a choice of flights of (3) reds and (3) whites. Wine selection predetermined. Click here to view the menu.$15/flight.
Live Entertainment
Nightly at Peacock Alley
Select Saturdays, MYTH Bar at Hilton Orlando Bonnet Creek
Royal Tea – A New Waldorf Astoria Tradition
Sundays, 2pm – 4pm, Peacock Alley
Treasure time together as you savor finely-prepared tea sandwiches and house-made pastries, while sipping premium hot tea and listening to live piano music. Add a glass of champagne for a "Grand Royal Tea." From $30 per adult; $15 per child, plus tax and gratuity. Reservations are highly recommended. Please see Concierge or call 407-597-5450.
Craft Beer Experience
Friday & Saturday, MYTH Bar at Hilton Orlando Bonnet Creek
Enjoy a selection of craft beer tastings from local breweries to include Crooked Can and Orlando Brewery. The resort has teamed up with the brew masters to bring this interactive experience to guests.
September 25 & 26 – Feturing, Crooked Can Brewing Company
October 2 & 3 – Featuring, Orlando Brewing
October 9 & 10 – Featuring, Two Henry's Brewing Company
October 16 & 17 – Featuring, Orange Blossom Brewing Company
October 23 & 24 – Featuring, Golf Beer Brewing Company
October 30 & 31 – Featuring, Cigar City Brewing
November 6 & 7 – Featuring, Funky Buddha Brewery
Astoria After Dark
Friday and Saturday, 6pm – 10pm, WA Kids Club
Adults are not the only ones to have fun. The WA Kids Club is offering a nightly children's program including dinner and a non-stop roster of fun activities – providing parents some "adult time" in which to experience Food & Wine Weekend activities.
Waldorf Astoria® Spa Tuscany Wine Special
Daily, Waldorf Astoria Spa
Experience the powerful antioxidants of red wine powder, red grape seed extract, crushed grape seeds and pure grape seed oil as you indulge in an extravagant Tuscany Wine Wrap or Pedicure. To book an appointment at Waldorf Astoria Spa please call 407-597-5360 or visit the Concierge.
50-minute Tuscany Wine Pedicure – $80
50-minute Tuscany Wine Wrap – $130
All guests of Waldorf Astoria Orlando and Hilton Orlando Bonnet Creek are invited to enjoy Food & Wine Weekend experiences.
—————–
Marlow's Tavern Ribs & Whiskey menu returns with saucy food and drink specials, available September 15 through October 19. Guests can go whole hog with barbecue, ribs, handcrafted cocktails and featured cocktails.
New this year, the Ribs & Whiskey celebration menu features four delicious sauces served tableside – Jack Daniel's glaze, hoisin barbecue, Marlow's chipotle barbecue and East Carolina barbecue. Each sauce gives a sweet, spicy, smoky or tangy zip to the perfectly seasoned ribs.
The Ribs & Whiskey menu is available at all three neighborhood taverns in Central Florida: at Pointe Orlando on I-Drive, in Winter Park on 17-92 and at Waterford Lakes Town Center in front of Regal Cinemas.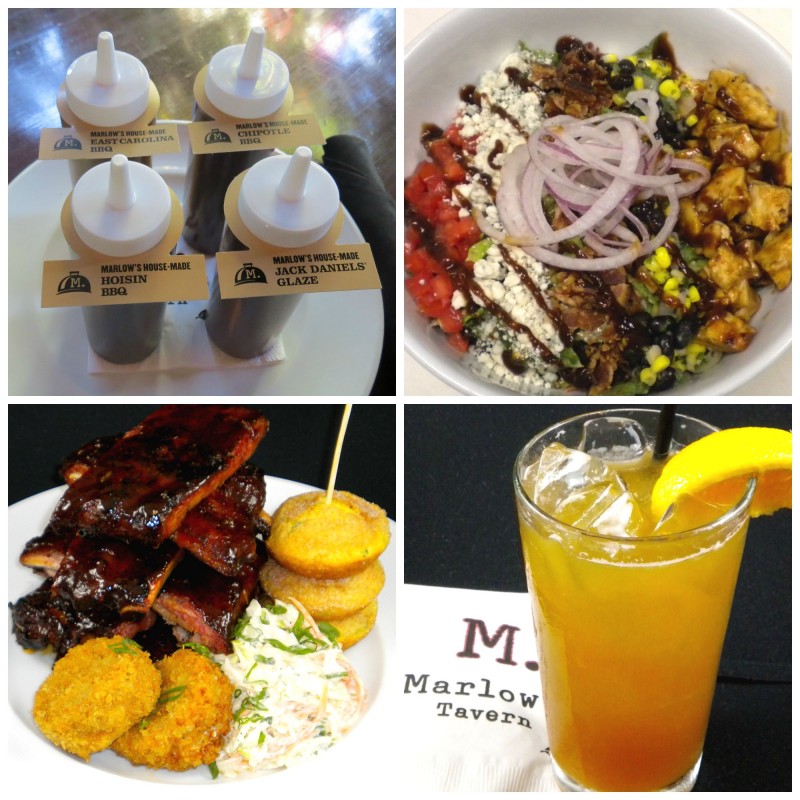 ——————
Central Florida Veg Fest 2015
Saturday, October 24, 2015 • 10:00 a.m.-6:00 p.m.
Orlando Festival Park
2911 E. Robinson Street
Orlando, FL 32803
Central Florida Veg Fest is an exciting day of colorful and educational exhibits and activities! It will take place at beautiful Orlando Festival Park near downtown Orlando on October 24, 2015 from 10:00 a.m.-6:00 p.m. Admission is FREE! Veg Fest is a family-friendly, dog-friendly, and smoke-free event. Veg Fest, now in its 10th year, is one of the biggest and best vegetarian festivals in the country!
Central Florida Veg Fest will draw both committed vegetarians/vegans and those who want to learn more about how veg-living enhances our health, the planet, and its inhabitants. Come enjoy a diverse cross-section of vegetarian cuisines and lifestyles. Discover new products and ideas from over 175 vendors and 100 contributors and enjoy a wide variety of presentations and food preparation demos. Not a vegetarian? Whether you're looking for new ideas to add color and variety to your meals or you're a "seasoned" vegetarian interested in expanding your knowledge of nutritious and ethical foods, this is the place for you.
—————-
Walt Disney World Swan and Dolphin Food & Wine Classic – October 30 – 31, the Walt Disney World Swan and Dolphin Food & Wine Classic will celebrate its sixth year featuring global culinary specialties at the Epcot Resort Area hotel, with more than 40 food and wine stations, 10 food and wine seminars and the opportunities to meet the award-winning chefs behind featured culinary masterpieces. Delectable culinary offerings headline the two-night event, featuring cuisine from the hotel's own award-winning signature restaurants: Il Mulino New York Trattoria, Shula's Steak House and Todd English's bluezoo, with wine and spirits samplings from around the globe.
This year's menu introduces new interesting and unique dishes sure to please the palate including ginger cured Hamachi with nitro lime, mascarpone chestnut ravioli with Italian sausage, celery root and bacon jus and smoked Wagyu short ribs accompanied by a parsnip puree, melba toast and pommery mustard sauce. Favorite dishes from past years also return, such as the shrimp cocktail steamroller, Thai chicken salad with organic greens, green papaya tamarind and ginger dressing as well as the dragon sushi roll with crispy shrimp, tuna and avocado.
The hotel's World Champion Pastry Chef, Laurent Branlard, provides a sweeter side to the evening with decadent desserts like chocolate almond crunch cake and éclair with caramelized banana cream and coconut streusel. This year Branlard will also introduce his S'more Sundae Action Station, combining the classic desserts of the s'more and sundae. New to this year's event is a food truck area, featuring cuisine from the Walt Disney World Swan and Dolphin Hotel and Cabot Cheese – a favorite from last year – as well as an exclusive beverage truck.
Seminars once again return to offer guests the chance to receive a hands-on and tasty educational experience. Seminars cover topics including wine blending, Italian wines, champagne, beer, mixology, tequila, pasta making, sushi and sake, wine and cheese pairing and the Brazilian cocktail, caipirinha. All seminars require separate tickets in addition to the causeway tickets, and space is limited. As an upgraded ticket option, guest can once again experience a beer garden, featuring a variety of local and seasonal brews from around the world, alongside Oktoberfest-inspired cuisine made by the hotel's culinary experts. To add to the event's appeal, guests can enjoy a meet and greet with celebrity chef Todd English, the namesake of the hotel's Todd English's bluezoo restaurant. Guests can also meet the world's only two-time World Champion Pastry Chef and the hotel's very own executive pastry chef, Laurent Branlard. Barbeque fans shouldn't miss the Cib's Smoke House station for signature barbeque dishes from the hotel's executive chef Robert Ciborowski.
Tickets to the Swan and Dolphin Food & Wine Classic are available as part of a hotel package or individually. For more information or to book, please visit www.SwanDolphinFoodandWineClassic.com or call 1-800-227-1500.
———————–
The Orlando Japan Festival Returns to The City Beautiful November 8
Admission is free for the 15th Annual Orlando Japan Festival at The Village at Hunter's Creek. The Japan Association of Orlando (JAO) will host the 15th Annual Orlando Japan Festival Sunday, November 8 from 11 a.m. to 5 p.m. at the Village at Hunter's Creek, 13574 Village Park Drive. The festival is a showcase of Japanese culture and admission is free for guests of all ages.
Attendees will enjoy several performances including a one-hundred-member Japanese Taiko drum ensemble by Orlando Taiko Dojo Drummers, Koto (Japanese harps), Iaido (Japanese swordsmanship and martial arts), Nihon Buyo (traditional Japanese dance), and Edo Satokagura from the National Theater of Japan's Wakayama Performance Troupe, led by Kyosuke Suzuki.
Guests will also have the opportunity to try on Yukatas (kimonos), participate in the cosplay contest, play Japanese-style carnival games, witness a Judo demonstration, delight in Japanese music and dance, observe a traditional Japanese tea ceremony, learn Japanese calligraphy and enjoy traditional Japanese cuisine from a variety of food vendors.
Consul General Ken Okaniwa of the Consulate-General of Japan in Miami will present the Foreign Minister's Commendation certificate to Takemasa Ishikura, President of the Japan Association of Orlando.
The JAO is a section 501(c)(3) nonprofit organization dedicated to promoting Japanese culture within local communities and supporting local organizations and individuals in endeavors to further Japanese visual and performing arts, culture and education. Proceeds from the Festival benefit victims of the 2011 earthquake and tsunami. For more information, visit www.jorlando.org or contact the Consulate General of Japan in Miami at culture@mi.mofa.go.jp or webmaster@mi.mofa.go.jp.
—————-
La Madeleine Country French Café, the acclaimed, authentic country French bakery café, announced today that its first two cafés in Florida will open at Orlando's Florida Mall and near the Mall at Millenia on Oct. 29 and Nov. 12, respectively.
The first 50 guests in line at 6:30 a.m. at Florida Mall on Oct. 29 and Mall at Millenia on Nov. 12 will win a weekly supply of the brand's fresh handmade breads for a year. The café will present the first 50 guests with certificates to redeem their delicious rewards each week during a 12-month period.
"Our Rompre le Pain fans will be filing through the doors just as our first batch of fresh-baked breads are coming out of the oven. We are anticipating an excited crowd of guests on the first day right as doors open," added Cahill.
La Madeleine's first restaurant in Florida opens on Oct. 29 at Florida Mall's new Dining Pavilion, 8001 S. Orange Blossom Trail, near the Dillard's department store. The 4,200-square-foot location is accessible from the mall concourse and a separate outside entrance and features dine-in and to-go offerings. The brand's signature warm, country French ambiance is showcased via wood floors, rustic stone and tile, beamed ceilings, a double-sided fireplace and an outdoor patio. Guests can also take a peek into the bakery where pastries and bread is freshly baked and handcrafted daily.
La Madeleine opens across from the Mall at Millenia, 4200 Conroy Road, near Mercedes-Benz and Best Buy on Nov. 12. The spacious café features rustic county French décor, a private dining area that seats 18 guests, outdoor covered seating for 40 guests and an intimate patio. The café also includes a cozy, country French coffeehouse, called Maison de Coffee, which features a full barista bar, French-inspired coffee menu, soft bistro seating and a communal table with a simple yet elegant ambiance. The 6,600-square-foot location seats 181 guests and offers dine-in and to-go options.
——————
"The Italian Gourmet Ambassadors" is a 3 days top level gourmet dinner event to be held on 10-11-12 November 2015, at the Italian restaurant Francesco's in Maitland (Orlando). There will be two great Italian chefs (the ambassadors) Rocco Iannone and Daniele Uditi that together with the resident chef Francesco Aiello will cook together and individually in the three evenings. The regular dinner event price for the first 2 nights is $94.95 each and the 3rd night is $69.95. A discounted pre-sale ticket price for all the 3 nights is available at $199.95 instead of $259.85. Also a 2 nights discounted pre-sale ticket is available at $129.95 (for night 1 and 3 or 2 and 3) instead of $164.90 All discounted prices are for pre-purchase only and not refundable. For general reservations and questions please contact General Manager Jenny Russo,
Francesco's Ristorante, 407-960-5533, 400 S. Orlando Ave. Maitland FL, 32751
—————–
Eclectic California cuisine restaurant, Wolfgang Puck Grand Cafe in Disney Springs celebrates the final days of the Epcot International Food & Wine Festival with a Signature Dinner on Thursday, November 12, 2015 at 6:30 p.m.
Chef Robert Leonardi gathers inspiration from around the world to craft the five-course menu with wine pairings from various regions including Washington State, New Zealand, California and Italy. Menu highlights include Colorado Lamb Chops with Moroccan spiced farro and harissa aioli as well as Pan Seared Sea Bass with wilted chicory, pancetta and olive oil. Tickets for the Signature Dinner are $90.00 plus tax and gratuity and the entire menu includes:
Amuse
Scallop Ceviche
lime, red chili, tomato, avocado
Four Vines Zinfandel, California
First Course
Pasta Fajoli
pesto
Loveblock by Kim Crawford Sauvignon Blanc, New Zealand
Second Course
Baby Arugula Salad
gorgonzola, endive, candied pecans
Hogue Late Harvest Riesling, Washington State
Third Course
Pan Seared Sea Bass
wilted chicory, pancetta, olive oil
Estancia Pinot Noir, California
Fourth Course
Colorado Lamb Chop
Moroccan spiced farro, harissa aioli
Frescobaldi "Nipozzano Riserva" Chianti, Italy
Fifth Course
Chocolate Tart
caramel, Grand Marnier crème
Castello Poggio Moscato d'asti, Italy
For additional information or to make a reservation please call 407.939.5277 visit online at www.wolfgangpuckcafeorlando.com or call 407.938.9653.
——————
Lafayette's has brought its southern charm to Orlando with incredible live music, good cocktails and delicious southern food. Starting October 4, Lafayette's will be serving up brunch every Sunday from 11 a.m. to 3 p.m., complete with live bands and signature brunch libations.
Bring your appetite, because Lafayette's will be putting a southern twist to classic brunch dishes like the Corned Beef Hash with homemade braised corned beef mixed with potatoes, bell peppers, and onions topped with two poached eggs; and Banana Bread French Toast with homemade banana bread in a vanilla bean, cinnamon egg batter topped with caramel sauce and whipped cream
—————-
Guten Tag from American Q!
Oktoberfest is here, and what better way to celebrate than with barbecue and pairings of beer?
For the month of October, we're offering up a prix fixe of festival-themed fare. Join us for bites of house-made Pretzel Bread, Beer Cheese, Bratwurst and Sauerbraten, all paired up with seasonal sips of Brooklyn Brewery Octoberfest, Dogfish Head Punkin Ale and Orlando Brewing Grateful Pumpkin.
American Q's Oktoberfest menu is available October 1st-31st for $40 per person.
——————
Leading London-based bubble tea chain to bring trendy tea-bar to locals in Orlando and Tampa
– An iconic British brand is set to make a splash at The Florida Mall and Westfield Citrus Park with its renowned bubble tea this fall. Bubbleology, which has a café at TopShop's global flagship store on the famed Oxford Street along with numerous locations across the world, is the London-based beverage leader specializing in authentic bubble tea. As the first Western premium bubble tea-bar concept, Bubbleology is launching its U.S. flagship store at Lenox Square in Atlanta, Georgia. The company will debut its first Florida café in Orlando at The Florida Mall this November, along with a second location in Tampa at Westfield Citrus Park later the same month.
—————–
Cask and Larder at OIA to open summer/fall 2016
Former Walt Disney World executive chef Johnny Rivers has teamed with acclaimed chefs and restaurateurs James and Julie Petrakis to open a version of the couple's popular Winter Park, Fla., restaurant Cask & Larder in the Airside 2 terminal at Orlando International Airport. Peter Amaro, Jr., president and COO of Master ConcessionAir (MCA) in Miami, which operates airport restaurants and retail concepts, joins the endeavor.
The new full-service restaurant and bar will be the first to offer an airside farm-to-table dining experience for Orlando travelers. The Petrakises will modify the menu of the Winter Park Cask & Larder to suit the needs of the airport location, but James Petrakis stressed that they will not stray from their commitment to offering ingredients from Florida farmers. "We'll keep to our beliefs of sourcing locally," he said. "That element won't change."
"When someone visits Orlando for the first time, or this is the place they call home," said Rivers, "what better cuisine to serve than one that uses ingredients that are indigenous to this region?"
Cask & Larder at OIA is scheduled to open in late summer or early fall of 2016.
——————-
Smashburger invites fans who think they have what it takes to survive "Sin City" to submit their most sensible, wild and outrageous survival tips on Instagram or Twitter using the hashtag #SinCitySurvivalTips by 12 AM EST on October 20th. One winner will have the chance to put their tips to the test for a weekend getaway in Las Vegas for two people. Any and all tips will be accepted as long as they include the campaign hashtag f#SinCitySurvivalTips, and Smashburger encourages fans to get crafty and creative with their submissions. Rules, regulations and more fun stuff (including a coupon for a free side just by registering for the brand's Smashclub) can be found at www.sincitysurvivaltips.com.
The promotion comes in celebration of the brand's newest addition to the burger family, the Sin City Burger, which combines American cheese, Smash Sauce, haystack onions, Applewood smoked bacon and fried egg piled up between an egg bun. The Sin City specialty burger, originally created as the regional burger only for the Las Vegas market, is now available nationwide until October 26th due to its popularity in Sin City.