I had a chance to dine with a intimate group of media, Jason, and Sue Chin (the owners of Seito and Osprey Tavern in Baldwin Park) for Seito Baldwin Park's 15 Year Anniversary.
Honestly, it was one of the best culinary tasting experience I've had this year, featuring a 9 course omakase dinner. Omakase means (in a Japanese restaurant) a meal consisting of dishes selected by the chef and literally means "I'll leave it up to you."
Here are a few of the dishes from the exceptional 9 course omakase dinner:

9. Baked Glacier Point oyster – sambal froth, nori butter, black tobiko, almond flour.
It was lightly crispy and so buttery soft…delicious.

8. Japanese sea bream – pickled sweet peppers, apple, orange gastrique, lemongrass oil.
There's something about this white fish that makes the ending notes so clean and palatable. You wouldn't even need ginger to cleanse your palate for the next course.

7. Pork belly kakuni with braised savoy cabbage, pickled green beans, Japanese mustard.
I could've eaten about 9 more of this and gained some kind of cholesterol problem but it will be worth it. This cube of pork belly was so beautifully glazed with a slight hint of Japanese mustard for a hint of tang. It completely melted in your mouth without the unpleasant residue that fat could sometimes leave on your tongue.

6. Whole roasted Branzino – lime leaf, kyurizuke, barrel-aged white soy, nuoc cham, house sriracha.
Probably my favorite way to enjoy branzino. Seito's was so simply seasoned that the flesh of the fish really shined. This is definitely a dish to share and enjoy with your table.
Stuffed with Kaffir lime leaves to rid of the fishy smell and taste.
Jason was kind enough to help separate the fish for us.
Never let any part go to waste. ( fish cheeks, eyeballs, and crispy fins are some of my favorites)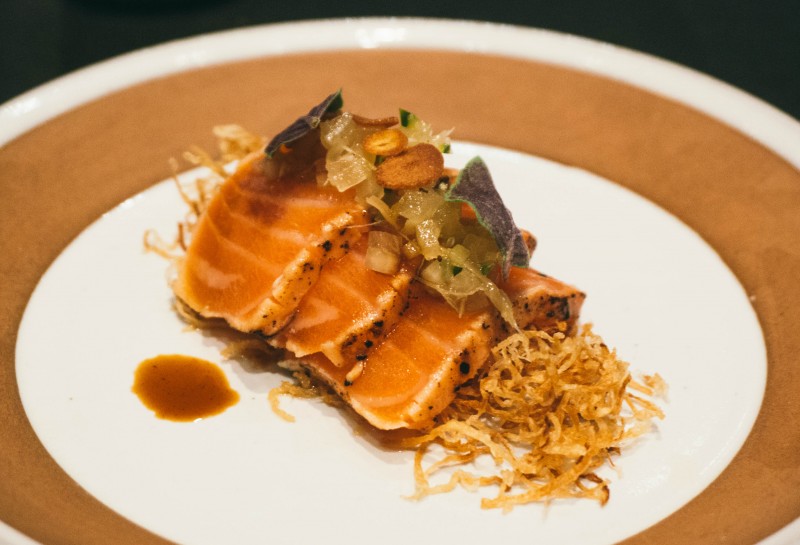 5. Salmon tataki on a bed of daikon nest, relish, fried garlic, dark tosa soy.
Restaurants usually serve tuna tataki since the meat of tuna stays intact when it's cooked, but salmon's flaky nature makes that difficult. Seito was decided to challenge that but cutting the sashimi pieces first then taking their time to sear each edge of the salmon. 

4. Tokyo turnip salad – Okinawa potato puree, caramelized mountain yam, bacon miso dressing.
Jason and his team always manage to impress me with their salads creations. People usually hear the word salad- and think "boring" but that is the complete opposite for this salad. The Okinawa potato was sweet and blended to a perfect puree to harmoniously accompany fresh turnips and yams. 


3. Beef tenderloin – miso marble potatoes, blistered shishito peppers, ginger-scallion pesto, malbec pho jus.
Wonderfully cooked to a tender medium rare.

2. Smoked yellowtail toro – uni foam, holy grail, cherry smoke.
The smoke infused flesh of the fish was really bold, however it did not take away from the freshness of the raw fish. 


1. Kabocha bread pudding – sesame butterscotch, ginger-vanilla creme, pumpkin powder, granola.
I love ending on a sweet note, and this definitely hit the spot without being too sugary. However, I did wanted a side of ice cream to accompany the bread pudding, but that could just be me being basic. 

Everything about Seito's Sushi new innovations continues to blow me away, from their creative use of the protein to the modern twist on traditional classics.
Unfortunately, not everything from this anniversary dinner course will be available on their regular menu, but it does show the depth and talent that the kitchen and chefs of Seito possess.
I'm really excited to return and enjoy their full Omakase dinner options, I'm sure nothing will be subpar.
Congratulations again to Seito Sushi Baldwin Park on their 15 Year Anniversary!
Seito Sushi Japanese Restaurant