Nine18 at the Grand Cypress is a culinary gem, located at the Villas of Grand Cypress it is one of only two Forbes Four Start Restaurants in Orlando. It has been a mainstay for many visiting Florida and Villas of Grand Cypress.
Their new menu, which starts in June of 2016,  displays why they have earned those stars. From Tea Smoked Quail to their Summer Berry Tart, each dish showcased Chef Lonny Huot's vision of local ingredients with  Latin flavors and modern French cooking techniques.
To add to his already extensive accolades, Chef Lonny had the chance to flex his culinary muscles at the world renowned James Beard House New York in December of 2015. An opportunity granted to only a few chefs each year.
Nine18 is a chance to experience culinary mastery at its best and it is not to be missed.
Special Thanks to: Chef Lonny Huot and his wonderful staff, and Jessica Milton
Chef Lonny Huot
---
Tea Smoked Quail Baby Kale, Drunken Cherries, Minus 8 Vinaigrette
---
Tuna Tartare Stack Ancho Tuile, Finger Lime, Avocado Cream, Roasted Red Pepper Coulis
---
Arugula & Herbed Goat Cheese Crisp Strawberry Balsamic Compote
---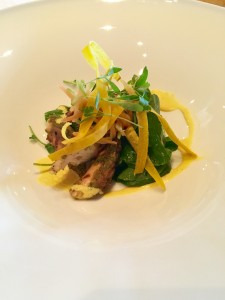 Grilled Baby Octopus Apple and Papaya Salad, Baby Cilantro, Crispy Plantains, Saffron Dressing. Paired with Paul Hobbs Ellen Lane Estate 2014 Chardonnay
---
Port Braised Pork Cheeks Creamy Organic Polenta, Green Apple, Mild Chili Threads, Natural Pan Sauce. Paired with Paul Hobbs 2013 Pinot Noir
---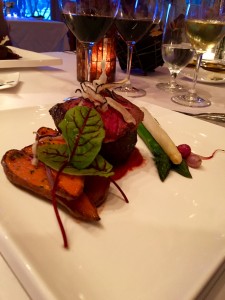 House Aged New York Strip Heirloom Sweet Potato, White and Green Asparagus, Roasted Micro Vegetable, Aged Sherry Sauce. Paired with Paul Hobbs 2012 Cabernet Sauvignon
---
Summer Berry Tart Strawberry Rhubarb Coulis. Paired with Cross Barn by Paul Hobbs 2013 Cabernet Franc
Nine18 at Villas of Grand Cypress
One North Jacaranda, Orlando, Florida 32836
Phone: 1+ 407-239-1999