Katerina Coumbaros, owner of Tapa Toro and Taverna Opa, as a guest blogger this summer. Katerina will be traveling to Greece from June 29 to August 1.
Pack your bags and bring your appetites, the team at Taverna Opa is going to Greece! Join in on the journey as owners Vassilis and Katerina Coumbaros travel through their homeland.
In honor of their travels, Taverna Opa unveiled a special limited edition menu, 'Summer in Greece'. The menu featured three authentic dishes that are made with fresh, Greek ingredients and are inspired directly by the country's latest food trends.
The limited menu was available from June 29 to August 6, with dishes ranging from $7 to $15.


——
HELLO FROM GREECE
By Katerina Coumbaros
Like others who share a similar upbringing, being part of a first generation immigrant family has taught me so many things about tradition. Among the many things I've done to preserve the tradition of being Greek – most obvious being the opening of Greek restaurant, Taverna Opa – is to make a point to go back to visit. As a restaurant owner, I always say that experiencing something first hand is the only "real" way to experience it.
Every time I visit, my cup of life is overflowing with the beauty that is Greece (#greecerightnow) – so much to see, so much to learn, so much to eat and enjoy! As a parent I do my part to keep tradition in the house and throughout the year. Today, I'm sharing my journey of tradition continued; join me as journey through a summer in Greece (#summeringreece) with my family.
Hello from Greece…. Thursday, June 30
The Coumbaros clan has arrived in Chania– the second largest city and the capital of Crete. What could be more beautiful than looking out the airplane window to this an incredible view of the amazing ocean and landscape as we touch down.
Friday, July 1st It's Time to Eat…
First stop Bougatsa Iordanis, established in 1924 this is the place to come and experience the Chaniotikia Bougatsa. What is it? Or you mean, what isn't it – it is the most delicious phyllo dough made fresh, stuffed with mizithra goodness, a type of sour Greek cheese made with milk and whey from sheep and/or goats. Some guests love it topped with sugar, I personally love it savory.
Here you see the pastry chef stretching out the phyllo dough. It's amazing how thin it gets without breaking or ripping!
Here they are folding the savory pastry.
Saturday, July 2nd It's Summer In Greece, Alright….
Quick family picture of us on the side of the highway on our way to Elafonisi, an island located in the southwest corner of of Crete. Just need to keep everyone excited as we journey through the last bit of this curvy mountain road, we are seconds from paradise!
Hello paradise… and cue the sigh of relief now. Elafonisi Beach has been voted the best beach in all of Greece. Tourist and locals come here for the sights of pink sand and the clear waters. It was amazing here, the kids loved it!
Meet Yorgos, our son who you can see is a fan of snorkeling.
Meet Violetta, one of our beautiful daughters (or should we say minnows), swimming under water.
Sunday, July 3rd Feeling Inspired at Marathi Beach…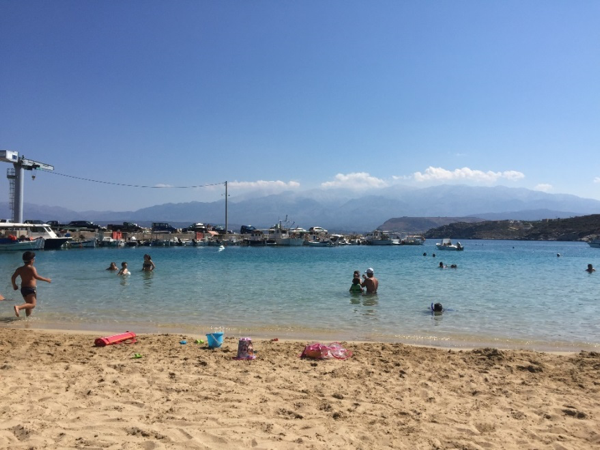 We might be soaking up the Greek sun at Marathi Beach, but we are also doing our homework!
Feeling particularly inspired after a delicious dinner filled with many standouts including my personal fav, the Anthous, a Marathi island specialty. They are stuffed zucchini blossoms with rice and herbs that are then baked in the oven – similar to dolmades. New menu item alert for sure, please watch out for these as a special at the restaurant when they are in season!
Meet Fagri, a beautifully grilled Mediterranean fish. We actually ship this exact fish into Taverna Opa weekly when it is available. There is nothing like fresh fish with just lemon and olive oil. The generous host offered to filet it for us, but Vassilis, my husband, opted for us to filet it on our own. At Taverna Opa we can serve it whole or fileted.
Traditional Greek Salad, means no lettuce. Just the beautiful flavors of tomatoes, cucumbers, green peppers, red onion, feta cheese and olive oil. This salad was especially delicious, as the vegetables were picked from the restaurants garden. At Taverna Opa we take pride in providing the best vegetables available for our Traditional Greek Salad.

Mussels in a saffron sauce – so flavorful and juicy. Fun fact, Greece is actually known from producing the best saffron in the world and is the second largest producer of the spice.
Octopus and Greek Sausage Skewer; simple and delicious…and another new menu alert item. We have a great octopus dish at the restaurant, but we loved the way that the octopus picked up the flavors of the greek sausage, which has an orange, citrusy smoke flavor. Hmmm…they are on to something!
.
Monday, July 4th Happy 4th From Theriso…
….and on Monday's we take train rides from the beach up to a war village named Theriso. A beautiful day with family! The train traveled through mountains where we got "up close and personal" with wild goats. What a great way to see the village. When we got to Theriso we did what everyone visiting a war village should do, and very fittingly visited the war museum.
In front of St. Apostolos church at the top of the mountain patiently waiting for the train to arrive.
Yorgos took a picture with one of the shooting canyons.

Tuesday, July 5 Good-Bye…For Now
Just like I started this blog, I will end this blog – with tradition. Here is a beautiful picture of me and my family on my favorite beach in Greece, Falassarna. Crystal clear waters, beautiful view of the mountains, a stunning sunset, and memories…
Taverna Opa Orlando is a Mediterranean restaurant with a focused on traditional Greek cuisine. The restaurant is located at 9101 International Drive and is open daily for lunch and dinner Monday through Thursday from 11 a.m. to 11 p.m. and Friday and Saturday from 11 a.m. to 2 a.m. Guests can enjoy homemade dishes highlighting ingredients indigenous to Greece along with live entertainment performances nightly. For more information, please visit www.tavernaopaorlando.com or call 407.351.8660.