Chuy's recently hosted a VIP Charity Night at their new Winter Park location where all proceeds of discounted beverages will benefit Give Kids The World. The founders, Mike and John, started Chuy's with the belief that Chuy's should always help the people in the neighborhoods they do business in, especially the youngest members: children.
Although the event was a hit, it was very crowded with no where to go or stand. Tables were all full with customers having a wonderful time inside and out of the restaurant. The main complaint is how a few members of the Chuy's family were not friendly, patient nor respectful.
Why pick between tequila and beer when you can have both with Grandpa's Brew. Nice and cool for a hot summer day.
Appetizer Plate – Chile con queso, nachos, deluxe quesadillas, chicken flautas, guacamole & sour cream.The Deluxe quesadillas are delicious, cheesy and the best of all the options on this plate.
Tacos Al Carbon – freshly made flour tortillas filled with fajita chicken or beef, grilled onions & green chiles.
Stacked Enchiladas – An authentic New Mexican recipe. Homemade blue corn tortillas stacked with freshly-roasted, hand-pulled chicken, cheese & Tomatillo sauce, topped with sour cream. The stacked enchiladas was not that great. Nothing special to say about it.
The Elvis Presley Memorial Combo – Beef Tex-Mex enchilada, cheese Ranchero enchilada, chicken Tomatillo enchilada, a seasoned ground sirloin crispy taco & homemade tostada chips dipped in chile con queso. This combination has a bit of everything and great for someone that wants to try it all.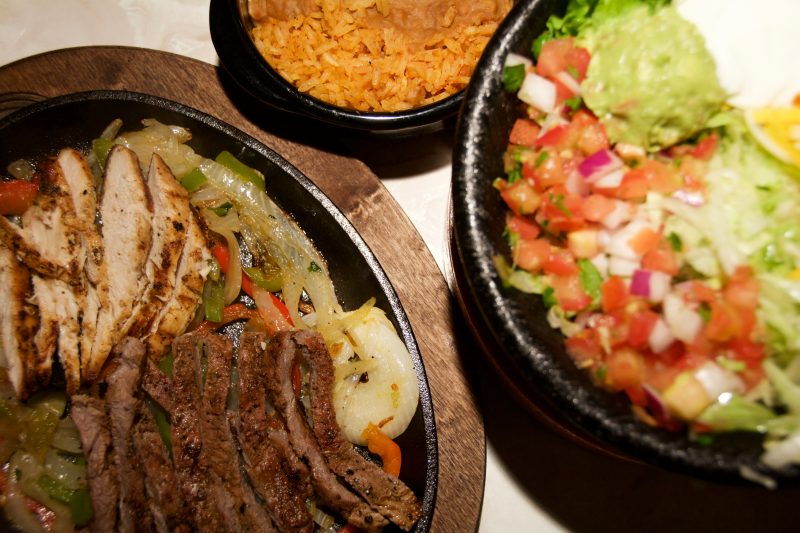 Fajitas – a choice of beef, chicken or a combination, grilled with onions and peppers. Served with handmade flour tortillas, lettuce, guacamole, sour cream, cheese, pico de gallo, Mexican rice & refried beans. Order for one or two. The beef was a little over salted. Other than that, the dish was good.
Location for Winter Park Chuy's: 107 S. Orange Ave, Winter Park, FL 32789