360 American Bistro and Bar joins Meliá Orlando Suite Hotel in Celebration, FL. Visit 360 whether or not you are staying at Meliá Orlando Suite Hotel as all guests are welcome.
360 hosts a unique combination of Classic French Bistro foods and American favorites, plus signature desserts and a wide variety of fine wines, craft beers, and creative cocktails.
From appetizers to desserts, 360 uses their open flame wood stone pizza oven to cook their dishes to perfection.
Seared 360 Scallops are seared jumbo U-10 scallops served with a warm mushroom salad. The scallops and mushrooms were fresh and full of flavor. You can taste the sea with each bite of the scallops. The mushrooms have an earthy note, which draws the scallops to the shore.
360 Flame Roasted Wings are premium chicken wings tossed with fresh herbs and caramelized onions roasted in their open flame wood stone pizza oven.
Sweet Thai Shrimp are lightly fried shrimp tossed in a sweet Thai chili mayo served on a bed of arugula and sweet soy glaze. A tad spicy, but it doesn't overpower the sweetness of the mayo. Thankfully the shrimp were not overcooked one bit as it could be a hard thing to do. Kudos to Chef Victor.
Pan Seared Mozzarella is sliced and topped with tomato provencal.
Kale and Quinoa Salad consists of fresh baby kale, red quinoa with toasted pecans, goat cheese, red radish and tossed in a dijon dressing.
360 Gorgonzola Pear and Balsamic Pizza is made up of caramelized pears, dolce gorgonzola cheese and soppressata with a white sauce and a balsamic reduction drizzled and fresh rosemary. If you were handed a slice of this pizza without knowing the ingredients, you would not believe it includes pears. The pear joins the cheese in adding a mild sweet and soft touch to the salty soppressata.
Margherita Pizza consists of locally sourced fresh mozzarella and basil with red sauce great for meat eaters and vegetarians. One slice of this pizza won't be enough as your mind, palate, and stomach will beg for more.
Southern Chicken Sandwich is a crispy chicken breast served on a brioche bun with house-made bread and butter pickle and arugula topped with a sweet Thai chili aioli.
Idaho Potato Gnocchi is house-made with fresh peas, served with a caramelized onion cream sauce, garnished with pea shoots. The gnocchi is nice and smooth with a touch of flavor from the caramelized onion cream sauce.
Short Rib Cannelloni consists of braised shredded short rib, ricotta and mozzarella cheeses stuffed inside rolled pasta topped with house-made red sauce then baked in their open flame wood stone pizza oven.
Roasted Florida Top Sirloin (Picanha) is seared and roasted before served with fingerling potatoes and pea shoots on a bed of sauce soubise. The sirloin is nicely seasoned and tender as can be. This is one of the best sirloin dishes I have been served in Central Florida.
Char Sui Chicken is an Asian marinated and seared airline chicken breast served with classic lo mean noodles with fresh ginger, oyster mushrooms and green onion topped with a honey-soy reduction.
Seasonal Fruit Cobbler is a seasonal locally sourced, fruit-topped sweet cobbler crust then baked in our open wood flame wood stone pizza oven.
360's Signature Smores Profiteroles are pate a' choux filled with marshmallow crime and topped with hot house-made chocolate sauce and a chocolate-cinnamon crumble. Messy, fun, sweet, and tasty, this dessert is best when served warm.
In addition to the tasteful menu, 360 offers a variety of cocktails from classics to original twists as well as a number of craft beers in bottles and on tap.
Meliá Mule consists of Knob Creek, Blackberry Brandy, ginger beer, and lavender simple syrup.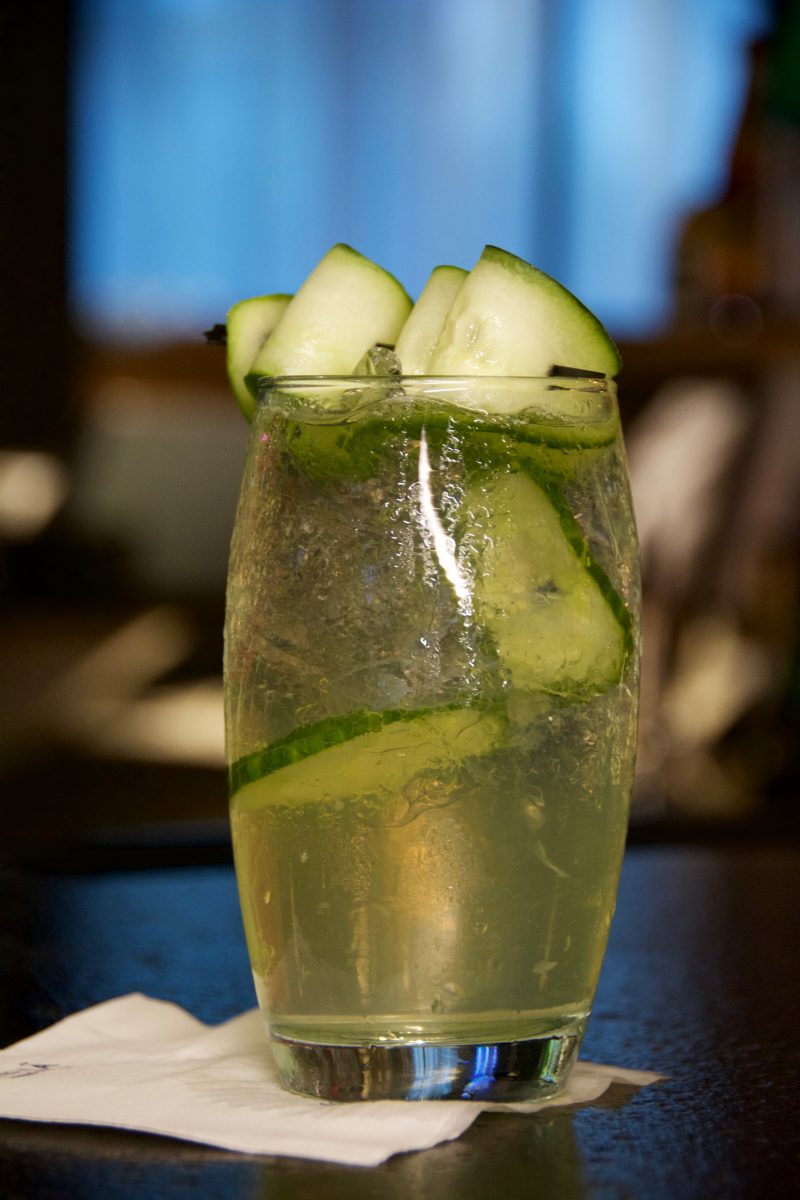 Cucumber Collins consists of Hendricks, simple syrup, lime, celery bitters on top of muddled cucumber.
Watermelon Martini consists of Grey Goose le Citron, Watermelon Pucker and watermelon.
Uinta Hop Nosh IPA combines an abundance of hops with a smooth malt profile to provide bold and refreshing notes.
For more information, visit Meliá Orlando Suite Hotel.
360 American Bistro and Bar
at Melia Orlando Suite Hotel in Celebration, FL
225 Celebration Pl
(407) 964-7176
http://www.360bistrobar.com/