Known for its epic sunrise to sunset views of the airport runway, the new Hemisphere at the Hyatt Regency Orlando International Airport features a $3 million re-design of the 3,000 square-foot restaurant.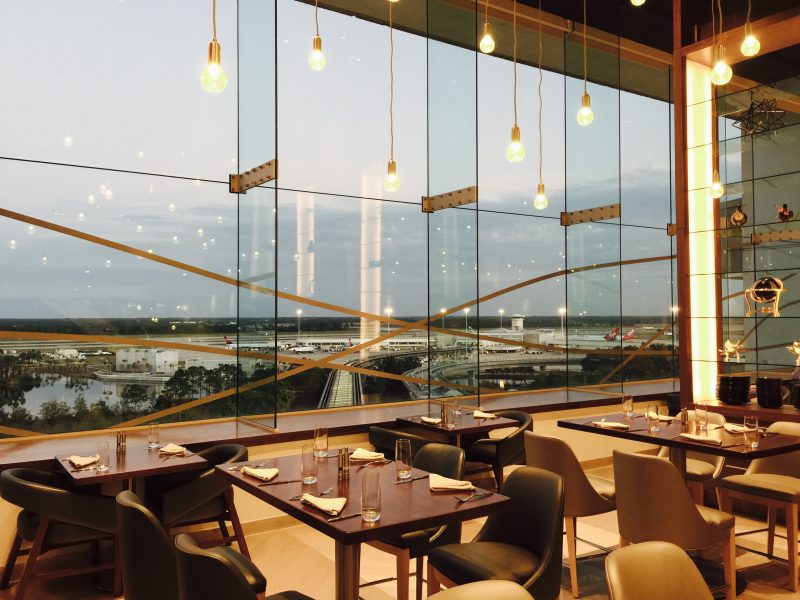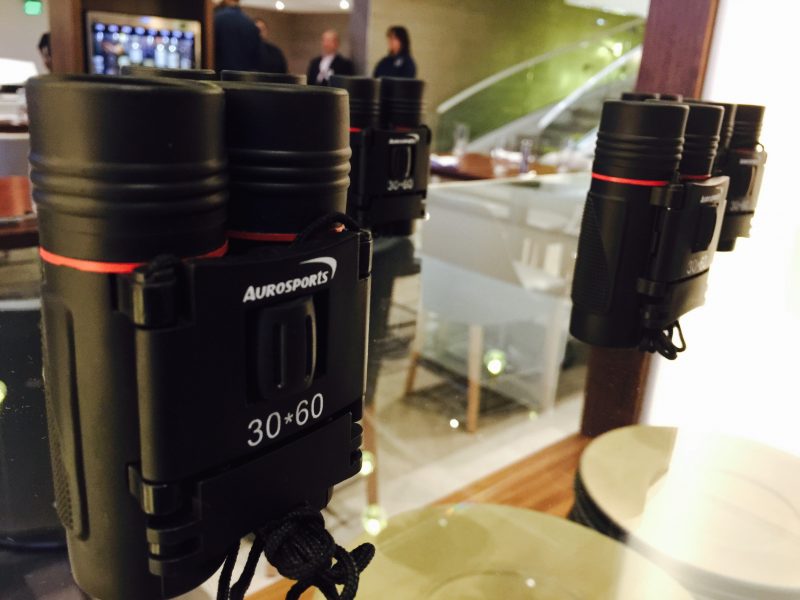 The stylish new environment is a huge upgrade from the 1990s era setting it once had.
Led by Executive Chef Jeffery Powell, Hemisphere's culinary team has designed a menu that infuses robust international flavors and seasonal local ingredients.
Dinner highlights include Moroccan-inspired, dukka-crusted Lamb Chops, Grilled Gulf Prawns and a Wagyu Grass-Fed Beef Burger. The Hemisphere beverage menu complements the world kitchen concept with a carefully curated collection of wines and cocktails from each hemisphere. The wine cuvees are filled with 16 wine varietals from different regions around the globe.
"My culinary philosophy is to work with local farmers to acquire the freshest ingredients available. Using complementary ingredients and showcasing each component through simple preparation and proper technique creates integrity and depth of flavor," said Powell.
Powell's culinary point of view mirrors Hyatt's global philosophy –Food. Thoughtfully Sourced. Carefully Served. –and is reflected in the global offerings at McCoy's Bar and Grill and the re-imagined Hemisphere restaurant, slated to make its debut in November2016.
At home, Powell enjoys cooking braised meats, practices slow cooking methods and explores new ingredients such as Moringa, an African green very high in vitamin C with other added health benefits.

AVOCADO TOAST
tomato jam, tangy queso fresco, radish,pea tendrils
$8.95

BURRATA MOZZARELLA
blood orange, pickled mustard seeds, micro greens, fire roasted bread
$11.95

ROASTED BABY BEETS
whipped mascarpone, shaved fennel, pistachios, citrus zest, organic olive oil
$9.95

HARICOT VERTS
nduja, red onions,organic sunny side up cage free egg
$10.95

SOFT SHELL CRAB
fried green tomato, boursin, grits, arugula salad, smoked tomato vinaigrette, trinity relish
$15.95

CHEF'S SIGNATURE PORK BELLY
slow pickled blueberries, candied jalapenos, sun choke puree
$16.95

CHURRASCO STRIP STEAK
heirloom tomatoes, red onions, frisee, arugula,chimichurri
$28.95

KEY LIME CHOUX AU CRAQUELIN
with torched meringue
10

SAFFRON ARBORIO KHEER
cardamom fudge, pistachio mousse, pistachio tuile
10

PLUM RAINDROP CAKE
fresh strawberries, lychee, orchid petals, toasted ground almonds
10

PASILLA MOLTEN LAVA CAKE
licorice gelato, ginger snap sable
12

BLACK FOREST PETIT GATEAUX
amarina cherry, chocolate cake, whipped cream quenelle
10
Complimentary valet parking is available for all Hemisphere guests.Monthly wine dinners and seasonal brunches will be announced soon.
Hemisphere at Orlando International Airport
9300 Jeff Fuqua Boulevard
Orlando, FL 32827
www.hemisphererestaurant.com
407.825.1234
OpenTable Reservations: http://www.opentable.com/r/hemisphere-orlando