Bangrak Thai Street Kitchen has been holding pop up sessions at Swine and Sons the past few months, specializing in authentic Thai cuisine not usually found anywhere else in Central Florida.
We at Tasty Chomps chatted with Dylan Eitharong, one of the founders of Bangrak along with Jordan Neumann recently to find out more about the project and where it's all headed.
Dylan on Why Bangrak…
When it comes down to it, we're just two dudes who cook Thai food. Our mission is to bring the Thai street food that my (Dylan) family grew up with to Orlando, where finding these types of dishes is either what we feel misrepresented or totally unavailable.
We try to make all of our dishes 1) from scratch, down to our curry pastes and spice mixes and 2) identical to how you'd find it on the streets of Bangkok, Chiang Mai, etc. We don't get too fancy or anything. We even get the plates and bowls we use from a little shop in Bangrak (where our name comes from) district, Bangkok. With our events, we really want to evoke a feeling of actually "being there" – minus the 100 degree heat and humidity, haha.
[quote_center]When it comes down to it, we're just two dudes who cook Thai food.[/quote_center]
From the Apartment to Swine and Sons…
As for how we started, well – originally, it was just me, serving thai noodle dishes out of my apartment. I'd constantly be posting Instagram photos of things I'd make at home, and friends would always be like "ohhhh I'll pay you to cook for me", so I was like "prove it."
That was a regular thing for a while, until it got to be too much for just me, but around that time, Jordan had just moved back from Portland, so I approached him about 1) going to Thailand with me to eat "real Thai food", as I called it, 2) learning to cook the food with me, and 3) starting to make it in a bigger venue (legally, haha).
We did all those things, but not without doing several more guerilla-apartment-dinners first, until we finally partnered with Swine & Sons, which is where we're based out of now.
Chef Lexi (Alexia Gawlak of Swin and Sons) had actually asked me if I'd be interested in doing the pop ups there a while back, but I hadn't felt ready, but once Jordan joined me we were able to get our shit together enough to actually do it.
The rest is kind of history I guess – we had our first pop up there October 26th, 2016, and we sold out in 2 hours.
We've done several since then, including one at redlight redlight, and as of a month ago, after a month long stint back in Thailand, we're at Swine every other Wednesday. We love it. We could not be more grateful for the opportunity they've given us (if this goes in writing, I want them to know that, hah – I'm sure we drive them crazy sometimes).
We also have some other events in the works around town, with some different sorts of menu items and stuff. We're really excited. A brick and mortar is inevitable, we just wanna make sure we do it right. Until then, we really like doing the pop-up thing. It feels different than anything we've been to here and it's a lot of fun for us.
On Acceptance…
On top of that, the Thai community seems to Approve – thankfully, haha. They always seem a little apprehensive that one half-Thai guy and one non-Thai guy is making their food, but the response has been great.
Khanom jeen Nam ngiaw, a northern thai curry of ground pork, pork ribs, steamed blood, tomatoes and dried cotton flowers served over spaghetti noodles with a side of pickled mustard greens.
On previous training in the kitchen…
Neither Jordan or I had any kitchen experience. We just cooked a lot, haha.
On meeting the Gawlaks and how did they get involved…
Lexi and I actually used to work together at Whole Foods. We bonded over loving Asian food and Lucky Peach Magazine (RIP). We were Facebook friends after she left Whole Foods, and I guess she saw what we were doing through that.
I was cashiering and she came through my line and was like "Hey, wanna do one of those things you do in a real restaurant?"
It was a long time before we actually did it though…we were nervous. Now me and Jordan work there (at Swine) outside of Bangrak, too, ha. The Gawlaks are the best – I wonder what Bangrak would be doing without them.
[quote_center]I was cashiering and she came through my line and was like "Hey, wanna do one of those things you do in a real restaurant?"[/quote_center]
On future plans for Bangrak…
We're going to stay a pop-up for a little bit – but not tooooo long. We wanna keep it exciting. While we just started going biweekly at Swine, we have some plans to pop up elsewhere too.
The idea is to keep a full, more sit-down-and-share, type menu there, more variety, and when we go elsewhere, have some sorta themed thing going on – we really wanna do a Thai noodle shop type thing, with the plastic stools and tables and everything.
We brought some cool stuff back from Bangkok with us for that sole purpose. Think you'll be seeing that soon. We are planning on a brick and mortar when we're ready too – but we want it to be just right.
[quote_center]We want it to feel like a shophouse you'd eat at in Thailand. When we find the space, we'll take it.[/quote_center]
On some of their favorite dishes on the menu…
So, our Swine menu changes every time except for 3 things – Khao Soi, a curry noodle soup, and two versions of Som Tam, or green papaya salad.
Otherwise, we try to showcase foods from the 4 regions of Thailand – Northern, Northeastern, Central, and Southern.
We pretty much always have some kind of Laab – a salad of minced meat, on the menu, and it's all but once been a Northeastern (called Isaan) variation. That's my favorite food of all time – especially the catfish version, which we did recently. It's delicious.
Jordan really likes the Panang Neua, which is a Southern Thai style curry of beef. It's super rich, and we do it the old-fashioned way – very dry, thick, not soupy, and oil. It's goooood.
[quote_center]My tip to anyone who comes to our events – order what sounds the least familiar to you.[/quote_center]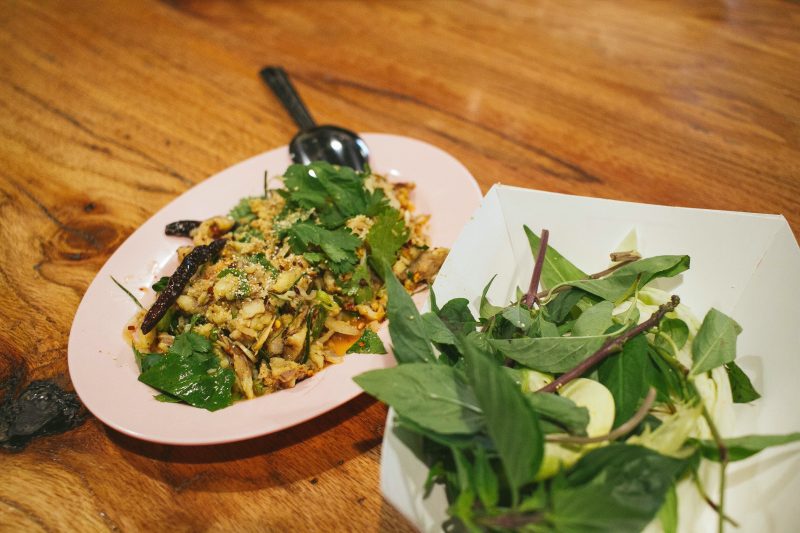 On some things most people in Central Florida don't know about Thai food …
Number 1 – put down your chopsticks. In Thailand, chopsticks are ONLY used for noodles. That's it. And not even every noodle dish. We send out forks and spoons with all the dishes and we still see people eating Laab (minced meat) with chopsticks. No need! It's only making your own life more difficult, haha. But in Thailand, it's mostly either a fork and spoon or your hands. Even then, you use your fork just to push your food onto your spoon. But no chopsticks. It drives me craaaaazy – probably more than it should.
Other than that, it's really just that Thai food is more varied than just Phad Thai and red, green and yellow curries. In fact there are literally HUNDREDS of types of Thai curries that aren't eaten over here, and they aren't even referred to by their color – and they don't even contain coconut milk!
Thai food is SUPER diverse and regional, and chances are, that dishes that you're used to eating are entirely different in so many ways than what's available in Thailand.
A BIG thing we've had people ask us is why there's a lack of vegan or vegetarian dishes on our menu – and our honest answer is that that's generally how it is in Thailand, especially once you leave the tourist trap areas.
PS – Khao San road and Pai are popular tourist destinations with lots of vegan restaurants and pizza shops, but are far from representative of Thai culture. Steer far, far away. Just a heads up for traveling foodies.
[quote_center]In fact there are literally HUNDREDS of types of Thai curries that aren't eaten over here, and they aren't even referred to by their color – and they don't even contain coconut milk![/quote_center]

On this week's menu – Nam Tok Muu Yang – "Waterfall Pork"! Grilled pork salad with lime and fish sauce dressing, fresh herbs, chili and toasted rice powder! Spicy, smoky, and also refreshing, this is an Isaan classic! Available this Wednesday, 6/7, from 5-8 PM!
Bangrak Thai Street Kitchen
Popup at Swine & Sons, 595 W. Fairbanks Ave., Winter Park
http://bangrakthaistreetkitchen.com/
Photos courtesy of Bangrak Thai Street Kitchen via David Burns https://www.instagram.com/daveyxburns/