Hotelier, Humanitarian & Hospitality Legend Harris Rosen & I standing in front of his grandparents' portraits.
Whenever I run into the President and COO of Rosen Hotels & Resorts, Harris Rosen, I feel like I am spotting a unicorn – it always happens quick and fast, and you have to catch it before it disappears. I was in for a real treat when I attended the media sneak peek of Rosen Plaza's winter holiday events and Harris Rosen surprised us all with a low-key special guest appearance to welcome us and share a few stories with us about his family, hotels and food.
For those who don't know, my family respects Mr. Rosen, he is our biggest role model. Mr. Rosen started out with humble beginnings in New York City's Lower East Side where people did not have a lot of money and he worked very hard to accomplish everything he has now (including hitchhiking to his first business pitch!) and he donates a lot of his earnings back to the community. The first time my family met Mr. Rosen was back on Christmas Day in 2014 at the hotel's annual Christmas brunch buffet (open to the public) when Mr. Rosen stopped by my family's table and greeted us and asked us all how we were doing. My mom was the only one who recognized Mr. Rosen at the time since she is an avid reader and had recently read an article about him. My mom quickly put everything together and asked the man at our table if he was Harris Rosen and he replied yes. Shortly after we met him, we witnessed him picking up a small piece of garbage off the ground while there were plenty of his employees around the room that he could have asked to pick it up for him but he choose not to – and it was at that exact moment that we began to realize how humble and hard-working Mr. Rosen is, to be working hard even on Christmas Day, a day most people take off, especially those who can afford to.
My family has made it a tradition every year since our first encounter with Mr. Rosen to dine at one of his hotels on Christmas Day to enjoy their delicious brunch buffets and say hi to him and take pictures with him.  My family pictures are included below, with my review to follow.  I hope you enjoy the rest of this post!
First time meeting Harris Rosen, 2014

We brought my relatives from Vietnam to Christmas brunch at the Rosen hotel and they are big fans of Harris Rosen as well, 2015.
Christmas Day at Rosen Plaza, 2016
Jack's Place is named after Harris Rosen's late father.
Caricature of celebrities drawn by his Jack Rosen when he worked at as a security engineer at the Waldorf Astoria in NY.  Jack's Place displays 175 drawings out of his thousands of celebrity caricatures – they have the largest autographed celebrity caricature collection in the world.  Caricature artists come in on Friday and Saturday nights at Jack's Place to draw restaurant guests.
Sculpture of Jack Rosen
Petite Filet Mignon Toast Garganzola
Manchego Cheese Crisp & Fig Lollipop
"You're more important than me."  Founder Harris Rosen (left) said to one of his managers, John Nichols (center), before John spoke to the media.  That was humbling to witness!
"We cater to any eater – those with celiac disease. We take time to prepare what our guests asks for." -Harris Rosen
Octoberfest Big Boss Pretzels With Warm Alligator Drool Beer Cheese and Honey Mustard Dipping Sauces

Indian Pumpkin Craving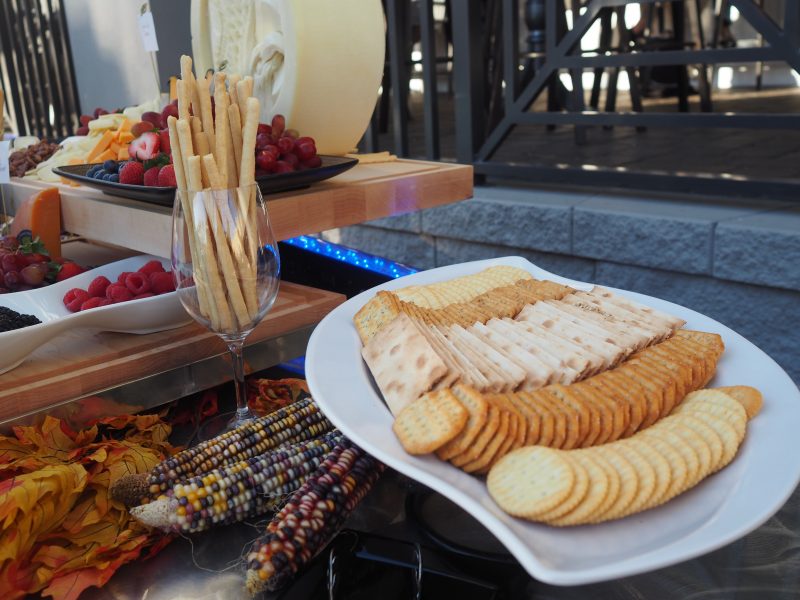 Edamame Dim Sum
Shrimp & Pork Dim Sum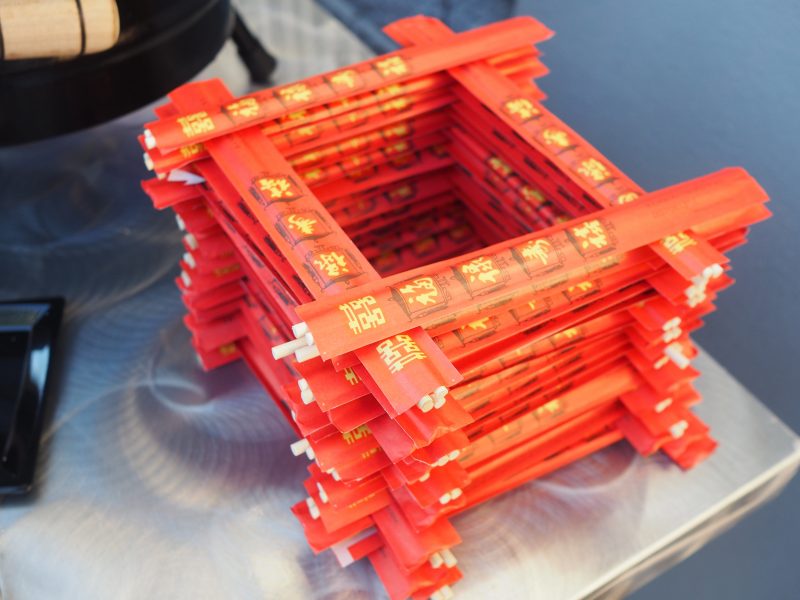 Deer Ice Sculpture Carved By Chef Ricki
Jumbo Cocktail Shrimp
Crab Claws
Ceviche
Pulled Pork On A Pina Colada Roll with Guava BBQ & Crispy Sriracha Slaw
Grilled Bratwurst Banh Mi With Pickled Cucumber Petite Cucumber Sprout Garnish
Alligator Drool
Blue Harris
I highly recommend visiting the Rosen Plaza for the holidays to enjoy festive decor, yummy eats, frosty sips and the chance to mingle with Mr. Rosen – if you're lucky enough to run into him as I have been these past few years on Christmas Day as he is making his rounds at all of his hotels.
For more information about future events, check out the links below.
Winterfest – https://www.rosenplaza.com/winterfest/
Iced Out! – https://www.rosenplaza.com/icedout/
The incredible holiday buffets –
Thanksgiving Day – https://www.rosenplaza.com/thanksgiving/
Christmas Day – https://www.rosenplaza.com/christmas/
Rosen Plaza
9700 International Drive, Orlando, FL 32819
(407) 996-9700
rosenplaza.com