The Glass Knife finally opens this Friday November 10th from 7am to 10pm at 276 S Orlando Ave, Winter Park, FL , right across the way from Hillstone Restaurant.
The café was developed by local entrepreneur Steve Brown, as a way to share his memories of baking alongside his mother, Jacque.
The culinary team is led by Executive Chef Stuart Whitfield, who has worked for Four Seasons, Le Cirque, David Burke & Donatella, and The Walt Disney Company.
The Glass Knife is named in honor of Brown's mother, who was a fond collector of Depression-era glass cake knives.
From classic cakes to craft coffee (from Onyx Coffee Lab) to artisanal doughnuts and savory dishes like avocado egg toast, The Glass Knife is sure to please. My favorite was the red velvet cake, silky smooth and sumptuous, and definitely one of the best red velvet cakes I have ever had.
Here is a sneak peek inside The Glass Knife: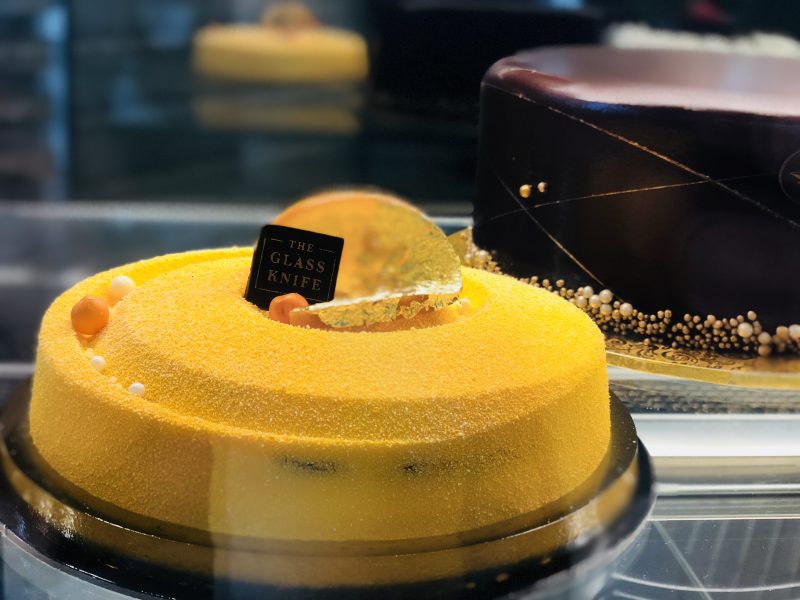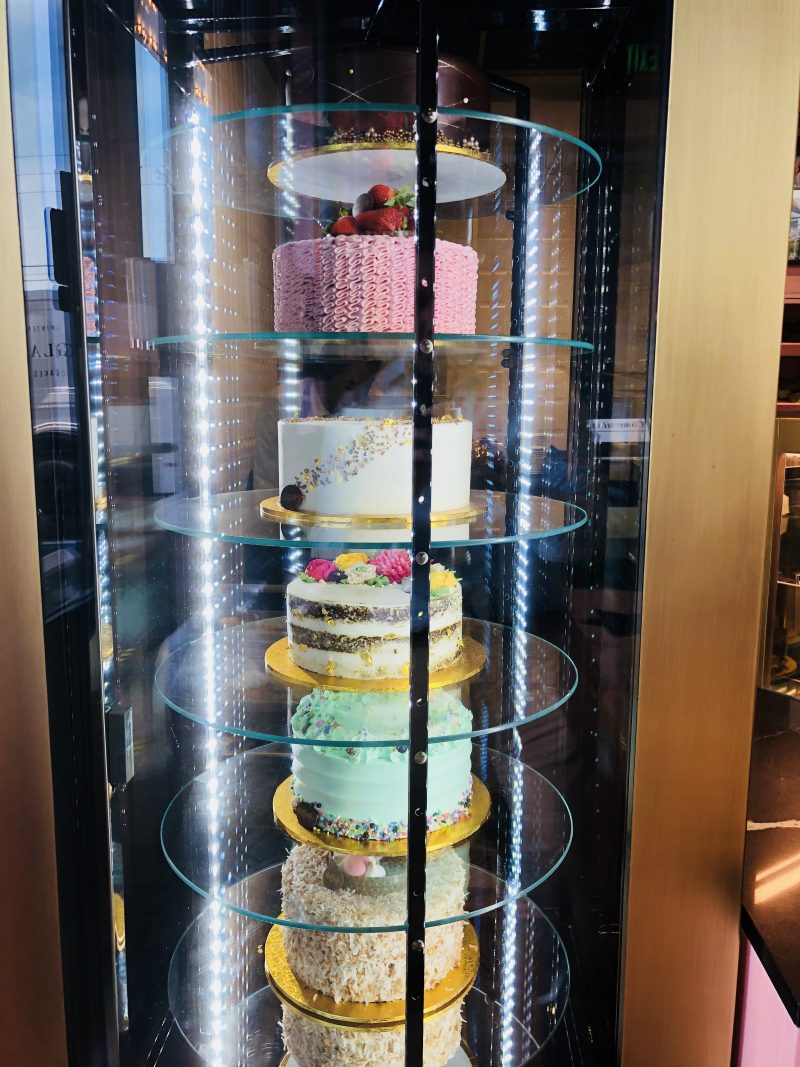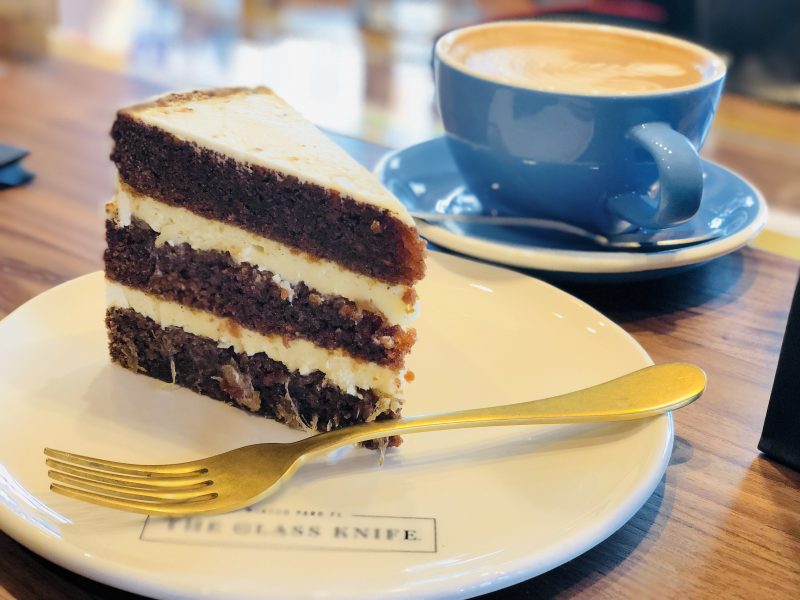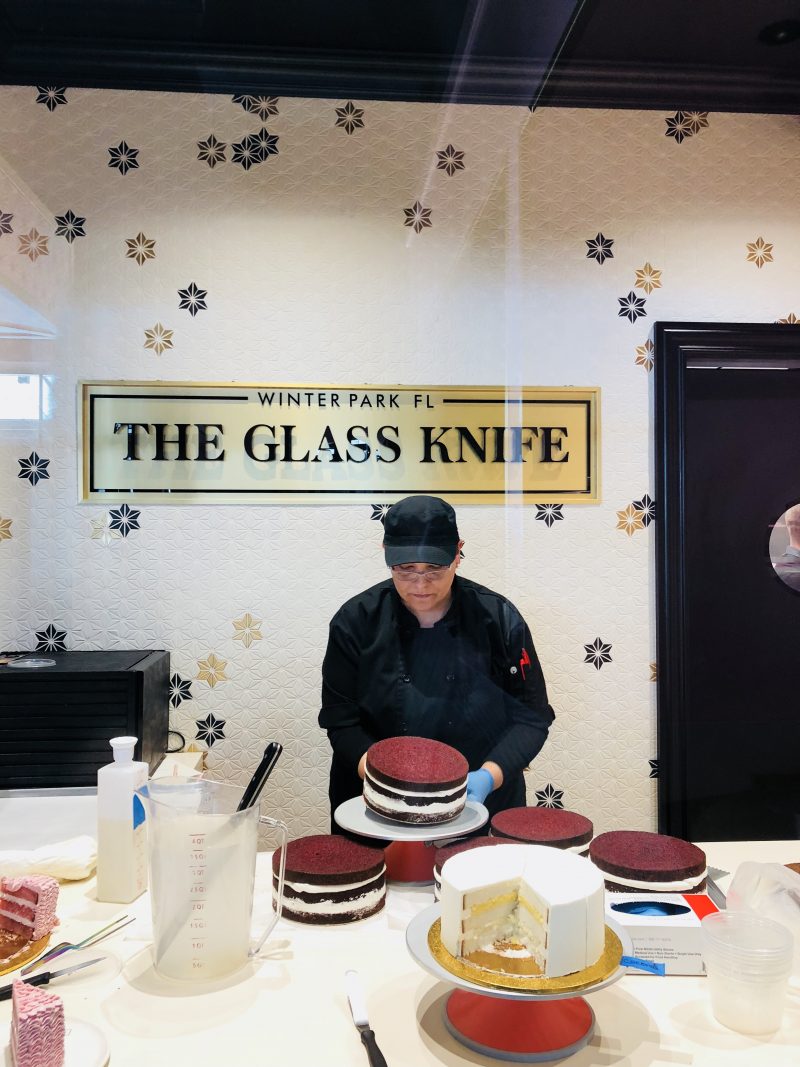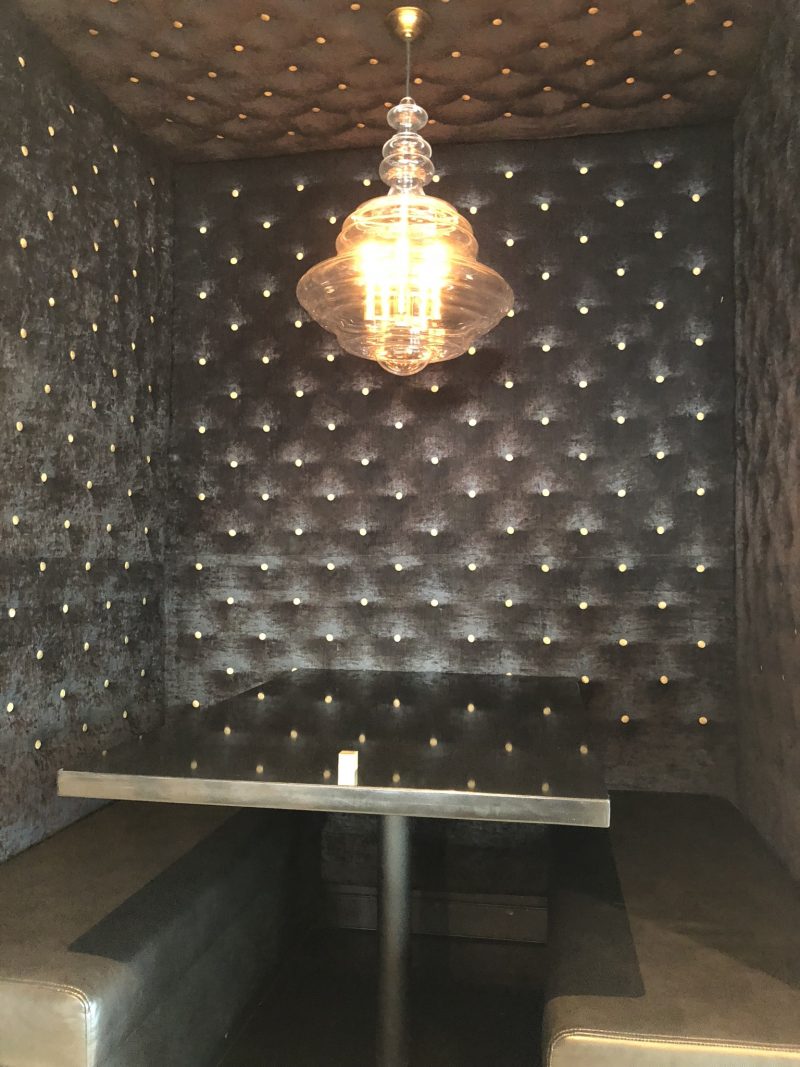 From The Glass Knife:
The Glass Knife is inspired by a loving mother and hobbyist baker whose talents transformed her culinary passion into a creative profession. Fostered through a collection of family and friends, the recipes shared during these time-honored baking sessions are the nostalgic basis for what will come to life within The Glass Knife.
The café was developed by local entrepreneur Steve Brown, as a way to share his memories of baking alongside his mother, Jacque, and his vision to establish a sophisticated, yet comfortable community gathering place that encourages togetherness and celebration. The location's design will tell a story that brings its guests back to a specific moment in time, whether through the delicious cakes and pastries, savory faire or the artfully displayed collection of 1920s era glass cake knives which were a treasured collection of Brown's mother and serve as the origin of its name.
Under the direction and deft hand of Executive Chef Stuart Whitfield, who has worked for some of the country's premiere hospitality brands (Four Seasons, Le Cirque, David Burke & Donatella, The Walt Disney Company), The Glass Knife plans to make its mark on Orlando's ever-evolving dining scene by providing its guests with world-class food and service, presented within a refined, yet approachable, environment.
The Glass Knife will offer a variety of stunningly delicious cake options including its Classics, which will embrace timeless family favorites like Red Velvet, Carrot and Coconut cakes, all with Chef Stuart's modern twist. The Glass Knife Signatures will be created as one-of-a-kind, patisserie-style cakes, that will bring a refined selection of celebratory sweets to Winter Park. Chef Stuart will craft a lineup of artisanal donuts including melt-in-your-mouth versions of Lemon Meringue Pie and Peanut Butter Cup. A variety of additional fresh baked goods and pastries including scones, croissants, and cookies will also be featured.
Recognizing that nothing goes better with dessert than a great cup of coffee and setting the stage to become Winter Park's premier coffee destination, The Glass Knife will use carefully sourced, fair-trade beans prepared by expert baristas within a unique and engaging serving experience that will utilize stylish and sophisticated technology.
Those looking to combine both sweet and savory will not be disappointed by the café's offerings, which will include breakfast fare along with soup, salads and sandwiches, plus heartier choices like chicken pot pie alongside a selection of craft beer and fine wine.
"Our cuisine will focus on seasonal, responsibly and locally sourced ingredients whenever possible, that will evoke familiar family recipes handed down over time, but created with our culinary team's unique twist and presentation," said Chef Stuart. "While we hesitate to call ourselves a bakery, as we will deliver a more complete dining experience, we do envision that our elevated line of cakes, pastries and baked goods will stand on their own."
The nearly 3,000-square-foot café will include both indoor seating and a covered patio with surroundings inspired by an English garden. The exterior, with its black, gold and pink motif, will conjure up the image of a pastry box, just waiting to be opened. The interior will showcase the founder's inspiration for a place where the past meets the present, with clean lines, terrazzo floors and intricate attention to detail.
"It is our vision to bring a truly unique experience to Winter Park with a standout offering that features the perfect combination of sweet and savory," said Brown. "Whether it's where you start your morning, close out your evening or celebrate a special moment with family and friends, our hope is for The Glass Knife to be as familiar and welcoming as mom's own kitchen table."
The Glass Knife, coming to Winter Park this Fall, is bringing elegant decadence to new heights with the introduction of its Signature Cakes collection.
These modern, patisserie-style desserts – hand-crafted by Chef Stuart and team – are known as "entremets." The Glass Knife's entremets feature layers of velvety mousse, delicate cake and luxurious fillings, forming a harmonious mix of indulgent flavors and unexpected textures.
Each Signature Cake boasts a unique flavor profile and is finished with The Glass Knife's signature golden touch (hi-res images are available for download here):
Florida Citrus: Intricate layers of soft and airy yellow sponge cake, zesty orange marmalade, delicate orange blossom-scented pistachio dacquoise, and aromatic orange pâte de fruit enveloped in lush white chocolate mousse finished in a vibrant orange hue with a dusting of gold luster, white chocolate crisp pearls and an edible 23-karat gold-leafed orange slice.
Chocolate Truffle: Tiers of luxurious single origin dark chocolate mousse, silky dark chocolate ganache and smooth chocolate biscuit encased in a gleaming cocoa and gold luster glaçage, adorned with an opulent chocolate lotus flower and truffles.
Berry St. Honoré: Fluffy strawberry cake intertwined with bright raspberry pâte de fruit, zesty lemon curd and house-made strawberry jam veiled in a light vanilla bean white chocolate mousse topped with fresh strawberries, blueberries, raspberries, our signature chocolate curl and subtle golden luster.
Born in Baton Rouge, Louisiana, Executive Chef Stuart Whitfield's southern roots inspired his love of the culinary arts. The vibrant epicurean culture of his hometown provided a traditional backdrop for his food and family focused upbringing. His fondest childhood memories are of gathering around the dining room table with loved ones for a home-cooked meal. With 15 years of professional experience, Chef Stuart has fine-tuned his craft for creating crave-worthy breads, chocolates, cakes, pastries, decadent desserts and savory sensations. He has always been devoted to the philosophy that good food brings people together, creates everlasting bonds and memories to be shared time and time again.
A graduate of the New England Culinary Institute in Montpelier, Vermont, Chef Stuart went on to hone his cooking skills at the Four Seasons, Le Cirque, Jovia, and David Burke & Donatella in New York City. Venturing from the Big Apple to the Sunshine State, Chef Stuart found a home at Walt Disney World Resort. He was on the gastronomic task force for the launch of the Disney Fantasy cruise ship and played a pivotal role as a member of the opening team for Disney's Art of Animation Resort. He also lent his expertise in creating the exquisite confections offered at the famed Victoria & Albert's and added his own creative flair to the magic of the menu for Be Our Guest Restaurant. Chef Stuart was most recently part of the team behind the sweet sensations at Amorette's Patisserie at Disney Springs.
Chef Stuart is thrilled to showcase The Glass Knife as part of Orlando's ever-evolving food scene. This concept will add yet another layer of sophistication to the city's growing reputation as a premiere dining destination, right in the heart of Winter Park. Dedicated to giving guests a comfortable, yet elevated experience, The Glass Knife will feature all of the ingredients of a cosmopolitan eatery enveloped in an approachable ambiance with outstanding service.
Steve Brown's business-savvy mind and his passion for baking are the driving forces behind his lifelong dream of opening The Glass Knife, a patisserie and café dedicated to providing its guests with an elevated, memorable experience, featuring a stunning array of decadent cakes and confections, exemplary artisanal coffee and a selection of savory fare. This vision is inspired by Brown's childhood memories of baking alongside his beloved mother, Jacque, and the love that came from those cherished experiences.
The Glass Knife is named in honor of Brown's mother, who was a fond collector of Depression-era glass cake knives. Handed down through the family, this treasured collection of delicate and iridescently beautiful knives will be artfully displayed throughout the café.
Brown, a Winter Park, FL resident, received his MBA from the Goizueta Business School at Emory University in Atlanta and graduated with a BS in Marketing from the University of South Florida in Tampa. Throughout his illustrious career, serving in a variety of executive roles, Brown gained invaluable experience in pricing strategy, fulfillment operations, financial management and leadership. Combined with his passion and dedication to providing the very best guest experience, Brown's vision will soon make its mark on Orlando's ever-evolving dining scene.
Brown's goal is to bring a one-of-a-kind gathering place to the community, providing guests with a sophisticated, yet comfortable setting, to spend time with friends and loved ones. Learn more about his vision at www.TheGlassKnife.com.