Ping's Dessert – Japanese cotton cheese infused with matcha, matcha macaroon, durian ice cream, dark cherry soup.
Every season Yuki Hana hosts an Omakase dinner which means "leave everything up to the chef".  I always look forward to Yuki Hana's Omakase dinners because I know a lot of time, preparation, and research goes into each Omakase dinner to draft up and provide an adventurous menu for their guests.  This Omakase dinner was extra special because they were also celebrating their Five Year Anniversary.  If you haven't been to an Omakase dinner experience at Yuki Hana, you are truly missing out on a local mind-blowing culinary adventure.  No experience is the same and you will never forget how spectacular it is.
Sakitini with pomegranate, arugula syrup, citrus, fish sauce, spicy shiitake sugar rim and dehydrated lemon slice.

Chef Steven's Amuse – Sweet potato puff, cured cobia sashimi, edamame crème fraiche, pickled shallot.  The edamame crème fraiche filling inside the puff was ridiculous, I loved it.  The cured cobia sashimi was the perfect fish for this delicious appetizer.

Chef Steven's 1st Course – Hokkaido scallop, sweet shrimp with heads crispy fried, tossed in uni mayo, anchovy powder, seasoned anchovy, ume gel, and shiso. Perfect balance of soft & crispy.  Delicious!
Chef Steven's 2nd Course – Madai, charred negi soy gel, jalapeño foam, citrus marinated cucumber, and crispy salmon skin.  Those crispy salmon skins were AMAZING.  I loved this refreshing dish.
Chef Steven's 3rd Course – Crispy hand roll cone with unagi, bacon jam.  Second picture is chu-toro tartare, ikura, furikake.  Who doesn't enjoy eating a hand roll?  No chopsticks needed!
Chef Albert's 4th Course – Congee with lobster, clams, shrimp, uni and squid ink rice chips.  This was my favorite!  I wanted to lick the plate after I was finished eating but didn't want to get any weird looks.  I wish the squid ink rice chips with uni was an appetizer on their regular menu.  I'm obsessed with them!  My biggest weakness is chips.
Chef Albert's 5th Course – Poussin served with winter green, sesame dressing, pickled cucumber, whipped tofu, charred orange.  This was the best grilled chicken that I have ever eating in my life.  The seasoning was perfection.
Chef Albert's 6th Course – Bison skirt steak, shaved truffle, asparagus, Shimeji mushrooms, beet, black pepper sauce.  Divine!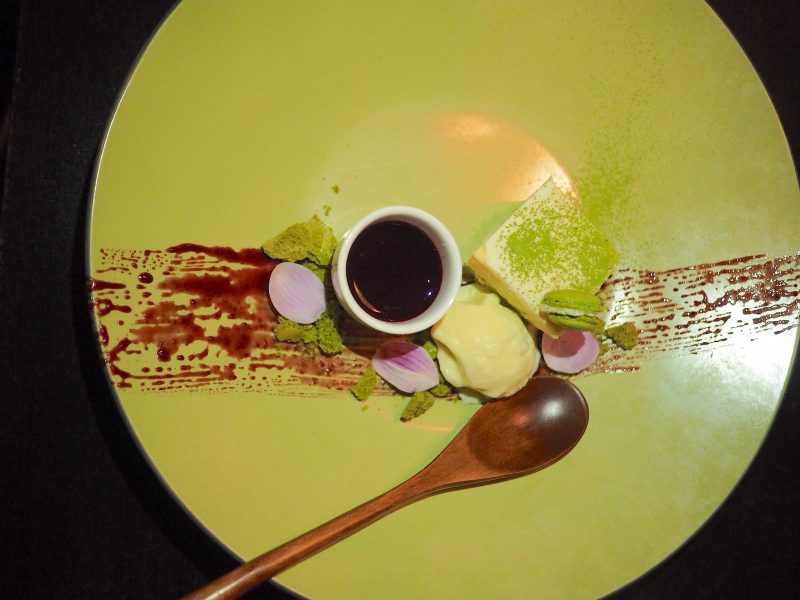 Ping's Dessert – Japanese cotton cheese infused with matcha, matcha macaroon, durian ice cream, dark cherry soup.  So much heart and passion went into this dessert.  It was heavenly.  I love homemade cakes, ice cream and macarons!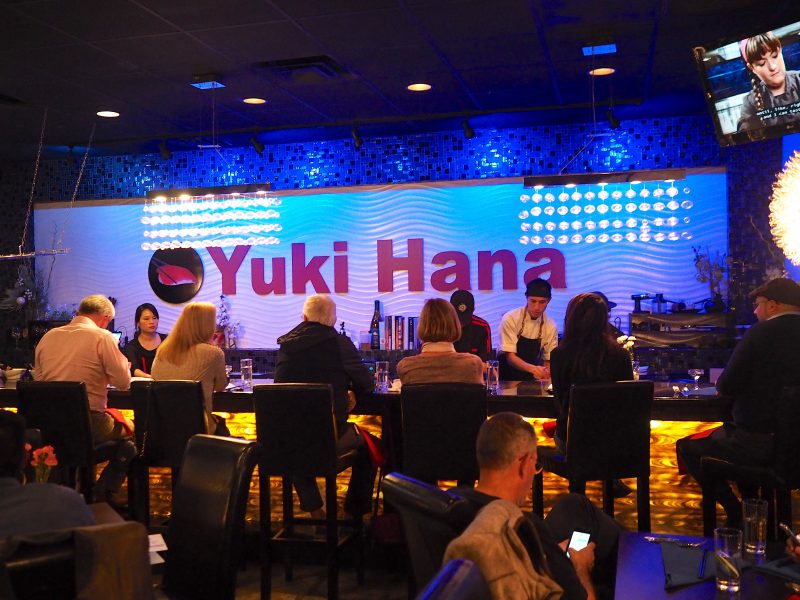 The kind and hardworking owner of Yuki Hana, Ping Jiang, and her team of dedicated an talented chefs.
This was my third Omakase experience at Yuki Hana and the skills, quality, creativity, and taste just keep getting better.  I am looking forward to their next Omakase dinner.  I'm truly grateful for the opportunity to attend these dinners on behalf of Tasty Chomps.  I hope to see you all at the next one!  Please follow Yuki Hana on IG at @yuki_hana_sushi for their latest updates and upcoming events.
Yuki Hana Fusion Sushi
3635 Aloma Ave Oviedo, Florida 32765
(407) 695-8808
http://sushiyukihana.com