We deeply enjoyed visiting our local Cheddar's to try some made-from-scratch recipes and the new bone-in 10 oz. Bourbon Glazed Pork Chop, with a scratch-made glaze. Cheddar's Scratch Kitchen has a menu built on simple, honest and natural ingredients. Each of Cheddar's scratch-made recipes are hand-crafted with care and time since 1979.
While waiting for our dishes, we tried Cheddar's Painkiller, which is nice and smooth. It also has a delicious ring of roasted coconut nibs. Cheddar's Painkiller is made of Pusser's rum, cream of coconut, pineapple juice, orange juice, toasted coconut rim, topped with nutmeg. Limit 2 per guest… I wonder why.
Homemade Onion Rings are fresh-cut, hand-battered and made to order. They are served with homemade ranch and Cajun dipping sauce. The sauces are ok for the onion rings, but they are delicious on their own as well.
Chips & Homemade Queso with a side of seasoned ground beef. The cheese was slightly on the salty side.
Citrus Miso Glazed Salmon is on the lighter side of the menu for dinner. It consists of hand-cut salmon fillet glazed with citrus miso sauce and served over seasoned rice with a side of steamed broccoli. The salmon was cooked well, tender and moist; as it should be. The citrus miso glaze is sweet, but it does not overpower the salmon itself.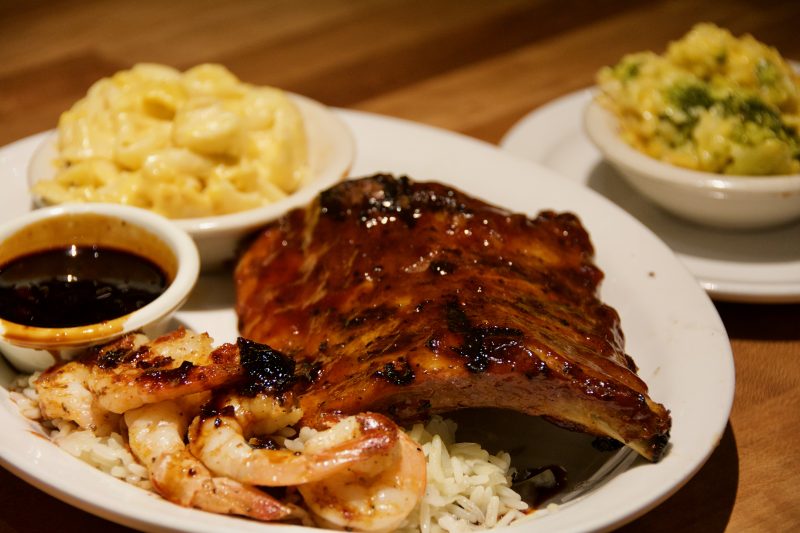 Half rack of in-house, slow smoked Baby Back Ribs with grilled or fried shrimp served with two sides of your choice. Each bite of the tender ribs leaves a hint of smokiness. We ordered grilled shrimp and it has its own flavors that are unique to the ribs. The shrimp are made well and not chewy, like how it is when someone overcooks them.
We have two made-from-scratch sides here, Mac & Cheese and Broccoli Cheese Casserole. The Mac & Cheese is my favorite side from Cheddar's Scratch Kitchen. I quite prefer it over the Broccoli Cheese Casserole as I'm not a fan of casseroles.
New bone-in 10 oz. Bourbon Glazed Pork Chop is a center-cut, bone-in pork chop on a bed of mashed potatoes and topped with bourbon glaze and homemade onion rings. Served with one side. The pork chop is very tender, moist and flavorful. Congratulations to Cheddar's Scratch Kitchen for being able to appropriately season their pork chop as it is usually hard to do so.
Our side was their housemate coleslaw, which was delicious and refreshing.
20 oz. Bone-In Ribeye is made to order and served with two sides of your choice. The ribeye was seasoned very nicely and I am craving more of it as I type this. The Baked Sweet Potato and Buttered Off-The-Cob Corn are both delicious sides to have.
Cheddar's Scratch Kitchen has a number of delicious desserts on their menu. Their Dessert Minis option allows you to try three types in a shot form. Here, we pick Key Lime Pie shooters after Manager Tim suggested how it is as delicious as his mother's homemade Key Lime Pie. The Key Lime Pie at Cheddar's Scratch Kitchen is made with specific limes from Key West, Florida and Manager Tim wasn't lying about how delicious these mini Key Lime Pie shooters were.
For more information, visit Cheddar's Scratch Kitchen.