Hawkers Asian Street Fare opened its newest location in Windermere, and the team couldn't be more excited!  We were invited to meet the team, tour the space, and enjoy complimentary dinner and drinks with the Hawkers family this past weekend during their VIP experience event.  Hawkers Asian Street Fare – Windermere has a beautiful, vibrant, and inviting atmosphere. The street food was good and the hospitality was top notch!
They are in soft opening mode starting today.  Their official grand opening date is on Monday, April 23.
THAI ICED TEA
'NAM-NOM ROLLS – chilled rice wrap, crunchy spring roll, chicken sausage, lettuce, cucumber (my favorite appetizer!)
#DIMSUMCRUNCHYBALLS – shrimp, pork, crispy spring roll batter
SINGAPORE 'CHILLI' CRAB – national dish of Singapore, soft-shelled crab, house-made chili garlic sauce, fried bao bun
STREET SKEWERS – three per order, cooked over 1000° wood burning grill.  Choice of: crispy chicken skin, Korean octopus, beef bulgogi, chicken bulgogi, satay chicken, lemongrass pork
HAWKER WINGS – five per order, battered or naked, with choice of sauce: Thai chili, hainanese, honey sriracha, chuan jerk, five spice, spring onion ginger
PO PO LO'S CURRY – a signature recipe shared by their family for generations.  Choice of: chicken, beef, shrimp, tofu.  Served with white or brown rice.
CANTON COD – wok-seared with bell peppers and onions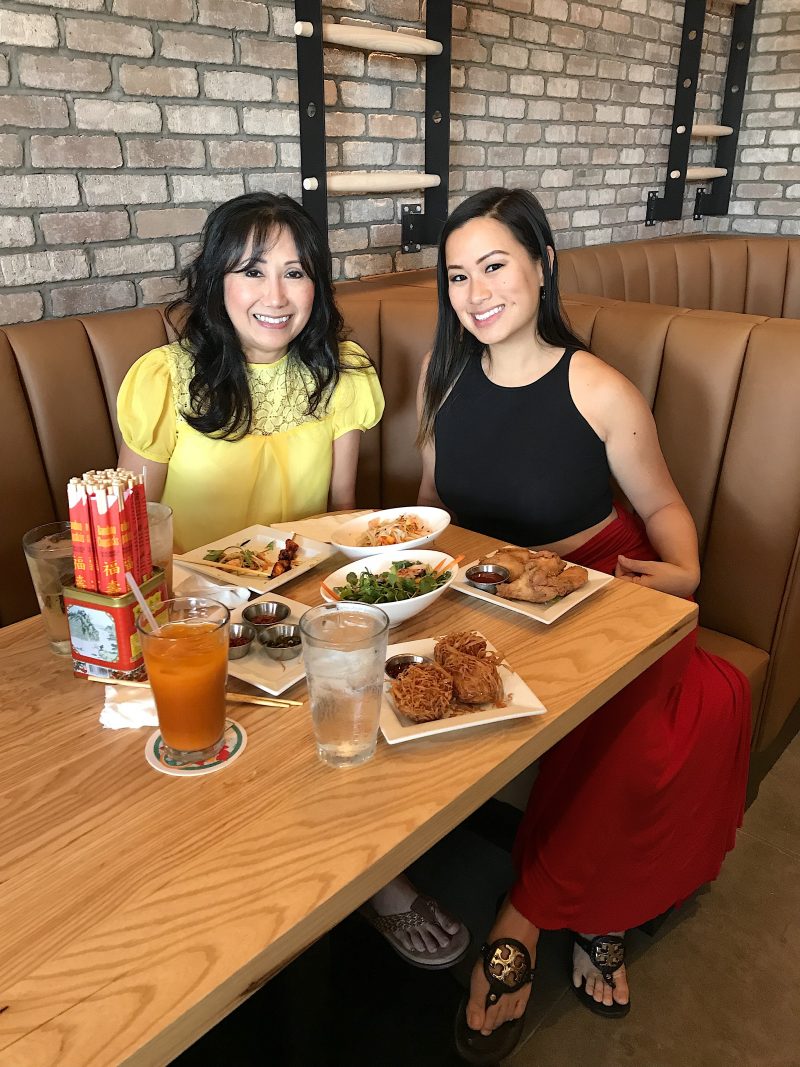 My mom & I
Behind the scenes shot
TIGER SALAD – poached octopus, cilantro, carrots, scallions, celery, cucumber, rice wine vinaigrette
GREEN PAPAYA & SHRIMP – carrots, basil, cilantro, mango salsa, fried shallots, roasted peanuts, Vietnamese vinaigrette
My mom & I with the co-owner of Hawkers Asian Street Fare, Allen Lo.  Thanks for the food, hospitality, and gift bags!
Assortment of desserts

Sake tasting
We got to design our own shirt!
My mom designed this shirt
I designed this shirt
Be sure to check out the new Hawkers Asian Street Fare – Windermere!  Their grand opening will be on Monday, April 23!
Hawkers Asian Street Fare – Windermere
9100 Conroy Windermere Rd suite 110, Windermere, FL 34786
(407) 583-6334
eathawkers.com/windermere-fl/