Kevin Pabis, son of local food bloggers Richard and Irina Pabis (@celebritychef4u).
We were invited to Main Event Entertainment to eat, bowl, and play!  The food offerings were all delicious!  You have to try their Skillet Mac & Cheese which consists of cavatappi pasta, grilled chicken, applewood smoked bacon, creamy blend of melted cheeses, green onions topped with CHEEZ-IT crumbs.  CHEEZ-IT are one of my life-long favorite snacks.  Throw some of its crumbs on top of a loaded-baked chicken/bacon mac & cheese and you're golden.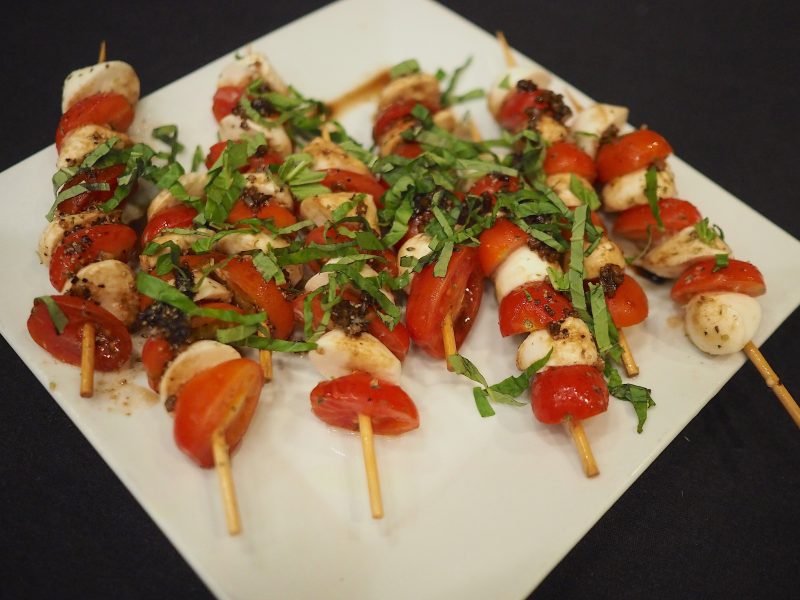 Tomato Caprese Skewers – served with balsamic drizzle (these were super popular at our table, a blogger's son said that it was his favorite dish!)
Calamari – zesty marinara sauce and fresh shaved parmesan cheese
Chicken Quesadilla – grilled chicken, jack & cheddar cheese, chipotle mayo &fresh made pico de Gallo (this was my mom's favorite dish!)
Roast Beef Dippers– shaved roast beef, horseradish mayo, lettuce, tomato, red onion served on buttery garlic knot bun
Italian Pesto Pizza – fresh basil, roasted potatoes, caramelized onions, creamy basil pesto,feta, mozzarella & provolone cheese
Assorted Dessert Bars – lemon, raspberry rhapsody, pecan chocolate chip, & caramel, oatmeal
Cinnamon Sugar Donuts – with salted caramel and raspberry sauce
A variety of gelato.
Billards.
VIP bowling lanes.
Bar area with alcoholic beverage options.
Bowling alley.
A variety of arcade games.  Everyday deal:  1/2 price games 10pm to close.
Local food bloggers Ashelyn Vazquez (@orlandomag) with her guest, and Sean (@orlandofoodguys).
Samantha (@samantheah) & Mattia Joyce Castellano (@mattia_joyce) racing on the motorcycles
Carolina Grabova (@carolinagrabova) plays a racing game for her instagram story.
My favorite game at the arcade was their zombie-killing game in the first ever roam-free virtual reality room.  I don't have a photo of it but I do have a video clip of it on my instagram (@bytiffanynguyen). Imagine a game that doesn't feel like a game.  Where your body is the controller and your mind believes it's real.  It was so realistic that other attendees were seriously spooked after they finished playing!  I enjoyed playing it though and I am looking forward to coming back and playing it again.  Be sure to check out Main Event Entertainment next time you are in the I-Drive area to experience the zombie-killing game for yourself!
(Source credit: Main Event Entertainment)
Main Event Entertainment – Pointe Orlando
9101 International Dr Suite 1032, Orlando, FL 32819
(407) 352-3300
mainevent.com