Cheddar's Scratch Kitchen brought Tasty Chomps in to taste some popular items they are rolling out this summer. Not only that, but we were able to learn how to stack the homemade onion rings similar to how they are delivered to our table in a beautiful presentation. Our presentation may not be as beautiful, but we did our best!
The new summer cocktail is a Watermelon Vodkarita and it is dangerously delicious. You can't taste the alcohol and it is so refreshing it'll make you want more constantly throughout the summer.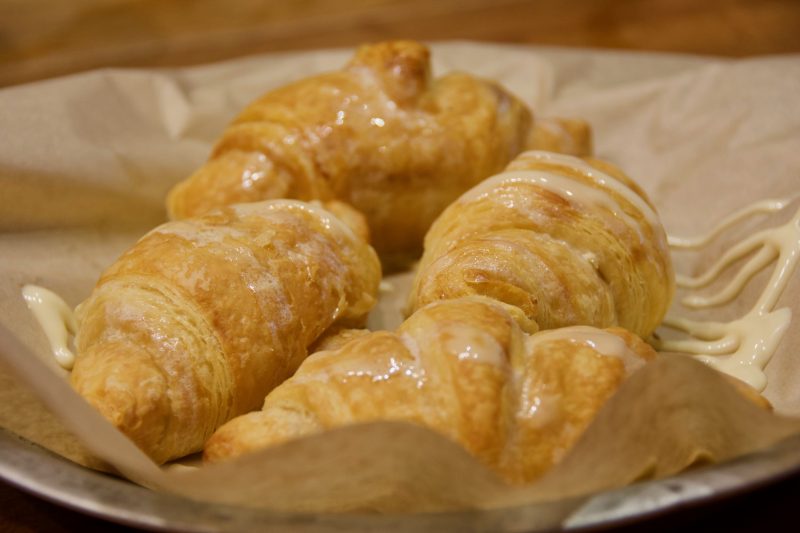 The Warm Honey Butter Croissants are mice and fluffy. Although I am not fond of carbs, I may make an exception for these croissants.
The Homemade Onion Rings are nice and crisp. They come with two sides for you to try with. This stack was created more nicely than my stack since it was by Cheddar's amazing Executive Chef, Brittany Neisen.
The Chicken Tender Platter isn't only popular for the kiddos. They're ordered and enjoyed by all. They come with a few sauces and Buffalo still takes the prize on being my favorite.
New Orleans Pasta has a nice cajun flavor to it. If only I wasn't allergic to shrimp.
Some sides include broccoli cheese casserole, freshly made coleslaw, mac 'n' cheese, and black beans.
The Blackened Salmon with Mango Salsa is my favorite. The salmon is made well and it is not overcooked. The flavors are fresh and slightly sweet, naturally from the mango.
The Salmon & Strawberry Salad is refreshing for a summer day. It comes with a strawberry vinaigrette made at Cheddar's each day, similar to the majority of what you find on the menu.
Last, but not least, is the Homemade Chocolate Fudge Cake. It is served with ice cream, whipped cream and drizzles of chocolate and caramel. The cake itself is very rich and not too sweet. On the other hand, the icing will add more sweetness to your bite.
For more information, please visit Cheddar's Scratch Kitchen.