"East Meets West" is a special chef collaboration dinner featuring Chef Elek Kovacs of The Osprey Tavern and Chef Huy Tin of Seito Baldwin Park.
The Osprey Tavern is an upscale-casual New American restaurant that features seasonal cuisine and Seito Baldwin Park is a Japanese restaurant that serves contemporary Asian offerings using a combination of traditional and innovative cooking techniques. Although both of these restaurants have distinct styles of cuisine, the collaboration brings together a brilliant 8-course tasting menu paired with fine wines, sake and spirits.
The 8-course menu consisted of key ingredients for each dish that both chefs used in preparing their dishes. All of the dishes were great, but I'll share some notes on what stood out to me. The first plate was the perfect introduction to the event, a savory egg dish topped with ikura and paddlefish caviar. Following that was a beautiful plate of mackerel accompanied with pineapple salad and peanut-sesame. This was very reminiscent of fresh ingredients you would find in an Asian dish. The pork and seared scallop dish was paired with Amabuki Ginno Kurenai Junmai, a Japanese sake with a beautiful rosé color. Another notable dish was the pan-roasted duck sitting on a crisp puff pastry. For the finale, Pastry Chef Kristy Carlucci created a melt-in-your-mouth toasted marshmallow meringue dessert.
Was it worth the hype? Absolutely. Both Chef Elek Kovacs and Chef Huy Tin are remarkably talented and I enjoyed everything that was presented that evening. The amount of effort and preparation that went into this event was impressive and is worth the occasional indulgence. From the cordial staff, beautifully prepared courses and even down to the hand-sewn table runners (Sue Chin has a talent for design and decorating!). I was thrilled to join Orlando restauranteurs Jason and Sue Chin at this much anticipated and sold-out event. Jason and Sue own both of the restaurant concepts and have been a driving force in elevating Orlando's culinary scene.
The Osprey Tavern [Website]
Address: 4899 New Broad St, Orlando, FL 32814
Phone: (407) 960-7700
Seito Baldwin Park [Website]
Address: 4898 New Broad St, Orlando, FL 32814
Phone: (407) 898-8801
Egg(²)
Mackerel + Celery
Pork + Shellfish
Duck + Mushroom
Melon + Tea
Beef(²)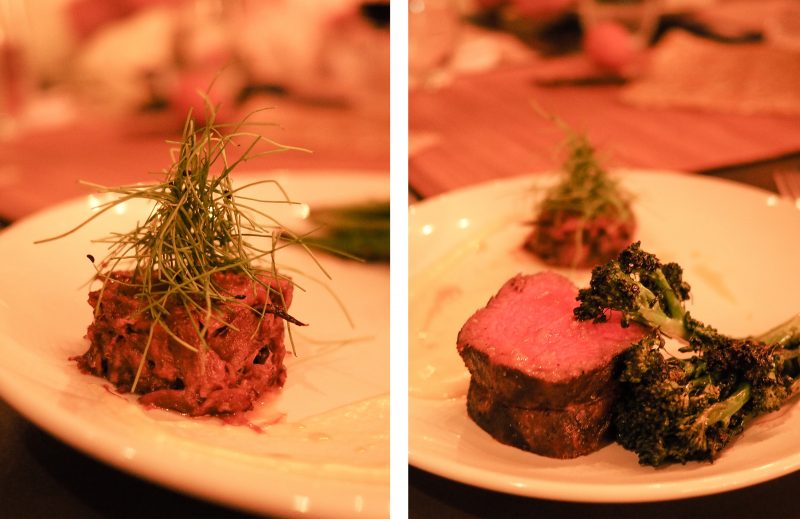 Baked Alaska