We were invited to WA SUSHI to celebrate their 3 Year Anniversary and we were pleasantly surprised with our experience.  WA SUSHI uses fresh, quality ingredients, the presentation of all their dishes was very beautiful and detailed, the staff was friendly and attentive, and the desserts were good.  I love mochi!!!
WA Sushi is running a special promotion now through July 1, 2018.  Simply take a picture of your dish, tag @TastyChomps on instagram or facebook, show your server the post and you will receive a FREE surprise menu item.  How cool is that?! 🙂
Some seasonal fish flown in from Japan.  Sea pineapple, squid with mentaiko (spicy cod liver roe), tuna with shredded yam potato
Grand Nigiri Moriawase – Bluefin toro, renkodai (yellowback sea bream), torigai (heart clam), wild Japanese saba (mackerel), anago (eel)
Nabeyaki Udon – Udon noodles cooked in a hot pot with chicken, fish cake, enoki mushrooms, egg and tempura shrimp.  It was delicious!
Sashimi Moriawase –  Renkodai (yellowback sea bream), uni, shiokko (baby amber jack), yellowtail toro, tuna, salmon with roe, scallop, amaebi (sweet shrimp)
Prepping the pot with beef fat
Sukiyaki – a Japanese dish that is prepared and served in the nabemono (Japanese hot pot) style
Fried cheesecake with red bean ice cream, black sesame mochi, green tea mochi, fried banana with vanilla ice cream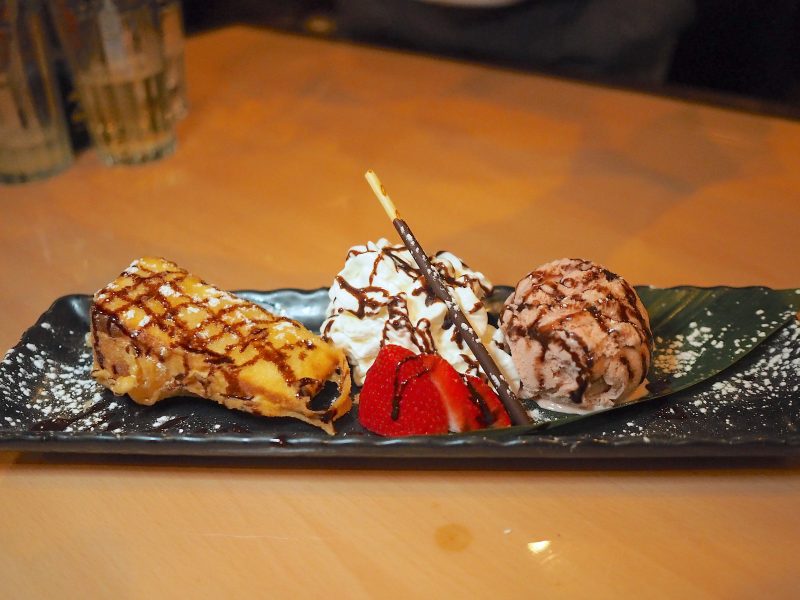 Chef Hong (aka "Ting")
My family with Chef Hong and our wonderful server Sicily.
Be sure to check out WA SUSHI soon for delicious food and amazing service!!
WA SUSHI
1285 Seminola Blvd #121, Casselberry, FL 32707
(407) 636-3251
http://wasushicasselberry.net