La Luce is Hilton Orlando Bonnet Creek's signature restaurant created by famed Napa Valley chef and restaurateur Donna Scala. I first met Chef Donna Scala back in 2012 for a special dinner there – she was a breath of fresh air and always so full of light – La Luce.

Chef Donna Scala was an incredibly talented chef, gracious host and beloved friend who passionately operated La Luce in Orlando, Florida at Hilton Orlando Bonnet Creek and Bistro Don Giovanni in Napa, California. In 2014, she tragically passed away at the age of 60, but her spirit lives on through her recipes and her restaurants. If you look closely at some of the paintings here, you may see her favorite vespa featured – which she loved to use to travel around the wine country in California.
Chef Alberto Navarrete Arias, who trained under Chef Scala for over 20 years in California, continues to helm the modern Italian country kitchen here at La Luce serving up dinner nightly from thin crust pizzas, homemade pasta, Mediterranean-inspired drinks and a Trattoria-style wine program.
In 1993, when Chef Donna Scala and her husband opened Bistro Don Giovanni in Napa Valley, back before the "trend" of the farm-to-table movement, they installed a garden to supply ingredients for Mrs. Scala's Italian dishes like Pasta Alla Gianni.
The menu here at La Luce continues that tradition of fresh, seasonal ingredients. This summer, they are featuring a wonderful stone fruit salad (for those that don't know that means fruit with pitted seeds like peaches, figs, etc.), a wonderful fig and speck pizza baked in house in their wood oven with a delightful crustm and freshly grilled lamb chops.
Take a look at their newest Summer Menu below from our recent (superb) dinner visit:
Pesca "Mocktail" – Pasco Peaches, Pomegranate
ASPARAGI AL FORNO
Baked Prosciutto Wrapped Asparagus, Fontina, Parmesan Cream Sauce
STONE FRUIT
Local Greens, Shropshire Blue Cheese, Candied Hazelnuts, Moscatel Vinaigrette
PIZZE (PIZZA) – FIG and SPECK
Melted Leeks, Gorgonzola Dolce, Aged Balsamic – the proscuitto was crisp like BACON so good.
LINGUINI DI MARE
Roasted Mussels and Clams, Tomato, Garlic, Chilies, Pinot Grigio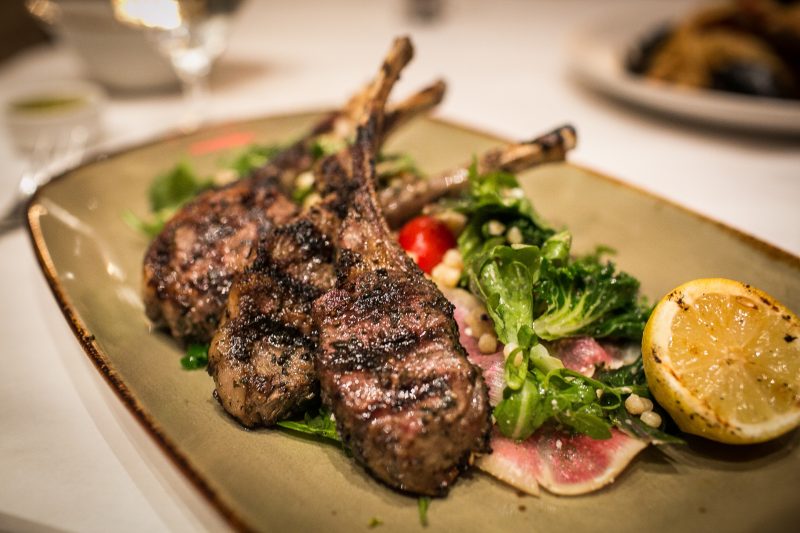 AGNELLO AL SCOTTADITO
Grilled Lamb Chops, Warm Fregola and Kale Salad, Feta Cheese, Lemon
BUTTERSCOTCH PUDDING
HOUSE-MADE TOFFEE

La Luce at Hilton Bonnet Creek