Meet Rosen Centre's Everglades Head Chef Fred Vlachos, Banquet Chef Francis Daniels and Executive Chef Michael Rumplik
It's the busiest time of the year for the chefs at Rosen Hotels & Resorts as they are preparing for their highly anticipated Christmas day brunch; one of the most spectacular brunches in town.  I got to sit down and chat with a few of the chefs at the hotels before I return next week to Rosen Centre with my family for their delicious and diverse Christmas day brunch.
You can find the dynamic duo Chef Fred Vlanchos & Chef Francis Daniels working all of the holiday brunches at Rosen Centre.  They have been working together at Rosen Centre for 13 years.  They first met when they were both working at Walt Disney World Swan & Dolphin Resort.
What do you do for Christmas every year?  Every year on the 24th I have some friends coming over to my place and we celebrate and exchange gifts, lamb, turkey and Christmas cake that my wife makes. – Chef Francis Daniels
I'm so looking forward to having Christmas brunch here with my family.  What is your favorite dish? I love the carved turkey with the gravy and cornbread stuffing.  One of my favorites! – Chef Fred Vlanchos
What Christmas present do you want this year? For me the best present is when all of the family comes to the house.  For me, that's the best thing. – Chef Michael Rumplik
Photo credit: Mary Deatrick
Rosen Centre Hotel's Christmas Day Buffet is a special way to spend time with family while enjoying an incredible holiday feast!  An extensive buffet features holiday favorites such as roast turkey, candied yams, mashed potatoes and pineapple rum glazed ham, as well as unique dishes sure to become traditional favorites.  Seafood lovers enjoy a spiced shrimp boil and a sushi spread.  Be sure to make your own omelets and include Belgian waffles on your plate.  Save room for dessert!  Choices include Swiss sweets, all-American pumpkin pie, holiday cookies and cakes, flowing white and milk chocolate fountains and more.  Adults receive unlimited mimosas and champagne.  Take a stroll after and admire chef's beautiful Gingerbread House on display, a sweet confection (pictured above).  Reserve your seats at the table today for this very popular holiday event.  Complimentary valet parking.
Christmas Buffet at Rosen Centre
Dec. 25, 11am – 5pm
9840 International Dr., Orlando, FL 32819
Price: $47.95* per person
Children ages 4-12: $18.95, children under 3: free
Complimentary champagne & mimosas
Free valet parking
*Christmas day only.  Reservations recommended.  Plus service charge and sales tax. Not valid with any other offers or discounts.
To make a reservation, please visit: RosenCentre.com/christmas/ or call (407) 996-8551
CHRISTMAS BUFFET MENU
SOUPS
Seafood Gumbo
Saffron Vegetable with Cannoli Beans
MARKET SALADS
Roasted Beets with Feta
Fresh Fruit Ambrosia with Honey & Coconut
Couscous Salad with Shrimp & Mint
Hearts of Palm with Grape Tomatoes
German Fingerling Potato Salad with Caraway & Bacon
Marinated Grilled Vegetable Salad with Fresh Dill & Feta
CHEESE & FRESH FRUITS
International and Domestic Cheese Display
Fresh Fruit & Berries Spectacular
ANTIPASTO DISPLAY
Featuring an Assortment of Freshly Grilled Red & Yellow Peppers, Portobello Mushrooms, Kalamata Olives, Beefsteak Tomato, Buffalo Mozzarella, Artichoke & Asparagus along with Freshly Marinated Calamari, Clams & Mussels
Prosciutto, Salami, Capicola, Mortadella, Assorted Italian Smoked Cheeses
SEAFOOD STATION
Crab Claws, Spiced Shrimp Boil with Lemon, Cocktail & Cajun Remoulade
Escabeche Marinated & Fried Mahi with Lemon & Lime
Lemon-Basil Shrimp Salad
Smoked Salmon with Classical Garnishes & Fresh Breads
BANSHOO
Chef Yoshi's Spicy Tuna & California Rolls
HARRY'S
Shrimp Pinchos
Chipotle Spiced & Glazed with a Dark Rum Mango BBQ
PASTA BAR
Steamed Little Necks with Basil, Garlic, White Wine
Egg Tortellini with Shiitake Mushroom, Peas & Fresh Basil
ENTRÉES
Roasted Tom Turkey & Cranberry Sauce
Traditional Cornbread Dressing
Pan Seared Salmon with Roasted Fennel Cream
Tenderloin of Beef Tip with Pearl Onions
Candied Sweet Yam
Yukon Gold Mashed Potatoes
Broccoli Au Gratin
CARVING STATION
Pineapple Rum Glazed Ham
Apricots & Figs
OMELET AND WAFFLE STATION
Belgium Waffle with Flavored Butters & Omelets Made-to-Order
Lemon Buttermilk Pancakes served with Country Sausage or Applewood Smoked Bacon
Eggs Benedict
SWEET INDULGENCE
Assorted Breakfast Danish, Croissants & Muffins
Warm Fresh Berry Chambord over Vanilla Ice Cream
White & Dark Chocolate Fountain with Fresh Pineapple, Strawberry and Marshmallows
Eggnog Cheesecake, Pumpkin Pie, Traditional Yule logs, Linzer Torte, White Chocolate Peppermint Mousse
Black Forest Cake, Chocolate Pecan Pie, French Pastries & Petits-Fours
Swiss Sweet Shots, Caramel Banana Bread Pudding, Ginger Bread Cheesecake
Bûche de Noel and Stollen
Spiced Egg Nog Caramel Flan
Meet Executive Chef Preston McCord from Clarion Inn Lake Buena Vista, a Rosen Hotel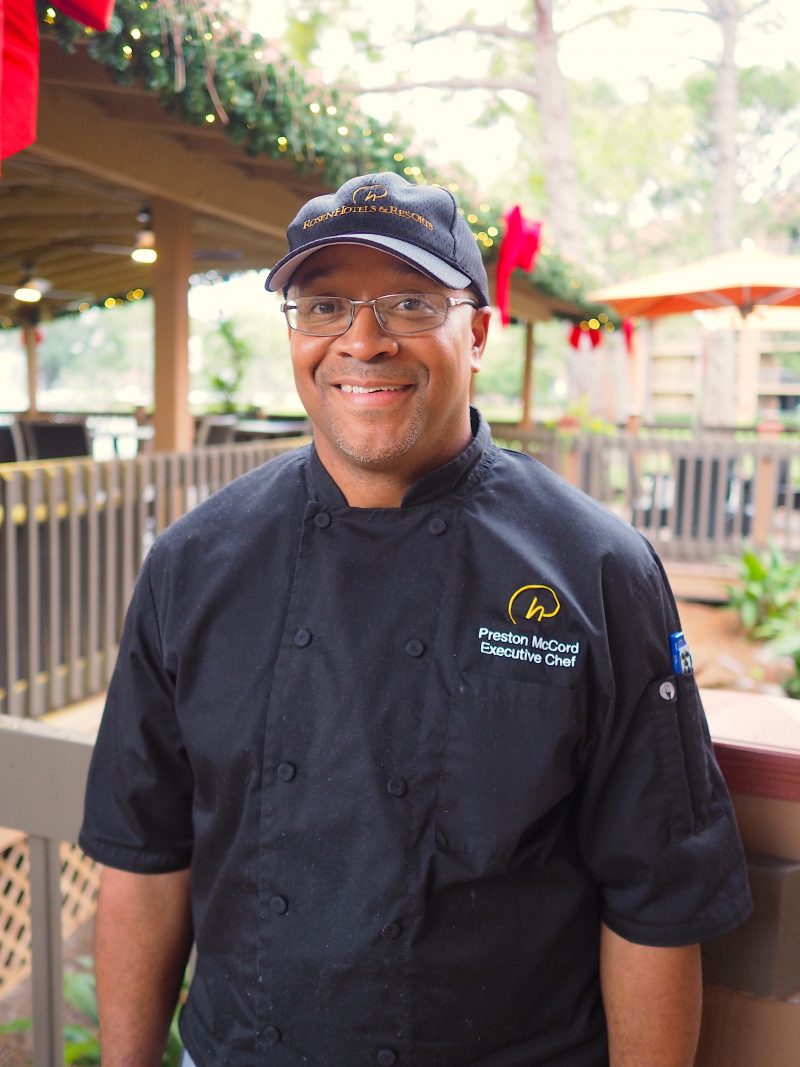 This newly-hired Maryland native is bringing the cajun flavor to Christmas day brunch this year.  He is most looking forward to serving up his Maryland crab cakes, peppercorn-crusted beef tenderloin, ham, sweet potatoes, and a nice, flavorful mac & cheese that he keeps getting rave reviews about.
Christmas Day Buffet at Clarion Inn Lake Buena Vista, a Rosen Hotel
Dec. 25, 11am – 3pm
8442 Palm Parkway, Lake Buena Vista, FL 32836
Price: $32.99* per person
Florida Residents' Discount: 25% off on adult meals, must present valid Florida state ID when paying.
Children ages 4-11: $13.99
Children under 3: FREE (limit one child per paying adult)
FREE wine & champagne
FREE self-parking
FREE transportation to Disney, Universal Studios, Seaworld and outlet malls
*Christmas day only.  Reservations recommended.  Plus service charge and sales tax.  Not valid with any other offers or discounts.
Fore more information or to make a reservation, please visit: clarionlbv.com/meetings-events/christmas/ or call 407-996-7236
CHRISTMAS DAY BUFFET MENU
SOUP & COLD DISPLAY
Broccoli cheddar soup
Cranberry salad with walnuts
Fruit salad
Gourmet cheese and cracker display
Ahi tuna with wasabi
Shrimp cocktail
SIDES
Fireside marshmallow sweet potatoes
Loaded mashed potatoes
Green bean almondine
Cheesy mac & cheese
ENTRÉES
Herb crusted mahi-mahi
Rustic chicken with garlic gravy
Maryland crab cakes
CARVING STATION
Honey ham
Peppercorn crusted beef with mushroom gravy
BUILD-YOUR-OWN PASTA STATION
KIDS' PRIVATE BUFFET
Chicken fingers
French fries
Pasta marinara
Mac & cheese
DESSERTS
Apple pie à la mode
Jack Daniels chocolate cake
Lemon meringue pie
Christmas Jell-o®
Christmas cookies
DRINKS
Eggnog
Build-your-own hot chocolate bar
Coffee bar
Red or white wine
**Watch Executive Chef Preston McCord do a live Christmas cooking demonstration on FOX 35 WOFL this Saturday, Dec. 22 at 8am!**