Open since 2016, Frontera Cocina at Disney Spring is a Mexican restaurant by seven-time winner of the James Beard Foundation Award, Chef Rick Bayless. Most people know Rick Bayless from winning the title of Bravo's Top Chef Masters, beating out the French and Italian with his authentic Mexican cuisine.
His highly rated Public Television series, Mexico–One Plate at a Time, is broadcast coast to coast and has earned him multiple Daytime Emmy nominations for Best Culinary Host. His casual restaurant Frontera Grill was founded in 1987 and received the James Beard Foundation's highest award, Outstanding Restaurant, in 2007.
Frontera Cocina brings to Disney Springs a contemporary Mexican experience with warm colors, an open kitchen and a lively atmosphere.
We were recently invited to taste items from the new Taste of Mexico City menu along with some winter seasonal offerings at Frontera Cocina.
"Mexico City—La Ciudad de Mexico, enthusiastically abbreviated CDMX these days—is one of the most astonishing cities in the world. And not just because it's one of the biggest. No, it has some of the greatest diversity of culinary riches in the world, from legendary taco shops to a slew of restaurants that are listed in Pellegrino's 50 Best Restaurants in the world. It's colorful and brash. It's sophisticated and wise. It's ancient and modern. All simmered in together with a few of Mexico's several dozen
chiles. And served with handmade corn tortillas." – Chef Rick Bayless
Featured Drinks and Cocktails
Here is a look at some of the drinks available from the new menu. The people behind Frontera Cocina are also related to the folks at La Cava Del Tequila at Epcot's Mexico Pavilion so you know their bar program is top notch.
Dark Aztec Margarita
Montelobos mezcal, charcoaled pineapple lime juice,
homemade piloncillo syrup and mole bitters, rimmed with
powdered peanuts • 15
The Taste of Mexico City features the Dark Aztec Margarita with Montelobos mezcal, charcoaled pineapple lime juice, homemade piloncillo syrup and mole bitters, rimmed with a powdered peanut rim.
La Bandera
El Velo blanco tequila, prickly pear purée, orange liqueur,
lemon juice, lime foam, garnished with cilantro • 15
La Bandera, is a fruity sweet cocktail of El Velo blanco tequila, prickly pear puree, orange liqueur and lemon juice finished with a lime foam and garnished with cilantro. The prickly pear stands out in this drink with a nice citrus touch.
La Trajinera Flight
Montelobos Tobalá mezcal, Bozal ensamble mezcal, served
with Suave de Agave Sangrita • 26
La Trajinera Flight is featured on a "trajinera", a gondola-like boat famous in Xochimilco, a scenic borough within Mexico City known for its canals. The Flight consists of two shots of mezcal (Montelobos Tobala and Bozal ensamble) served with one chaser shot of Suave de Agave Sangrita, a sweet juice-y sangrita shot made from agave.
STARTER
Shrimp Ceviche Tostadas
Crispy corn tostadas topped with Florida Pink Shrimp,
sun-dried tomato, crunchy jícama, olives, serrano chiles, fresh
lime, cilantro, onion, avocado (contains shellfish) • 17
The Shrimp Ceviche Tostadas had lovely crunchy jicama chunks in it that were sweet and juicy like apple bites, pairing well with the Florida Pink Shrimp and lime.
ENTREES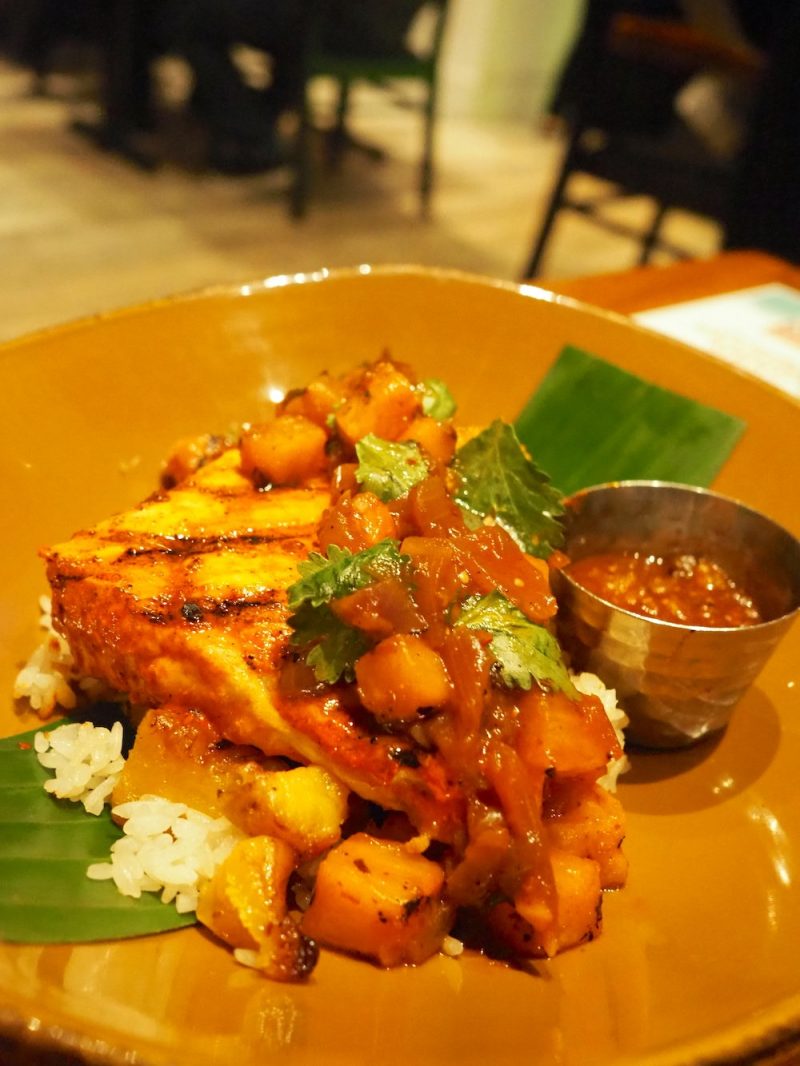 Swordfish Al Pastor
Grilled swordfish with "pastor" flavors (red chile, garlic, achiote),
plantain rice, smoky pineapple-chipotle salsa • 30
This swordfish was one of our favorite dishes of the night, marinated just for an hour in red chile, garlic, and achiote – the dish was superbly tender and flavorful. I thought it was cooked sous vide, but chef told us it was simply marinated and then grilled. Excellent!
Pork Belly Tacos for Making Soft Tacos
Crispy pork belly, smoky bacon, grilled knob onions,
black bean refritos with queso fresco, guacamole, red onion,
cilantro, three chile-agave salsa, served with
warm corn tortillas (contains dairy, pork) • 24
The pork belly here had a crispy texture to them yet were tender enough for a taco. The flavor was a sweet Mexican barbecue type of flavor and paired well with the black beans and the smokey three chile-agave salsa.
DESSERT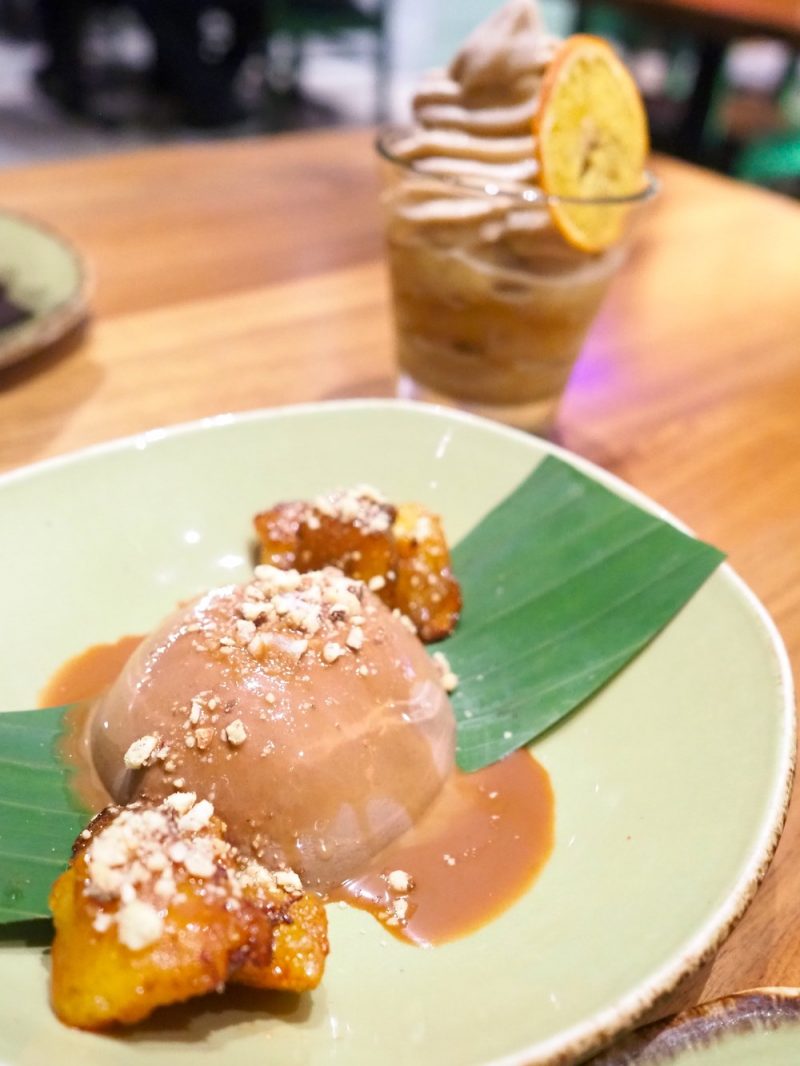 Mexican Chocolate "Flan"
Dark chocolate (made panna cotta style) with Mexican
cinnamon, golden sweet plantains, cajeta caramel, toasted
almonds, spicy cinnamon sugar (contains dairy, nuts) • 9
Winter Seasonal Menu
Winter Green Ensalada – Shaved black kale, Arcadian lettuce, grilled pineapple, toasted pepitas, Cotija cheese, red onions, jicama, roasted tomatillo-serrano vinaigrette.
This salad brought the earthy flavors of kale together with the sweetness of pineapple, and spiciness of the serrano pepper sauce.
Three Chile Roasted Brussels Sprouts with crispy bacon and Cotija cheese.
Dessert
Café de Olla Sorbet – A blend of Mexican coffee, brown sugar, cinnamon, clove, and orange zest.
I loved the crunchy crystal orange zest with the frozen Mexican coffee sorbet and touches of cinnamon and clove in this dish!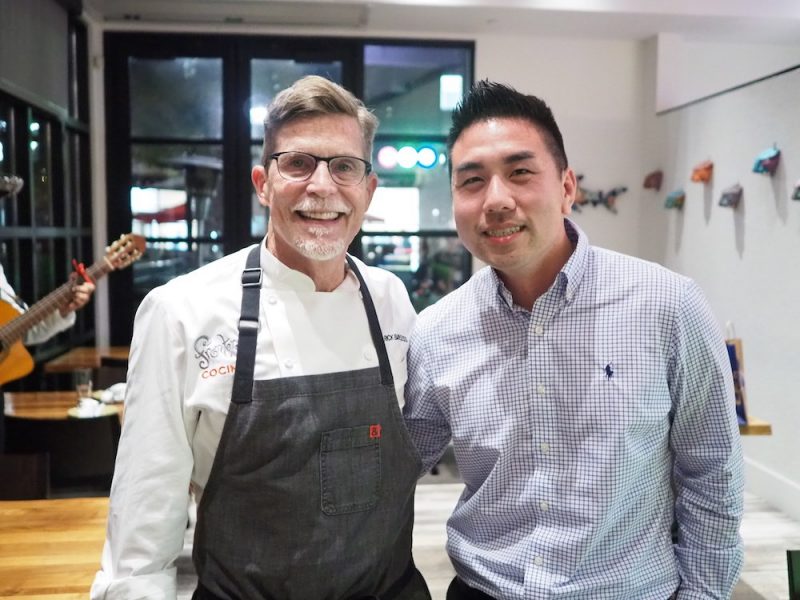 Frontera Cocina at Disney Springs
http://www.fronteracocina.com/