Last week, we took part in a foodie meet up at Tabla Cuisine to enjoy delicious dishes and support a local restaurant. Those who work here are absolutely friendly and helpful in making suggestions to what you may like to try.
One of our waiters was Faiz and he helped me in deciding what dish to eat based on what I was in the mood for. His recommendations are solely focused on your interest instead of trying to upselling dishes.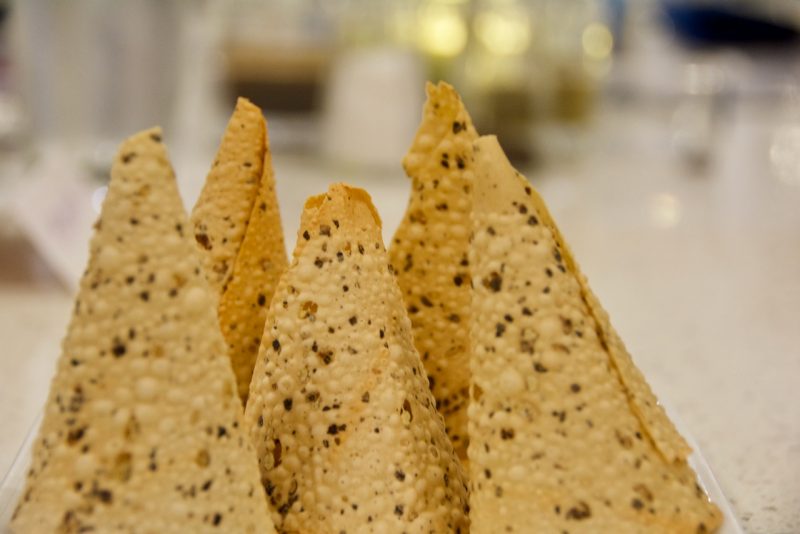 While we check out the menu, we had some Papad with assorted chutneys. These are a bit salty and pepper spicy. That's when you know the pepper is fresh – when it has a little kick.
Gobi Manchurian – Crispy Cauliflower or Chicken Fritters in a Sweet, Spicy and Tangy Sauce. The cauliflower texture is similar to chicken itself if you or your friends are vegetarians, but would like the texture of chicken. Sometimes, it is a texture thing that will help you like vegetables a bit more.
Chili Paneer – Sautéed Onions, Chili and Peppers with Marinated Cheese or Chicken. Who doesn't like cheese? I hope all cheese lovers order this and give it a try. It's delicious and savory.
Here is a mixed chaat platter made up of Paid Chaat, Samosa Chaat and Pani Puri created for our table to have a sample of various appetizers. Each item on this platter is also vegetarian, which this meat lover would be more than happy to order again.
This platter consists of another platter with mixed kabobs where there are three types of chicken on this plate. Meaning, there are three types of flavor samples. Each type of flavor sample was delicious, while each bite of chicken was juicy and tender.
Korma – Braised in a Nutmeg, Almond, Coriander and Cumin Yogurt Sauce. Korma is one of the curry dishes served at this restaurant. Each curry is served with basmati rice and you have a choice of vegetarian, paneer, chicken, lamb, fish, or shrimp. Here, I choose lamb and it was nice and tender.
Garlic Naan can be ordered as a side like I did to eat with your curry…or to eat on its own because of how tasty it is. I wish I had extra garlic to slather onto my naan.
I made Isha from @WillFlyForChai (follow her on Instagram!) hand model for me and show us how to eat a curry with naan because I wanted to learn. Also, I think she's used to being my hand model.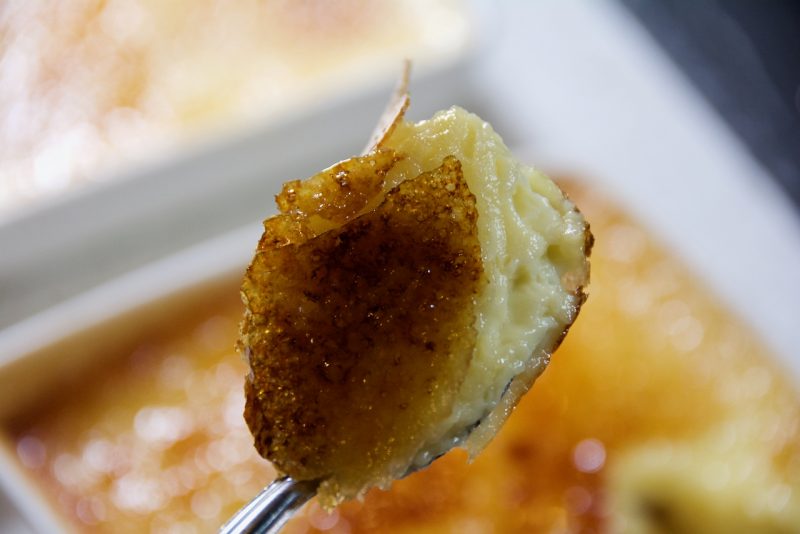 Gulab Jamun Creme Brûlée, which is an Indian version of the French dish of creme brûlée. Gulab Jamun, itself, is a rose flavored sugar donut quirk honey syrup. I recommend this dish for you to try. Let us know what you think.
Chocolate Samosas – Served with Masala Chai Latte Ice Cream. Be cautious when eating these because they can be addicting.
Look at the chocolate samosa. Wouldn't you like to take a bite into a crispy samosa and have a chocolatey explosion in your mouth? I think we all know the answer to my question.
Tabla's Casatta Ice Cream – Layered Ice Cream and Sponge Cake, flavored with Dry Fruits and Nuts. …This is healthy because it is flavored by fruits and nuts, right?
Isha surprised us all with Masala Chai. In India, Chai actually means "tea" and masala chai tea is a chai tea with milk and a hint of spices – cardamom, cloves, and cinnamon mostly. Guys, I think I found my new tea obsession. Now I know why Isha loves chai so much.
Iced Thai Tea hand modeled by Katie of @katie_eatz on Instagram. I love myself an iced Thai tea, but I didn't get to try this beauty.
While waiting for our food, we also had a chance to order drinks. I decided on Tabla's Old Fashioned, which was like biting into a bourbon spiked orange.
Of course, before anyone could touch their food, we had to make sure everyone was satisfied with their photos. Typical for any occasion you find a foodie at the table.
For more information of Tabla, visit their website. I hope you enjoy it as much as I did and I hope you'll be joining me for my next visit. Make sure you stop by this post and tell us how much you enjoyed your dish as well as rate your visit on Google.