Salata Salad Kitchen, a national fast-casual restaurant, opens its first location in Florida in Lake Mary. Salata offers guests fully customizable, tossed-to-order salads and wraps, soups, organic teas and lemonade.
All fresh fruits, vegetables and lean proteins will be chopped daily in-house. With five salad bases, more than 50 toppings, and 10 house-made, gluten-free dressings, guests can create meals without restrictions to meet their own definitions of healthy.
The Lake Mary Salata marks the 84th location for Salata nationwide. The Lake Mary Salata is the first Salata location to feature a brand new restaurant design that will deliver an enhanced guest dining experience, including unique dining "neighborhoods," a glycol tea tap system, and 5,000 square feet of indoor and outdoor restaurant space.
You can eat in, take out, order online for take out, order online or call for a delivery, or get catering. The options are unlimited like their salad bar.
Speaking of, the salad bar is the most popular way to go where you can add as many greens and toppings as you want or you can create yourself a wrap. Most are free of charge to add and all are as fresh as can be.
Of course, I did my best to make the most colorful and delicious salad I could at this visit. If you're not sure which items or dressing to add, Salata allows you to sample! If you need any recommendations, they're more than happy to give you their opinion on what they prefer. My recommendation is the fresh herb vinaigrette.
Being a protein lover, this protein section is my favorite. The turkey is really fresh and moist. They also have chicken and salmon options aside from seafood and vegan options.
I'm allergic to shrimp, but those babies look delicious! Further away from the meat choices are some delicious vegan choices. There is baked tofu, quinoa and falafel. The baked tofu has a medium density and interesting flavors.
Don't forget about some small sides like these multigrain croissants, tasty soups, pasta, or a cookie before you head to the tea bar.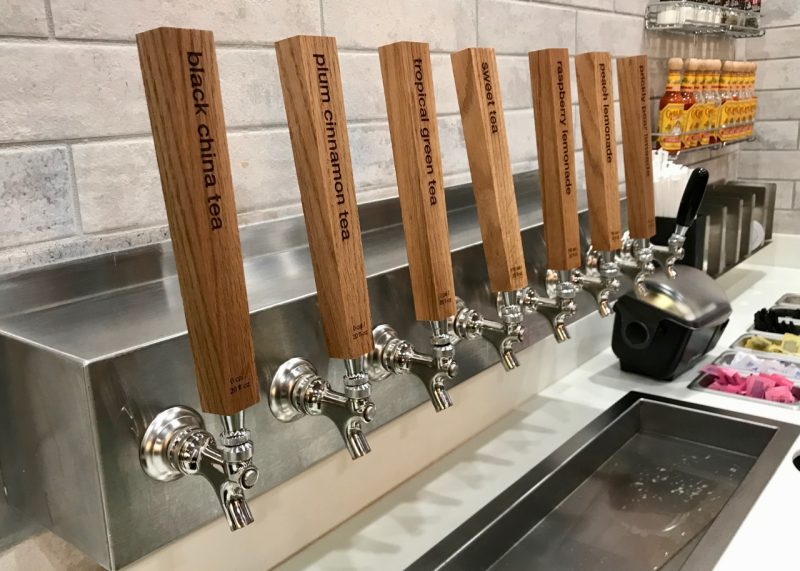 Speaking of the tea and lemonade bar, it's set up with taps as if you're pouring yourself a beer. These are also made fresh throughout the day for your enjoyment.
The first three teas don't have sugar in them so add as you'd like with the sugar packets. I started with the Tropical Green Tea, which was refreshing. Then, I ended with grabbing some of their tasty sweet tea for my drive home. As a southern girl, I do love my sweet tea and I'm always on the look out for locations with the best. Sometimes I pick where I eat based on the drink selection.
Do you have a big gathering and you're not sure on what to bring to the table? Check out Salata for that as well because they cater. It's definitely a more healthy option for meetings and social get togethers for all to enjoy.
To make you feel even better about your choices of choosing to eat here is that they're very connected in our community. They're always partnering up with local communities to donate financially or even by donating food.
For more information, check out the Salata Salad Kitchen for more information.