by Martin Balderama
When most people think of whiskey they usually think rough or strong or perhaps within a shot glass at a country bar. Although potentially true for inexpensive whiskey, more refined and higher quality brands will have a whole laundry list of both aromas and flavors. One such whiskey, one of the oldest and famous, Old Forester has said complex tasting and aromatic notes. Florida is one of Old Forester's top markets and thus was excited to bring many events to help existing or new fans to bourbons the try a variety of their products.
I had the opportunity of attending one such event; the Old Forester Olfactory Experience event that The Bourbon Society of Central Florida help hosted. Not only was I introduced to the many types of flavors and scents that bourbon can have but also connected with many likeminded whisky connoisseurs. Bourbon is different from other whiskeys in that the composition of grain mash used is at least 51% corn while other whiskeys can have varying levels of wheat, rye, or barley. Bourbon whiskey is also primarily distilled in America, with Kentucky being the primary region.
As a frequent Scotch whisky drinker myself (whiskey that is distilled in Scotland), I was delighted to learn more about its American counterpart. Jackie Zykan, Old Forester's Master Taster, did an amazing job in not only teaching the attendees the distillery process of some of the different varieties of Old Forester but also guiding us in the tasting and smelling experiences with the bourbon. With her chemistry background and extensive experience and whiskey tasting she was the perfect guide.
In front of us, we had a place mat with samples of distillates (samples of the whiskey batch prior to maturation) of their 100 proof and rye, a sample of the rye pre-maturation, and full mature samples of their rye and 100 proof. We tasted them while delicately nibbling on the three breads in the middle: corn bread, white, and rye. Each combination provided a unique flavor and taste profile similar to how white and red wine can pair with cheese and breads. From black pepper and cinnamon stick to nutmeg and oak, bourbon can have a variety of flavors. We tasted and took note on every taste and flavor as directed by Jackie. Next up however was something unique…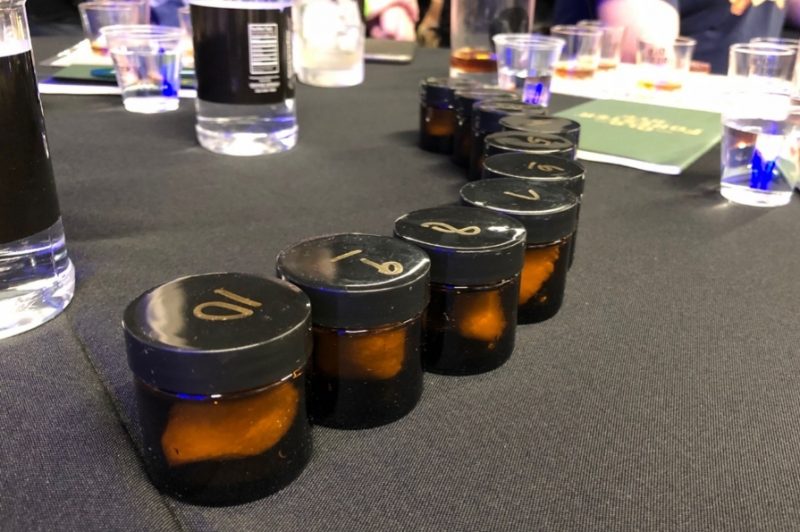 In the middle of the table were placed 10 small jars. Each with a cotton ball that had specific scent. Our next objective: to figure out what the scents were! One by one, everyone in the table smelling, taking heart, remembering where and when in their childhood or specific event that the scent tied to. From dill to apple, peppermint to sassafras, and lemon to magnolia. Some hitting the mark and others completely off.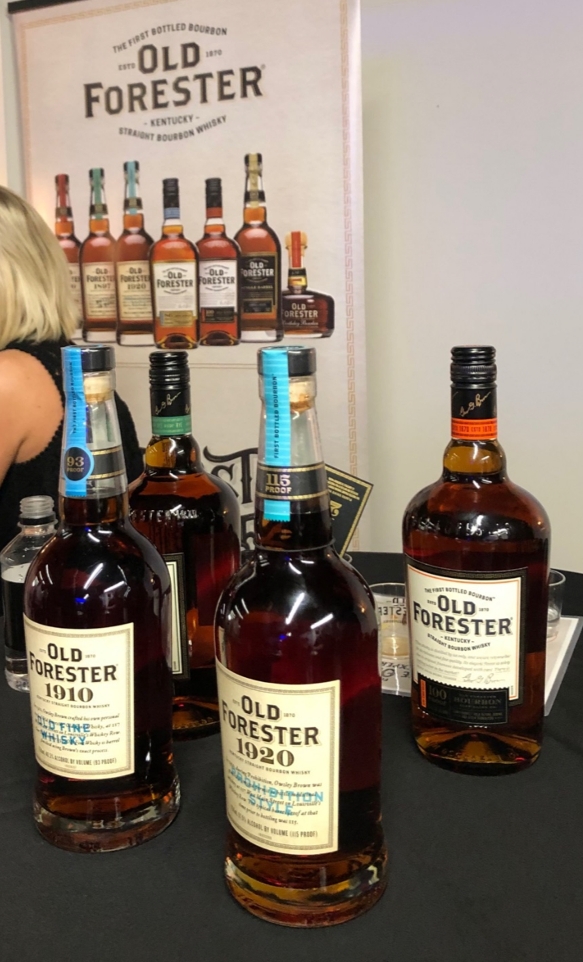 To cap off the night, we were handed a sample of Old Forester's 1910 Old Fine Whisky and 1920 Prohibition Style. The 1910 started with flavors of butterscotch, toffee, cedar, and apricots followed by a smooth mix of oatmeal raisin cookie and milk chocolate whit a hint of caramel and spices finishing with oak leads and more spices. The 1920 on the other hand had nose filled with medley of cherry preserves, drippy caramel, dark chocolate, maple syrup, and oak spices followed by tastes of malt nuttiness, sweet graham cracker, warmed green peppercorn, and coriander spice brightened with a hint of cedar. It finished with tart apple giving way to long smoky finish full of toasted marshmallow, chocolate and graham cracker sweetness. Both had wonderful flavors and both being perfect example of how bourbons can taste like.
1910 Tasting Notes:
o Nose – Interlaced layers of buttercream, sticky toffee, cedar and apricot.
o Taste –  Smooth, well rounded mingling of sweet oatmeal raisin cookie and milk chocolate leading into caramel corn and evolving spice.
o Finish – Charred oak leads with a clean peripheral spice.
1920 Prohibition Style Tasting Notes:
o Nose – An intense medley of cherry preserves, drippy caramel, dark chocolate, thickened maple syrup and seasoned oak spiciness.
o Taste – Dark caramel coats layers of malt nuttiness and sweet graham cracker all warmed by green peppercorn and coriander spice brightened with a hint of cedar.
o Finish – Tart apple crispiness gives way to a long smoky finish full of toasted marshmallow, chocolate and graham cracker sweetness.