Pepe's Cantina has been voted Best Mexican Food in Orlando, FL in the Orlando Weekly. They have locations in Winter Park, Downtown Orlando, and on International Drive. My favorite location is in Winter Park because it's in a less busy part of town and there's plenty to walk around and do while trying to digest all the delicious food.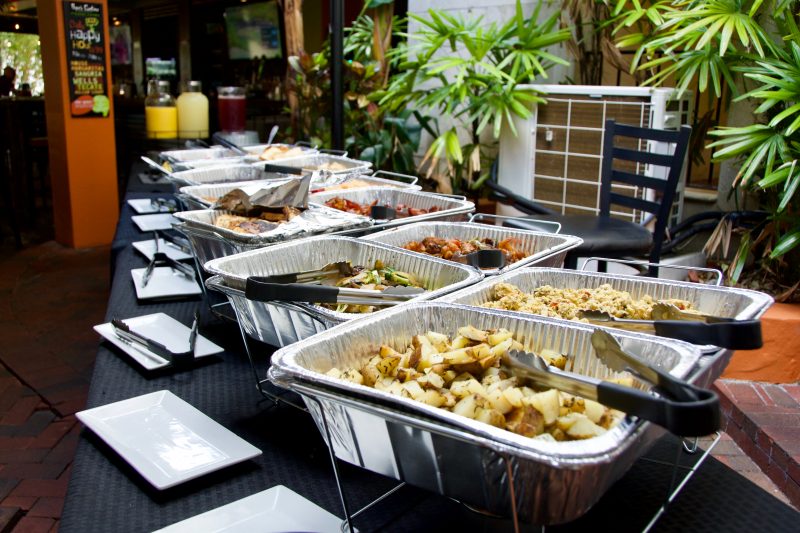 Pepe's Cantina offers a brunch buffet at their Winter Park and Downtown Orlando locations. This includes the bar for unlimited mimosas, sangria and guacamole. We were invited to try out the brunch as part of media.
The brunch buffet offers a Mexican twist to your regular breakfast favorites… like these potato bites, bacon, scrambled eggs, and toast.
The french toast from Pepe's Cantina is known to be a popular item. It's flavorful and the syrup that goes with it is not overwhelmingly sweet like many other places you may think of.
Who wouldn't want a brunch buffet after a long week or long Saturday night? Not interested in the bottomless mimosas or sangria bar? Check out the Hangover Cure from the main menu, which consists of a freshly squeezed lime juice margarita with agave nectar and tequila topped with an upside down Top Chico. This is refreshing and will help you rejuvenate after any headache you have.
Afterwards, treat yourself for one of their house margaritas; these would also come from the main menu. Here, we have the Avocado Margarita and can be served frozen or on the rocks. You may find the name different, but it's a good type of different because it's tasty. Plus, it's healthy because it has avocado in it, right?
You could also order items off the main menu and still enjoy the brunch buffet. These Stuffed Avocados are a nice vegetarian dish, or you could add steak or chicken for an extra cost.
This is the Huevos Rancheros dish, which can be ordered off the menu.
You can create breakfast tacos by wrapping the Huevos Rancheros in a tortilla (soft corn, hard corn, or soft flour).
This next dish was recommended to me by a friend and the recommendation did not disappoint. This is the Hawaiian Fajita consisting of the steak and chicken fajita with grilled pineapple and topped with melted cheese. It's served in a pineapple and usually has shrimp, but they're very good at accommodating with allergies and food requests. The sweet and refreshing notes of pineapple brings additional flavors to the regular chicken, steak and shrimp fajitas offered at Pepe's Cantina.
On all of our dishes, we enjoyed using the house spicy sauce. It's not for the weak, but it's not going to burn your tastebuds off either. I enjoyed this sauce and will request it each time I visit.
For more information, visit the Pepe's Cantina website.