The Central Florida Women's League (CFWL) hosted the Annual Taste of Windermere, an evening of food and fine wine hosted on Saturday March 2 at The Grove Orlando. It was an evening of unlimited food and wine tastings featuring top area restaurants and wines.
All proceeds go to the community grants and scholarships funded by the Central Florida Women's League Foundation, Inc. a 501(c) 3 non-profit organization of women from diverse backgrounds, experiences and perspectives. The Central Florida Women's League seeks to enrich the lives of those in the Central Florida community through volunteer opportunities and fundraising events.
For the protein…
The entrance led to Ellie Lou's Thanksgiving meal. The turkey was moist and delicious with the gravy, sweet potato and cranberry jam. It's as if Thanksgiving was around the corner.
Hawker's had a few options, but my favorite are the skewers. All options are served at their restaurant location if you fancy stopping by their spot both here at the new spot at The Grove Orlando and their original location on Mills!
Slate offers their smoked brisket, which is full of flavor and tender with each bite.
Seafood locations include…
Oysters from The Boathouse of Disney Springs were offered that night – they harvest the oysters themselves!
Capa at Four Seasons created Pulpo, which was a tad too salty in my opinion.
A fresh bite of the sea for me that night were the scallops from Hemingway's. Delicious with a number of flavors and textures that mixed so well with one another.
Delightful desserts…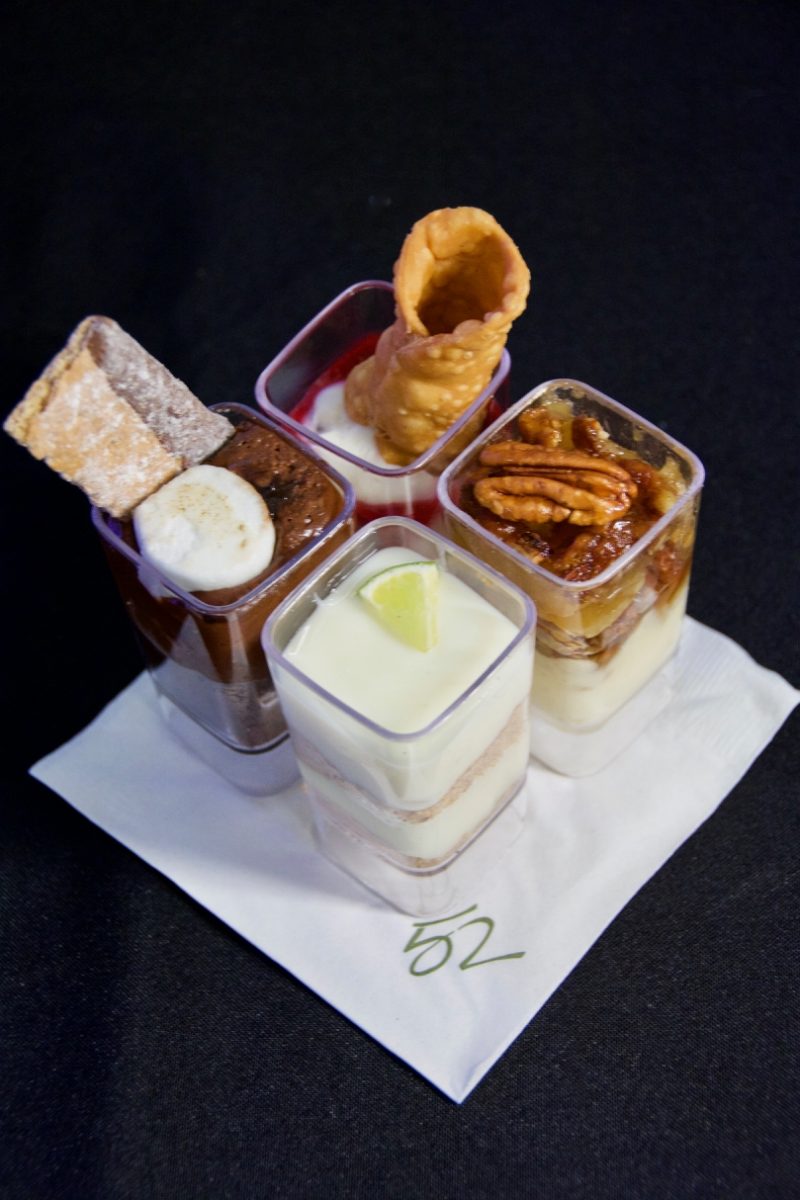 Seasons 52 offered four different dessert shots – S'mores, Key Lime, Pecan, and Strawberry Cheesecake. This was the first Key Lime I have tasted that wasn't artificial and isn't overpoweringly sweet. The Key Lime and S'mores were my favorite. I'd order them at the restaurant.
Four Seasons had Buttermilk Chocolate and Red Velvet Cream Cheese, but we didn't get a chance to try.
Drink options…
Of course, wine is a popular choice at a tasting…especially when it's one of the main offerings when they say it's a "food and wine" event. This bottle was imported from Italy and it is full of flavors.
Not a wine person? That's fine because there's beer. The Domestic Bliss was a wheat strong Belgian that's 9.5% ABV and the Dissolution was a 7.8% Abbey Red. I preferred the red over the Belgian because wheats aren't my type of beers.
If you're not fond of wine or beer, there were the three types of absinthe offered by The Edison. Don't know what they are? Stop by The Edison at Disney Springs!
Participating Restaurants included:
Capa at Four Seasons Resort Orlando
Cooper's Hawk
Crooked Can Brewing
Earl's Kitchen & Bar
Ellie Lou's Brews & BBQ
Hawkers Asian Street Fare
Hemingway's
Il Mulino New York Trattoria
Jake's American Bar at Loews Royal Pacific Resort at Universal Orlando
Jeremiah's Italian Ice
La Boucherie
Maria & Enzo's
Morimoto Asia
Nicole Macaron
Rainforest Cafe
Ravello at Four Seasons Resort Orlando
Season's 52
Slate
Smoothie King
Spoleto My Italian Kitchen
Strong Water Tavern at Loews Sapphire Falls Resort at Universal Orlando
T-REX Café
The Boathouse
The Vineyard
Tito's Vodka
World of Beer
Yak & Yeti
Yard House
For more information about the Taste of Windermere with hopes of buying tickets for next year or any other events by the Central Florida Women's League, stop by their website.