AMERICAN KITCHEN AT B RESORT
Dinner entrée special of Florida Lobster with Potato Galette, Delta Asparagus and Caviar Butter Sauce. It will be priced at $32 and have a champagne pairing.
MOTHER'S DAY AT REYES MEZCALERIA
Mexican Brunch Buffet
– all you can eat for $30 –
10am-3pm
salsa bar, fresh shucked oysters, huevos a la Mexicana,
pork loin carving station, dessert bar and much more!
Mother's Day at Del Frisco's
Hours: 11 a.m. – 2 p.m. Brunch, Prime Rib Available All Day
· Address: 9150 International Drive, Orlando, FL 32819
Menu: https://delfriscos.com/steakhouse/orlando/menus/mother/
Event Link: https://delfriscos.com/promotions/a-celebration-worthy-of-mom/
OCEAN PRIME
On Mother's Day, Sunday, May 12, Ocean Prime Orlando will be open from 11 a.m. – 9 p.m.
Ocean Prime Orlando will present a special brunch menu from 11 a.m. – 3 p.m., available only on Mother's Day, which includes:
Drinks:
Blood Orange Mimosa featuring blood orange juice, simple syrup, Cointreau and champagne
Signature Bloody Mary featuring choice of vodka, house made mix and jumbo shrimp
Entrées:
Smoked Salmon featuring sliced tomato, red onion, arugula, whipped cream cheese and a bagel
Blackened Salmon Salad featuring strawberries, grapes, cantaloupe, goat cheese, field greens, basil poppyseed dressing and candied walnuts
French Toast featuring mixed fresh berries, lemon curd, candied bacon and warm maple syrup
Lobster Toast featuring sunny side egg, avocado, sweet peas and preserved lemon (image attached)
Crab & Eggs featuring an English muffin, crab cakes, poached eggs, hollandaise, fresh fruit, mixed greens and balsamic vinaigrette
Braised Short Rib Surf & Turf featuring crispy gouda potato cake, lobster claw, poached egg and hollandaise
The restaurant will also offer its traditional menu, featuring premium seafood, prime cuts of steak, signature cocktails, a Wine Spectator-honored wine list and more.
For reservations and more information on Ocean Prime Orlando, please visit www.ocean-prime.com/locations-menus/orlando or call (407) 781-4880. Ocean Prime Orlando is located at 7339 West Sand Lake Road, Orlando, FL 32819.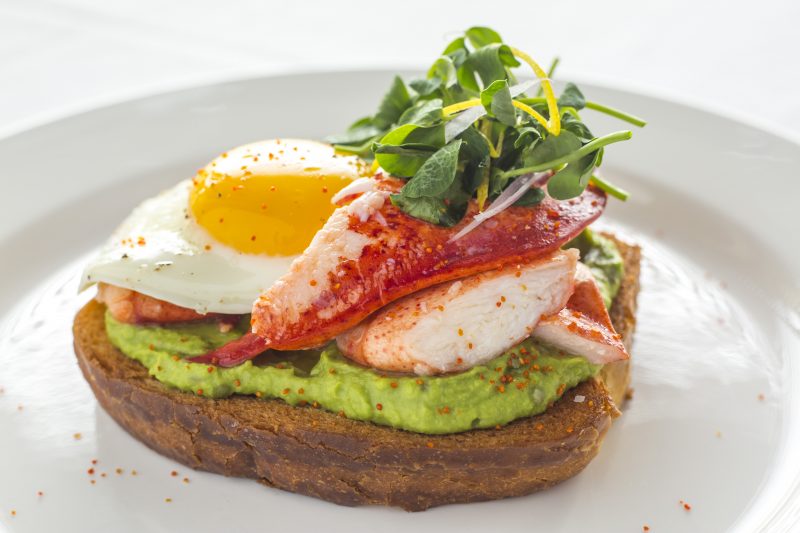 TONY ROMA'S
Weekend special from May 10-12.
Treat your mother to an exquisite dinner – that she doesn't have to clean up after – for only $30. Mothers can choose between a soup or salad to start their special dinner. Then indulge in a delicious mushroom demi-glaze Filet Medallions, with a choice of either a Grilled Shrimp Skewer or their World-Famous Baby Back Ribs. Complement the meal with mashed potatoes and fresh vegetables as well as a glass of Pinot Noir or Merlot to enhance the flavors of the Filet Medallions.
Customers receive a $15 bonus card for every $50 gift card purchased online or in-store now through June 30th – Spring Gift Card Promotion just in time for Mother's Day (May 12), Father's Day (June 16) and graduation season.
Customers will get a $15 bonus card with every purchase of $50 in gift cards either online or in-store, redeemable July 1-September 30 at participating Tony Roma's locations across the nation. While gift cards may seem impersonal to some, studies show they are one of the most requested gifts this time of year.
"We're proud to serve families every day in Tony Roma's across the world," said Hannah Ulm, Director of Marketing for Romacorp, Inc. "We see our Spring Gift Card Promotion as a great opportunity to help our U.S. guests say thank you and congratulations to family and friends with a delicious meal."
Tony Roma's is a full-service, casual dining family experience specializing in premier BBQ ribs and steaks in 16 locations across the U.S. Visit www.tonyromas.com for more information.
TAP ROOM AT DUBS DREAD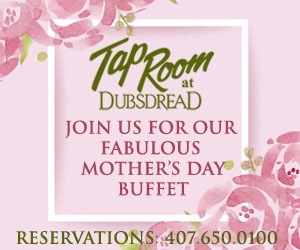 WALT DISNEY WORLD SWAN AND DOLPHIN RESORT
On Mother's Day, Sunday, May 12, Walt Disney World Swan and Dolphin Resort's Garden Grove will present a special brunch buffet featuring Disney character dining. The Mother's Day Brunch Buffet will be served from 9 a.m. – 2 p.m. and includes:
Lite Fair:
· Superfood Bar
· Steel Cut Oatmeal featuring cinnamon, turbinado, vanilla
· Traditional Grits
· Selection of Seasonal Fruits & Smoothies
· Caprese Salad featuring heirloom tomato, fresh mozzarella, white balsamic, fresh basil & arugula
· Caesar Salad featuring romaine hearts, garlic lemon dressing, parmesan cheese, crispy crouton
Chef Stations:
· Create Your Own Omelet
· Hand Carved Brisket featuring slow smoked beef brisket, house made BBQ sauce, jalapeno cornbread
Mains:
· Spiced French Toast featuring rum raisins, candied pecan
· Biscuits & Sawmill Gravy featuring house made buttermilk biscuits, tangy white gravy
· Southwest Benedict featuring Spanish iberico chorizo, hollandaise
· Atlantic Salmon featuring warm crab salad, vegetables papillote, lemon butter
· Egg Scramble featuring spring onion, chervil, crème fraiche
· Butchers Cut Applewood Bacon
· Breakfast Sausage
· Potatoes O'Brien
Desserts:
· Assortment of Petite Pastries and Desserts
·
For the Little Ones:
· Mickey Waffles
· Bacon & Sausage
· Tater Tots
· Cheesy Scrambled Eggs
Garden Grove's Mother's Day Brunch Buffet is priced at $38.99 for adults and $19.99 for children ages 3-9.
Themed after the tranquil gardens of Central Park, guests who step into Garden Grove will immerse themselves under a beautiful 25-foot oak tree adorned with twinkling lights and paper lanterns.
For reservations and more information on Garden Grove, please visit https://www.swandolphinrestaurants.com/gardengrove/index.html or call (407) 934-1618.
BULLA GASTROBAR IN WINTER PARK
Skip the traditional Mother's Day brunch this year and instead, treat mom to a special "Paella Pa' Ella" dinner at Bulla Gastrobar this Mother's Day. Upon arrival, moms will be gifted with a 'welcome' rose and $20 gift card to use towards their next visit.
ACE CAFE
Sunday, May 12, 10:00 am – 2:00 pm – Ace Cafe's 'Mom-Mentous' Mother's Day Brunch
If Mom doesn't want to lift a finger on her special day, she shouldn't have to. But if she DOES want a delicious meal and time spent around the table with those who most adore her, then bring her to the Ace for brunch this Mother's Day. On her special day, Moms enjoy $10 OFF the Unlimited Buffet (making it only $11.95), and you can add on bottomless mimosas for only $12! Moms can sign up to win beautiful designer purses, jewelry and more! Plus, VIP Parking for moms (as available)! Anyone interested in attending should call 407-996-6686 to make reservations.
THE BOHEME
3-COURSE PRIX
FIXE MENU


The Boheme
Sunday, May 12
11 AM – 3 PM
$59 per adult | View Menu
$29 per child ages 6-12
Featuring live music
GRAND BUFFET


Johann Strauss Ballroom
Sunday, May 12
10 AM – 3 PM
$84 per guest | View Menu
$39 per child ages 6-12
Featuring live music and unlimited mimosas
THE FRESH MARKET
As a national mission partner of Feeding America, all 161 of The Fresh Market's stores will be participating in a monthlong fundraising campaign, where every dollar donated helps provide at least 10 meals to people in need.
The Meals on a Mission fundraiser will take place during the month of May through three components:
· Meals on a Mission Fund Drive: From May 1st to 31st, guests will have the chance to round up their total at the register to the nearest dollar, or to donate another dollar amount. All proceeds from the fund drive will go to Feeding America.
· Meals on a Mission Cupcakes for Mom: On Saturday, May 11th from 12:00 to 4:00 pm —just in time for Mother's Day— guests can purchase and decorate a $3.00 gourmet cupcake for mom. A dollar from each gourmet cupcake purchase will go to Feeding America.
· Meals on a Mission Food Fair: On Saturday, May 18th and Sunday, May 19th from 12:00 to 4:00 pm, The Fresh Market stores will host a Food Fair with all proceeds going to Feeding America.
FOUR SEASONS RESORT ORLANDO
Celebrate Mother's Day, May 12, 2019 with special offerings at Four Seasons Resort Orlando at Walt Disney World Resort.
The entire family will delight in the Mother's Day Brunch Buffet at Ravello, the Resort's modern Italian restaurant. Guests will enjoy a scrumptious array of seafood, including oysters, Alaskan crab legs, and tuna and shrimp nigiri. The antipasti selection will include a variety of delicious and refreshing salads, such as heirloom tomato and avocado salad, herb quinoa and garbanzo bean salad, and charred romaine wedge salad. Specialty selections include the mustard crusted beef tenderloin, fire roasted lamb saddle with mint-garlic salsa verde, sweet potato casserole, and tuna nicoise and chilled crostini action stations. For those who prefer more traditional brunch items, quiche lorraine, egg white frittata, and hash brown benedict will be offered. Tiny diners will enjoy the children's buffet, which will include chicken fingers, steamed vegetables, penne alfredo, pepperoni and cheese flatbread, "Worms in Dirt," Rice Krispie treats, chocolate chip cookies and other kid favourites. Reservations for Mother's Day at Ravello are available from 12:00 noon to 7:00 pm for USD 115 per adult and USD 45 per child ages 2-12.
Plancha, the Resort's American restaurant with a Cuban flair, is also offering a wonderful Sunday brunch at the golf clubhouse. Start off the celebration by raising a toast to Mom with endless Bloody Marys and Mimosas, included with the price of the buffet. Guests will enjoy a selection of artisanal cheeses and charcuterie, a seafood display, a crepe action station, breakfast favourites, assorted salads and much more. Reservations for Mother's Day at Plancha are available from 10:00 am to 3:00 pm for USD 68 per adult and USD 45 per child ages 2-12.
The Spa at Four Seasons
Pamper Mom with one of The Spa's exclusive treatments. Mom will enjoy the Sticks and Stones Massage, La Floridian Body Wrap with whipped shea butter and pink grapefruit crème, or the Signature Radiance Facial, combining a variety of botanical extracts and natural fruit acids to improve tone and texture. After her treatment, she can spend time relaxing by the lakeside outdoor relaxation lounge featuring zero-gravity wave loungers, or take advantage of the spacious facilities including a steam room, whirlpool and experience shower.
For Mother's Day dining reservations at Ravello or Plancha, or for Spa appointments, call 407 313 6868.
Cuba Libre Restaurant & Rum Bar
Celebrates Mother's Day with A Festive Brunch Feast
WHAT: Cuba Libre Restaurant & Rum Bar, located at Pointe Orlando at 9101 International Drive, Orlando, 32819, will offer a special Mother's Day buffet with seating available from 11 a.m. to 4 p.m. Priced at $39.95 per person and $12.95 for children 12 years and younger (tax and gratuity not included), the impressive brunch buffet includes Cuban-style brunch classics along with seasonal tapas and a carving station. Curated by Executive Chef Jose Gonzalez, the menu includes dishes such as Homemade Latin Sweet Breads with banana bread, guava cream cheese hojaldre, crispy churro, coconut-berry muffin and chocolate-chocolate chip muffin, mango and European style butters, guava marmalade, and dulce de leche; Cuban Sandwich and Scrambled Egg Crepes with smoked crème fraiche; Lemon Ricotta Pancakes with fresh blueberries and Vermont maple syrup; Pina Colada "French Toast" with pineapple-coconut custard soaked brioche bread, pineapple and toasted fresh coconut with rum salsa; Beef Tenderloin with chimichurri marinade and cilantro béarnaise; Leg of Lamb, Cuban-spiced and rubbed pork loin with charred herb salsa; Paella Vegetariana with fresh baby spinach, soyrizo, wild mushrooms, garbanzo beans, saffron long grain rice, asparagus and grilled artichoke heart salad.
For a sweet finish, guests can enjoy sampling traditional Cuban confections such as Pudi?n de Pan, a warm Cuban bread pudding with warm caramel, chocolate-orange sauce, salsa Inglesa, and whipped cream; Tocino del Cielo with a traditional Cuban dessert of vanilla custard, candied mango and papaya salad; Mami Totty's Arroz con Leche, a classic Cuban rice pudding recipe handed down from Chef-Partner Guillermo Pernot's mother-in-law with whipped cream and candied macadamia crunch, and the Tres Leches, a vanilla sponge cake soaked in three milks with mocha mousse.
WHEN: Sunday, May 12, from 11 a.m. to 4 p.m. A la carte dinner service will be available from 5 p.m. to 9 p.m.
WHERE: Cuba Libre Restaurant and Rum Bar is located at Pointe Orlando at 9101 International Drive, Orlando, Florida 32819; Phone (407) 226-1600. For additional information, please visit www.cubalibrerestaurant.com.
ROSEN HOTELS
Mothers should be celebrated every day of the year, but especially on Mother's Day, offering time with family to be pampered and to be made to feel like a queen. The hotels of Orlando's Rosen Hotels & Resorts have just the right gift for a special woman: a bountiful buffet brunch filled with all of her favorites and some special surprises.
EVENT: Mother's Day Brunch at Rosen Plaza
DATE: May 12, 2019
TIME: 11 a.m. to 3 p.m.
LOCATION: Rosen Plaza Hotel, 9700 International Dr., Orlando, FL 32819
COST: $46.95 for adults in advance, $48.95 at the door, $18.95 for children ages 4-11; children younger than 3 are free.
DESCRIPTION: A mother's love knows no limit, so treat her to a decadent Mother's Day brunch at Rosen Plaza, where she will sip complimentary champagne and mimosas while choosing from a bounty of delicious dishes. She'll love a buffet of fresh pastries, made-to-order omelets, as well as seafood, and savory dishes like seasoned chicken and grilled steak. The dessert bar will tempt her with tasty treats like Mom's caramel apple pie, Key Lime pie, cheesecakes, red velvet cakes and a soft-serve ice cream bar. Reservations are recommended for this popular buffet, so call today!
EMAIL: sales@rosenplaza.com
PHONE: 407-996-0256
WEBSITE: www.rosenplaza.com/mothersday
A sampling of just a few of the many dishes tempting taste buds at
Rosen Plaza's Mother's Day Buffet.
EVENT: Mother's Day Buffet at Rosen Centre
DATE: May 12, 2019
TIME: 11 a.m. to 7 p.m.
LOCATION:Rosen Centre Hotel, 9840 International Dr., Orlando, FL 32819
COST: $50.95 adults, $19.95 children 4-12, both plus service and sales tax, and children 3 and younger are free.
DESCRIPTION: Give Mom the gift of relaxation this Mother's Day with dozens of decadent dishes, a waffle and omelet station, savory carving stations, plus complimentary champagne, mimosas. The buffet includes specialties such as Chef Yoshi's California rolls & spicy tuna sushi rolls and Chef Tello's tapas chicken slider, as well as seafood stations with Jonah crab claws and spiced shrimp boil. Entrée selections include beef tenderloin tips with peppercorn cream sauce, pan seared chicken with lemon and garlic and steamed mahi mahi wrapped in banana leaf with curry cream. Leave room for sweets like Pina Colada cheesecake, chocolate rum chata torte black forest cake and key lime pie, along with a chocolate fondue with strawberries and pineapple. Rosen Centre makes celebrating Mom easy and delicious.
EMAIL:sales@rosencentre.com
PHONE:(407) 996-3969
WEBSITE:www.RosenCentre.com/mothersday
EVENT: Mother's Day Brunch at Café Osceola
DATE: May 12, 2019
TIME: 10 a.m. to 6 p.m.
LOCATION: Rosen Shingle Creek, 9939 Universal Blvd., Orlando, FL 32819
COST: $69.95 for adults, $29.95 for children ages 4-11, plus tax and service charge. Children 3 and under are free. 25% discount available for Florida residents.
DESCRIPTION: Pamper a special Mom in the way that she deserves by treating her to the wonderful Mother's Day brunch at Café Osceola at Rosen Shingle Creek. She'll feel like a queen surrounded by her family, indulging in delectable food with choices that range from a seafood station, a traditional carving station, broiled mahi-mahi and bourbon BBQ glazed pork chops, and coffee and brown sugar-crusted beef brisket, as well as Asian delights such as dim sum, Yakisoba noodle stir fry and Banrai sushi, all in a gorgeous display of culinary pleasures. Of course, there's also a kids' station with family favorites. Breakfast pastries and decadent desserts and a chocolate fountain complete this amazing buffet. Adults also will enjoy unlimited champagne and mimosas. Reservations are required so book now. Complimentary valet parking is included and there is a 25% discount for Florida residents.
EMAIL:sales@rosenshinglecreek.com
PHONE:(407) 996-3663
WEBSITE: www.rosenshinglecreek.com/mothersday
EVENT: Mother's Day Tea & Ballet Performance
DATE: Saturday, May 11, 2019
TIME: 2-4 p.m.
LOCATION:Clarion Inn Lake Buena Vista, 8442 Palm Parkway, Orlando, FL 32836
COST: $15.95 plus tax and gratuity for adults; $9.95 for children ages 4-11.
DESCRIPTION: Moms will enjoy a delightful afternoon out with a special tea and a ballet performance by the Elizabeth Parson's School of Dance in Windermere, FL. She will love the themed tea party featuring a tasty assortment of pastries and homemade jam, finger sandwiches of cucumber and cream cheese, chicken salad, ham salad, as well as a fresh fruit display and vegetable crudité, and delicious sweets like strawberry shortcakes, fruit tarts, fresh baked brownies and strawberry with yogurt dip. A selection of hot tea, coffee, iced tea and pink lemonade will be available. Guests will receive a flower for Mom and a keepsake craft for children.
EMAIL:sales@clarionlbv.com
PHONE:407-996-7236
WEBSITE:www.ClarionLBV.com
For more information about Rosen Hotels & Resorts and how to book your next incredible vacation to Orlando, please visit RosenHotels.com.
Reunion Resort & Golf Club
WHO: Reunion Resort & Golf Club and its signature restaurant, Traditions at Nicklaus Clubhouse
WHAT: Thank mom this Mother's Day with a savory celebration at Reunion Resort. Treat her to a delectable buffet featuring an Omelet Station, Prime Rib of Beef Carving Station, Chef's seasonal creations, a bounty of decadent desserts and a Mimosa and Bellini Bar. Pricing: Adults $49 Children $29 (complimentary for children ages 3 and under).
WHEN: Sunday, May 12 from 10 a.m. to 2 p.m.
WHERE: Traditions at Reunion Resort & Golf Club
7593 Gathering Drive, Kissimmee, FL 34747
HOW: Reservations are required and can be made online at ReunionResort.com/mothers-day or by calling 407-396-3150.
Canvas Restaurant & Market:
Treat mom to brunch with a view at Canvas Restaurant & Market! Enjoy our a la carte brunch menu with delicious offerings like their Lobster Benedict ($19), Meyer Lemon Pancakes ($12) and Strawberry Shortcake French Toast ($12). Moms (and guests) can also enjoy bottomless mimosas for $14. Brunch is available on Sunday from 10:00 a.m. to 3:00 p.m. To reserve your seat, please call (407) 313-7800.
Chroma Modern Bar + Kitchen:
Treat mom to a delicious lunch or dinner at Chroma. In addition to their regular menu, Chroma will be offering 2 Mother's Day Specials: Asian Hanger Steak with White Rice, Eel Sauce, Sesame Goma ($21) as well as Seared Scottish Salmon with Spring Vegetable Couscous and Herb Butter Sauce ($19). To reserve your seat, please call (407) 955-4340. Chroma will be open on Sunday, May 12 from 11:00 a.m. to 10:00 p.m.
MAGIC VILLAGE YARDS
The Villaggio Restaurant at Magic Village Yards is curating a wonderful event for mothers across Orlando to enjoy the ambiance of the restaurant as well as the Italian-Brazilian, made-from-scratch, gourmet menu.
Guests are able to enjoy the gorgeous view of their onsite pool while experiencing a curated menu made just for the holiday. The choice menu features guest favorites, the Pesce and Gamberi, Picanha and Filetto Parmigiana. The Villaggio also features their own exclusive house wine Magique, a Cabernet Sauvignon, and a variety of white wines including a Vieira de Plata Albariño from Spain for guests to relish.
Location: Villaggio Restaurant – 3151 Pantanal Ln, Kissimmee, FL 34747
Time: 11 a.m. to 5 p.m.
Cost: $75 and serves four (4) people and includes two (2) glasses of Champagne
Menu options:
Picanha – Brazilian steak served with yucca flour, vinaigrette sauce, rice, and fries.
Filetto Parmigiana – Breaded steak filet with tomato sauce and topped with mozzarella. Served with rice or pasta, and fries
Pesce & Gamberi – Grouper filet with our famous shrimp sauce. Served with mashed potato.
Contact Information: (407) 507-1845 or on OpenTable
Special gift: Flowers provided to all mothers in attendance.