Now that spring has official sprung, STK, the "not your Daddy's steakhouse" known for its trademark high-energy, Vibe Dining experience, has rolled out some delicious new menu items at their Disney Springs location.
Featuring fresh and bright ingredients that are locally sourced, STK's menu now includes the following dishes:
Baby Gem Lettuce Caesar – herb croutons and parmesan reggiano.  A light and crisp salad perfect for the spring time.
Lil Brgs – wagyu beef, special sauce, sesame seed bun.  We highly recommend these "little burgers" if you want to have a great time.
Tuna Tartare – hass avocado, soy honey emulsion, taro chips.   The soy honey emulsion gave the tuna tartare a tangy note to it that we enjoyed.  The taro chips on top really made this dish unique compared to other places that use wonton chips.
14 Ounce Strip – served with assorted STK signature sauces.  All I can say about this dish is that the steak was prepared perfectly.
Fun fact: They serve spinalis cut of meat – you don't find that in may places.
Chilean Seabass – miso-passion fruit glaze, fried baby bok choy, pickled fresno chili, cilantro.  Great dish for fish lovers.
Mary's Farms Organic Chicken.  Generous portion of a perfectly cooked chicken.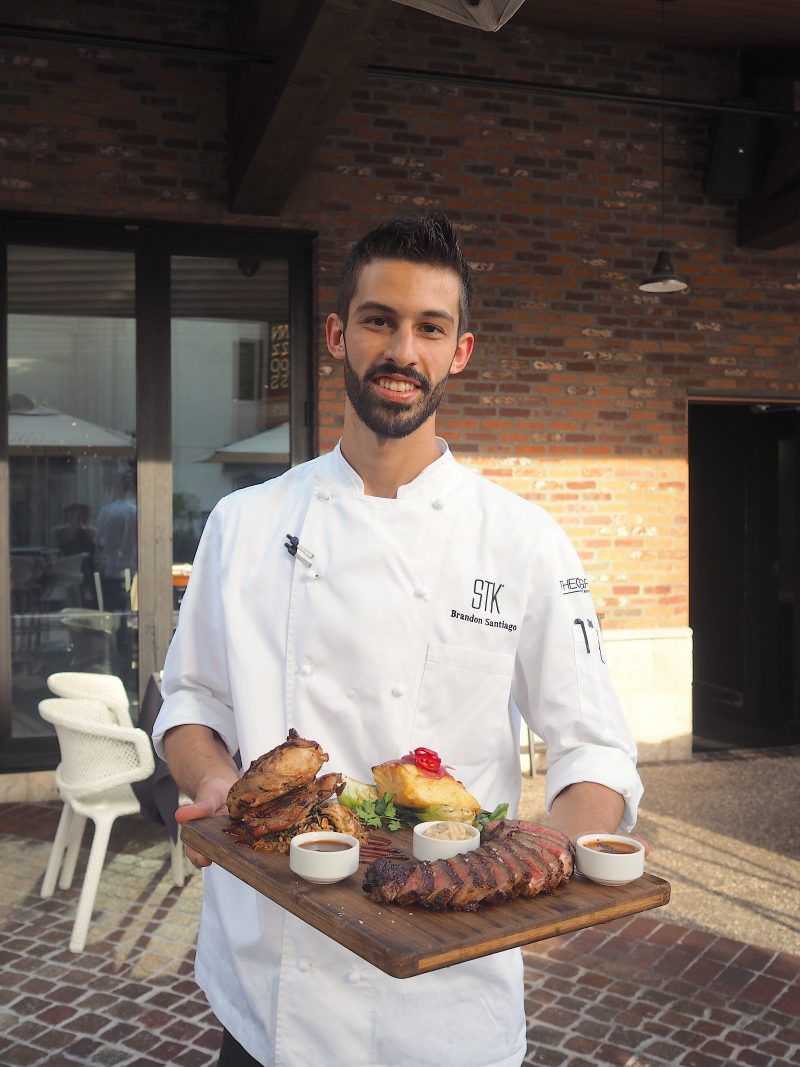 Sous Chef Brandon Santiago created for us a wonderful meal and unforgettable experience.
Sweet Corn Pudding, Jalapeno Cheddar Grits.  The pudding was creamy and sweet, complimenting the main dishes very well.  Unfortunately I am not a grit person but if you enjoy grits with a kick to it, these may be for you.
Mac & Cheese.  Rich and cheesy, a solid side dish.
Asparagus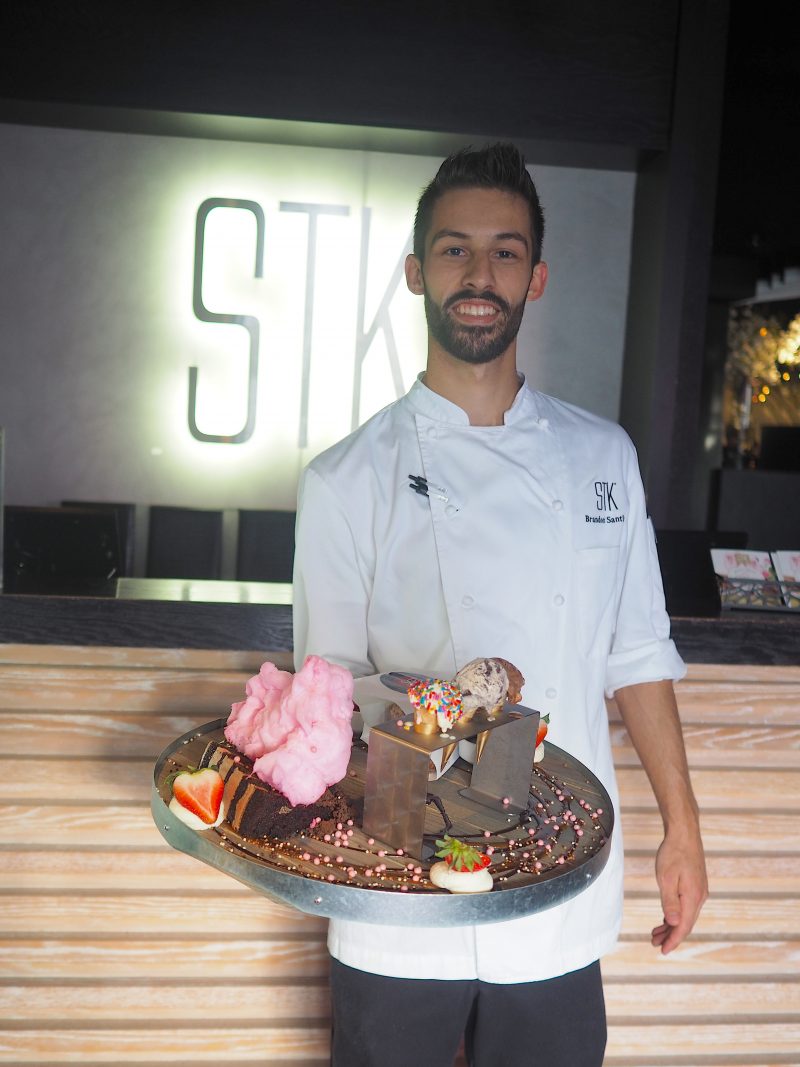 Assorted Dessert Platter
Ice STK mini ice cream cone sampler.  These mini cones were fun to eat and I love that they are in small portions because you want to make room for their delicious chocolate cake.
Chocolate Cake – vanilla ice cream, sprinkles and cotton candy. This was the best chocolate cake that I have ever had in my life.  Ever.
Top center: Bag O' Donuts with dulce de leche filling, spiced chocolate sauce, and raspberry sauce. Tasty fried dough filled with different flavors of sauces and coated in sugar.
They also offer Happy Hour from Mon – Fri starting at 3:30pm till 6pm and Thurs-Sat from 10pm till close:
$2-$8 Bites
½ Off Specialty Cocktails
$10 Justin Cabernet & Vievite Rose
STK Orlando is a beautiful, sleek, modern fine-dining establishment in the heart of Disney Springs, originally founded by Jonathan Siegal and Celeste Fierro in a time where there was big opportunity in the Steakhouse sector to create experience and vibe dining.  We arrived there right when they opened for dinner service and they quickly filled up afterwords with guests in the dining room and bar.  We had Natali as our server and she was the most kindest, down-to-earth person that we have ever met.
What are some of the inspirations behind the new spring STK menu?
Fresh and bright ingredients that are locally sourced
What are some dishes found at STK that can be found nowhere else?
The Short Rib with Jalapeno Grits Is such a staple and pretty unique, but we also serve spinalis cut of meat – you don't find that in may places 
What makes STK different from other steak houses?
STK is a unique concept that artfully blends the modern steakhouse and chic lounge into one – offering a dynamic, fine dining experience with the superior quality of a traditional steakhouse. STK distinguishes itself by focusing on the dining experience as a whole versus any singular aspect of a good night out. It's not just the food, sleek décor, in-house DJ or elevated Happy Hour offerings, it is the combination of all these things that creates the Vibe Dining found only at STK.
STK at Disney Springs
1580 East Buena Vista Drive, Orlando, FL 32830
(407) 917-7440
disneyworld.disney.go.com/dining/disney-springs/stk-steakhouse/menus/dinner/