Chef Josh Oakley – known for his impressive house-made charcuterie and a veteran of Central Florida hot spots such as Smiling Bison, Cask & Larder, Ravenous Pig, and Rusty Spoon – has recently joined 1921 Mount Dora as Executive Chef.
"The food scene in Central Florida has come so far in my nearly 20 years here. It's been an honor and a joy to have been a part of it," says Josh. "And I couldn't be more excited for this opportunity to continue pushing it forward in such an amazing restaurant and town."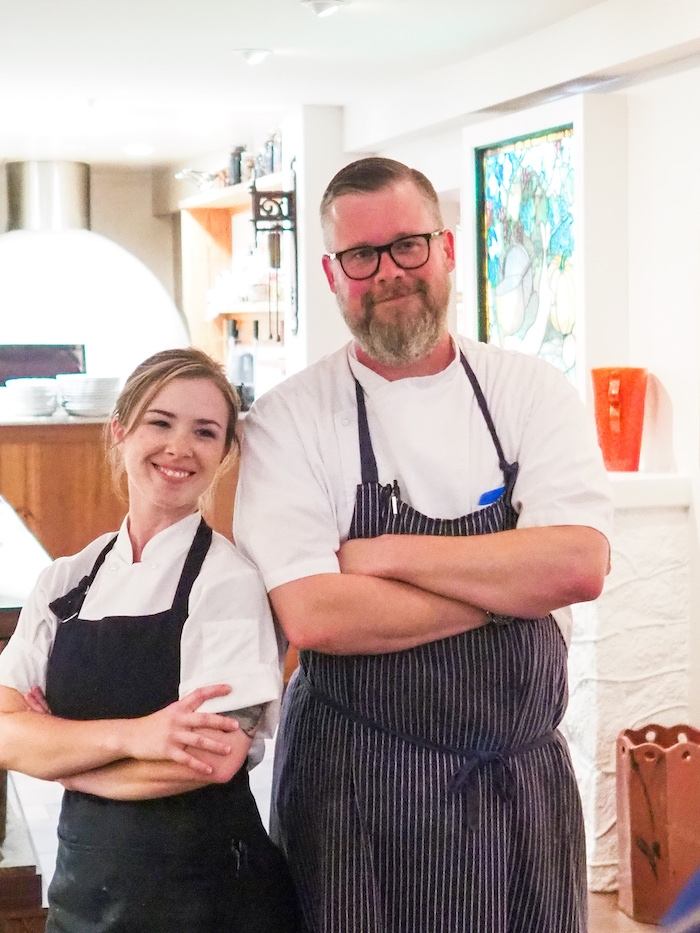 The restaurant embraces sustainable practices working closely with local Mount Dora farms, purveyors, and food artisans in Central Florida. With an acclaimed wine collection and craft cocktail menu, 1921 Mount Dora sets the bar for exceptional dining experiences. A feast for the eyes, as well as the palette, the restaurant features an extensive collection of art, with select pieces on loan from the adjacent Modernism Museum.
On changes to 1912 since he took the reins, Chef Josh Oakley tells us, "We're producing all sorts of house-made charcuterie right now, which is new for 1921 Mount Dora."
Chef Oakley is striving to keep the menu creative yet approachable and also to use the best ingredients they can get our hands on. "I try to keep a nice balance of some classics and some more adventurous things on there, in hopes of appealing to as many folks as possible."
We were recently invited to try some of Chef Oakley's new tasting menu items – a showcase of chef's wheelhouse full of delicious delights.
Some of my favorites of the evening included crispy pork belly with blood orange mojo, the house chicken liver mousse, and the Diver Scallop ceviche – all deftly cooked and seasoned by chef Oakley and his team.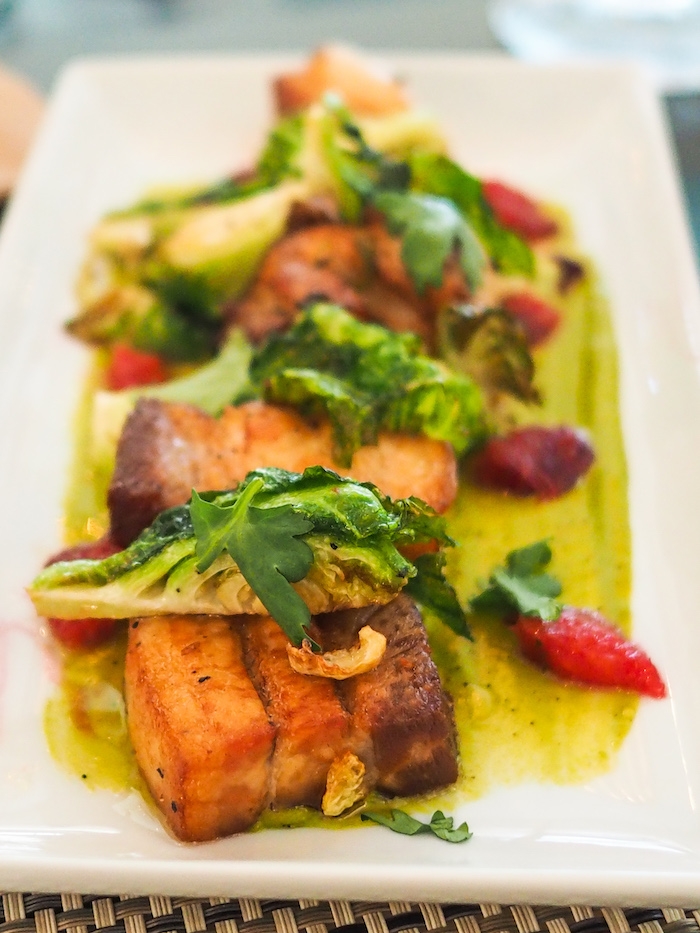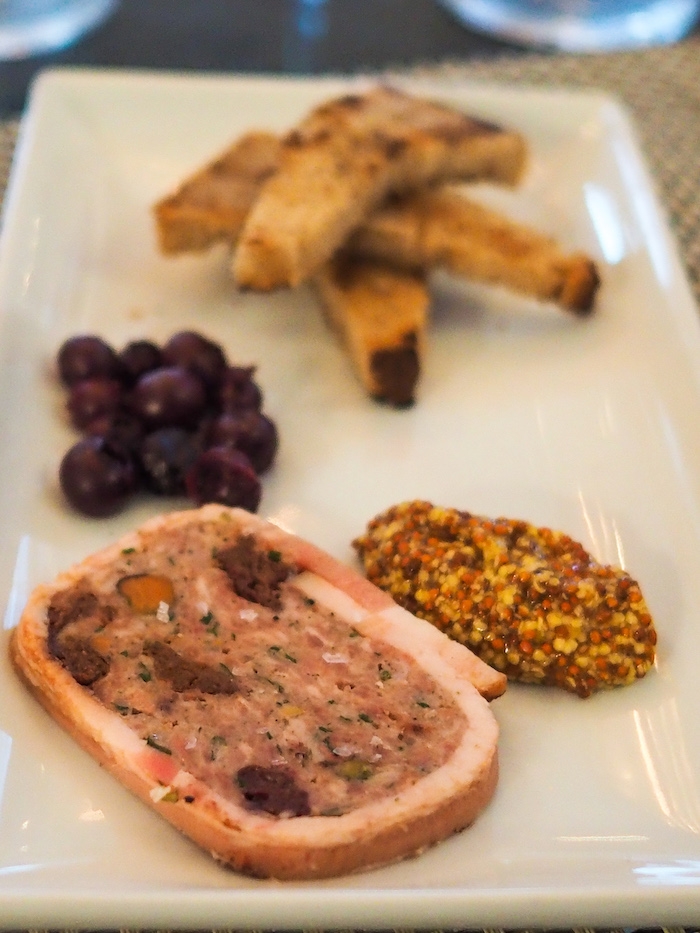 Pastry Chef Rachel Jenkins also crafts a lovely repertoire of desserts, including a fantastic glazed orange cake with triple berry compote. I am still salivating at the thought of all these fantastic dishes at 1921.
Interview with Chef Josh Oakley – 1921 Mount Dora – Chef's Profile
Tasty Chomps: Tell us about your background. What inspired you to become a chef?
Chef Josh Oakley: It kind of just happened really. I've always loved cooking and learning about food, but never really had plans to do it as a career. I was a psychology major in college – fascinating stuff to me but not something that really ended up inspiring me to pursue it as a career. I worked at a fast food place in high school and also washed dishes at a fine dining place in my hometown. I loved the unique blend of precision and structure along with the chaos and occasional debauchery required to make it in this business.
Tasty Chomps: What are some of your favorite childhood memories around food?
Chef Josh Oakley: So many it's hard to pick! We had a pretty big garden on our land growing up and in season, one night a week we had an entire meal using only ingredients from it.
Also my grandmother on my Dad's side made the most amazing fried chicken ever. In a cast iron skillet with Crisco. I can taste it right now just thinking about it.
My Mom's family is all Polish. I remember watching my 90 year old great grandmother boiling off pierogies when I was probably 6 or 7. When I asked her how long she cooked them for she replied " 'til they're done." I didn't get it at the time, I figured there had to be a certain time attached to it. In retrospect it was a pretty profound lesson in using your instinct and powers of observation and not strictly adhering to a recipe all the time. There are so many variables in cooking and you have to go with your gut sometimes.
What are some of your favorite ingredients to work with right now?
Chef Josh Oakley: I really love making and eating pasta. So we're doing a lot of that. And whatever fish we get in from Kris and Kelly seafood. They bring it straight from the docks to us twice a week. It couldn't be any fresher. It's a joy to work with such consistently fresh seafood. It baffles me sometimes that it's so hard to find places using fresh Florida seafood when it's so abundant in these parts. We're definitely very proud to be able to offer that to our guests. Beyond that it changes every day. I guess I get bored easily and love changing things up often.
Current dining guest favorites on the menu?
Chef Josh Oakley: The fish dish whatever it may be is always quite popular. We have a great scallop dish on that is the last remaining holdout from the menu I inherited when I got here. It's going to be hard to take it off the menu some day because people love it so much.
It's been about 3 months now since you have joined 1921, how are things going now and what do you have planned for the near future?
Chef Josh Oakley: It's going great. I couldn't be happier. It was the hardest decision I've ever made to leave The Bison. It was my baby. But I feel like I'm right where I belong for now. I feel like I'm barely getting started here, finally getting the lay of the land. Summer is traditionally the slowest time of the year so we're utilizing the down time to get everything tweaked to where we want it and be really ready to roll when the busy season comes back around.
That chicken liver mousse you made for us was divine! Tell us about your passion for charcuterie – what is your philosophy behind the food you make?
Chef Josh Oakley: Growing up Polish, I've always loved sausage. It's one of the perfect foods I think. Takes a lot of skill and utilizes the off cuts a lot of the time. It's important to use everything. Some of the best dishes I've come up with have been born out of the necessity to use absolutely everything. The steak on our menu is great, but I'll take the Bolognese or sausage we make out of its scraps and trim every time! Philosophy wise I like to keep it simple and clean and pay attention to detail. You don't have to set out to create some revolutionary new dish every time, you've just got to make sure it's great and executed properly no matter what it is.
What is the secret to a really good mousse?
Chef Josh Oakley:  If I told you, it wouldn't be a secret.
When you are hungry for something late at night, what do you find yourself making at home?
Chef Josh Oakley: I really don't cook much at home, so maybe a BLT or some hot dogs, or some toaster oven nachos. It's a misconception that chefs only eat fancy food. I love splurging for a great meal at Luma on Park or The Ravenous Pig whenever I can, but I'm always just as down for some doctored up instant ramen or a good PB&J!
As a native of Buffalo, will you or do you have any influences from this region on the menu?
Chef Josh Oakley: We have a Beef On Weck on the lunch menu, that's as popular as Chicken Wings are up there, if not more so. Beyond that I don't think so really. I think the South is the Cradle of American food, country ham, fried chicken, biscuits and gravy, etc. Buffalo is a great food town beyond the wings and weck, but culinarily I don't know that the food up there has too awful much to do with my mindset as a chef.
1921 Mount Dora is located in the heart of the town's historic district at 142 East 4th Avenue, Mount Dora, Florida. Call (352) 385-1921 for reservations. Web: www.1921mountdora.com
Hours:
Brunch: 11:30 a.m. to 2 p.m. Saturday & Sunday
Lunch: 11:30 a.m. to 2 p.m. Wednesday-Saturday
Happy Hour: 4:30-6:30 p.m. Tuesday-Friday and 2-6:30 p.m. Saturday-Sunday
Dinner: 5 p.m. to close Tuesday-Sunday